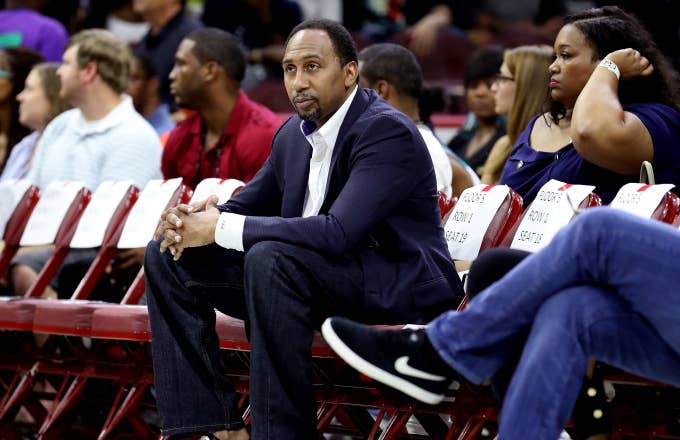 Last week, rumors surfaced that the Seattle Seahawks are planning to bring former San Francisco 49ers quarterback Colin Kaepernick in for a workout. New Raiders coach Jon Gruden recently said he thinks Kaepernick will end up on an NFL roster "soon." And Adidas has expressed interest in signing Kaepernick to an endorsement deal if he makes it onto an NFL roster.
These are all signs that indicate Kaep has a real shot at playing in the 2018-19 season. But why hasn't he been signed yet? Is he really being blackballed because of his decision to take a knee during the national anthem?
First Take host Stephen A. Smith shared his perspective on why Kaepernick is still unsigned. During an appearance on SiriusXM's Joe Madison Show, Smith pointed to owners' pockets.
"If this man had had no effect on their bottom line in their eyes, this would not be an issue. He would be playing," Smith said. "Because their whole thing would have been, 'Excuse me, he helped us win and our money's not compromised? We don't care.' Especially when they sit up there and took millions from the Defense Department to promote patriotism. You gotta remember, this is all about the dollars. Years ago, you weren't even required to come out and stand for the national anthem until they decided to get into business with the government."
Smith said owners are afraid to ostracize​ the majority of their consumers.
"Let me explain it this way. There's something that's tricky in all this," Smith said. "66 percent of the American population is white. Where are you getting most of your money from if you are the National Football League? Sure you have support from the black community, the Latino community, etc. but, for the most part you're getting it from a lot of white folks here. Just a numbers game here. So, ultimately you put them in the position where they have to make a choice based on numbers. Now if you had white folks that stood up in support of Colin Kaepernick that would be a different ballgame."
Listen to the interview below.
Kaepernick, 30, last played in the 2016-17 season. He started 11 games and threw for 2,241 yards and 16 touchdowns with only four interceptions.