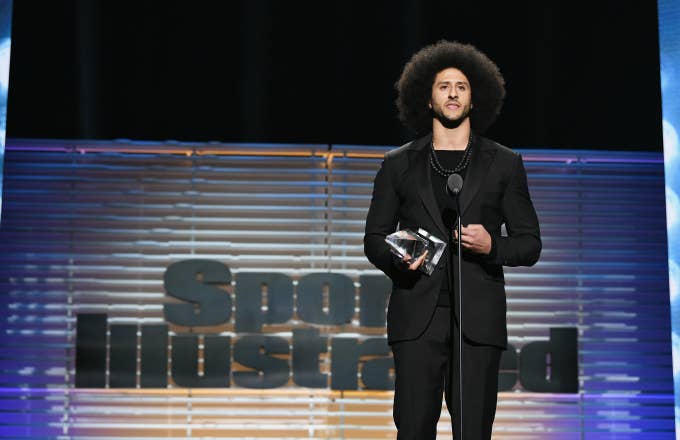 Will Colin Kaepernick play in the NFL in the 2018-19 season? It may seem unlikely, considering he remained unsigned for the entire 2017-18 season, but don't count it out. New Raiders head coach Jon Gruden recently said he thinks Kaepernick will be on a roster "soon."
"I'm surprised he's not in (training) camp with somebody," Gruden said in late March. "He probably will be soon."
Adding fuel to the fire of that rumor: the Seattle Seahawks are reportedly interested in Kaepernick. He was supposed to work out for the team this week, but Seattle has postponed his visit because he declined to stop kneeling during the National Anthem, according to ESPN's Adam Schefter.
After arranging for Colin Kaepernick to work out for the Seahawks this week, Seattle postponed the trip when the quarterback declined to stop kneeling during the national anthem next season, league sources tell ESPN.

More ahead on NFL Live now.
A lengthier version of Schefter's story is available here. He reports Seattle is still considering bringing the former 49ers quarterback in for a workout.
"After tentative arrangements were made and travel planned, the trip was unexpectedly scuttled over the Seahawks' last-minute stipulation regarding Kaepernick's anthem stance, a source told ESPN," Schefter writes. "The Seahawks wanted to know that Kaepernick wouldn't kneel this season and he was unwilling to give that assurance to them."
This doesn't mean Kaepernick definitely would kneel during the anthem; it just means he wasn't willing to promise that he wouldn't kneel to the Seahawks.
Kaepernick became a free agent after the 2016-17 season, and he has not yet worked out for any teams.