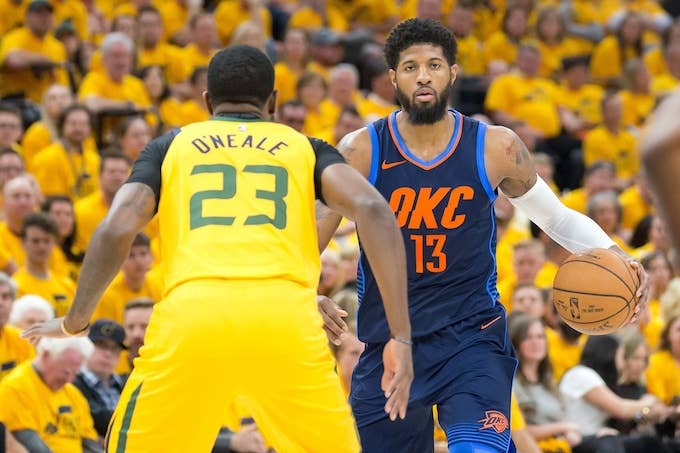 Many expected Paul George would sign with his hometown team, the Los Angeles Lakers, this summer, but he surprisingly elected to return to the Oklahoma City Thunder. George chronicled his free-agency decision in a three-part documentary project with ESPN, dubbed My Journey. Check out all three episodes below.
In the third and final episode, which dropped Tuesday, George explains his thought process in choosing the Thunder over the Lakers.
"I 100 percent appreciate Laker Nation for wanting me to come back home, wanting me to play in front of them," George says. "I wanted to come here a year ago prior to going to OKC. Unfortunately, [I] wasn't traded to [the] Lakers. Lakers didn't grab me. I was traded to Oklahoma. That has been a beautiful thing for me."
It seemed like a cop-out explanation, considering George had the power to choose whichever team he wanted this summer, and the five-time All-Star quickly caught heat on Twitter.
Paul George must think Lakers fans don't understand what Free agancy is
Look at this guy, is he for real?!
Paul George thought the lakers were gonna gut the roster for him. Blame the pacers not us . Sounding like a bitter ex 😂😂😂😂
Didn't this dude and his people come out and make it clear that last year was gonna be a 1 year rental cause he intends on signing with the Lakers this summer 🤔🤨 this dude is losing my respect everyday now smh 😪
Paul George "They didn't trade for me" we were not obligated to trade for you! We owe you nothing . Like you owe us nothing by not signing with us.. have fun in Oklahoma City see you in the playoffs and keep our name out of your mouth. With your dumb ass 3 part special.