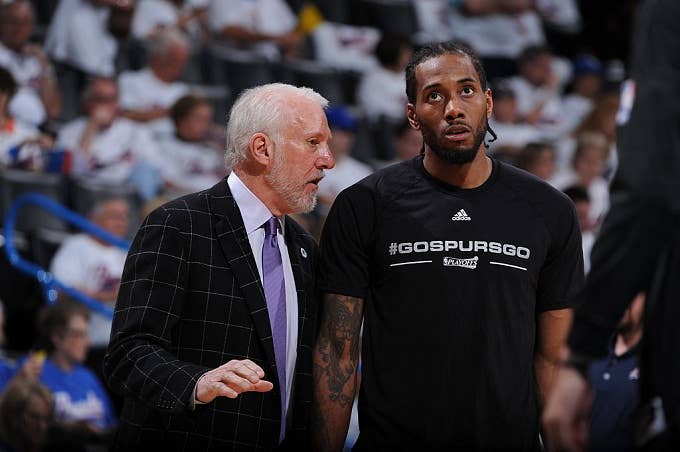 Kawhi Leonard has broken his silence. Nearly a month after the San Antonio Spurs traded the disgruntled superstar to the Toronto Raptors, Leonard has finally released a statement on the move.
The general theme of the message: thank you—to Gregg Popovich, the Spurs organization, and San Antonio's fans. Read the full statement below.
Kawhi Leonard releases first statements since trade to Toronto, saying goodbye to San Antonio and the Spurs:

pic.twitter.com/XxSUEwbrQ6
This message probably won't win over any Spurs fans, who are understandably still salty—and will be for a long time—about Leonard's last year in the black-and-gray. Leonard played only nine games as he managed a quadriceps injury and publicly feuded with the team about when he should return.
Near the end of the season, it became clear Leonard was ready to move on to a new franchise. He allegedly requested a trade to the Los Angeles Lakers, but R.C. Buford and company gave him essentially the exact opposite of his wish, shipping him off to frigid Canada. 
Nonetheless, Leonard is only under contract for one more season, and league insiders still reportedly believe he's bound for L.A. next summer.
Toronto sent All-Star guard DeMar DeRozan, promising young center Jakob Poeltl, and a protected 2019 first-round pick to San Antonio for Leonard and veteran shooting guard Danny Green. It's interesting to note that Leonard didn't even mention the Raptors in his statement. Leonard was supposedly not thrilled with the move, and we don't yet know when—or, for that matter, if—he'll actually suit up for Toronto.