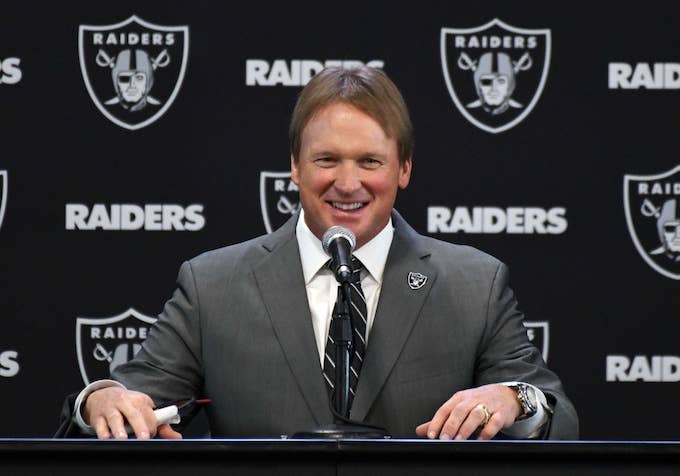 Colin Kaepernick is still without an NFL job. At this point, it seems very unlikely that he'll get signed, right? Wouldn't that have happened by now? Not necessarily.
Former Monday Night Football color analyst and new Oakland Raiders head coach Jon Gruden says he would be surprised if Kaepernick does not get another shot in the league.
"I'm surprised he's not in (training) camp with somebody," Gruden said, according to Paul Gutierrez of ESPN. "He probably will be soon."
Gruden tempered his take by saying it "says something" that Blaine Gabbert won the 49ers' starting job to start the 2016 season, but his expectation that Kaepernick will receive a training camp invitation is nonetheless surprising. In discusssing Kaepernick, Gruden mentioned a few other noteworthy quarterbacks who are not currently on training camp rosters.
"I think there's a lot of intrigue there," Gruden said of Kaepernick. "His performance on the field wasn't very good, on tape. I think, Robert Griffin, a rookie of the year, surprised he's out there. Tim Tebow takes a team to the playoffs, there's some surprise that he never came back. You know, Johnny Manziel, he's out there."
Kaepernick last played in the NFL in 2016. His contract with the San Francisco 49ers expired after that season. Many believe he has not received another shot in the league because of his decision to protest the National Anthem prior to 49ers games.