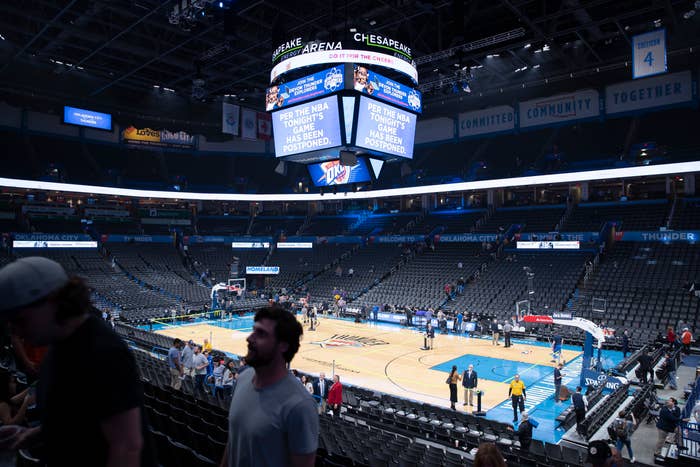 The coronavirus continues to snowball by the day. It has caused more than 4,700 deaths, with more than 129,000 confirmed cases. Wednesday, the World Health Organization labeled COVID-19 a "pandemic," marking the first time the WHO had used that characterization since the swine flu in 2009. The organization's leader explained that they put significant thought into the decision.
"Pandemic is not a word to use lightly or carelessly," said the WHO's director-general, Tedros Adhanom Ghebreyesus. "It is a word that, if misused, can cause unreasonable fear, or unjustified acceptance that the fight is over, leading to unnecessary suffering and death."
The same day, U.S. President Donald Trump declared from the Oval Office that he would enact travel restrictions on most of Europe.
"The European Union failed to take the same precautions and restrict travel from China and other hot spots," Trump said. "As a result, a large number of new clusters in the United States were seeded by travelers from Europe."
Coronavirus has impacted most realms of society. For example, a number of colleges—prompted by the Ivies—have moved spring classes online. The sports industry has been affected, too -- in a number of major ways. What follows is a timeline of COVID-19's impact on the sports world.
No Crowd for D3 Hoops Game
While the D1 men's hoops tourney won't start until next week, the D3 tournament is well underway. Officials elected to have a matchup between Yeshiva University and Worcester Polytechnic Institute (WPI) completed without fans in attendance. The only folks there were athletes, coaches, refs, media, and employees.
This is the first known sporting event in the U.S. that barred fans from attendance as a result of COVID-19.
LeBron Says He Won't Play
As concerns about COVID-19 built, the NBA mulled having games without fans in attendance. As that theory floated around, MVP candidate LeBron James said he wouldn't play if no fans were there to take in the action.
"I ain't playing," he said Friday. "I ain't got the fans in the crowd. That's who I play for. I play for my teammates. I play for the fans. That's what it's all about. If I show up to an arena and there are no fans in there, I ain't playing. They can do what they want to do."
He later reversed course, though, changing his stance Tuesday.
"Obviously, I would be very disappointed not having the fans, because that's what I play for—I play for my family, I play for the fans," he said. "If they [the NBA] decide to go to that point [where games are played behind closed doors], I'd be disappointed in that, but at the same time you've got to listen to the people that keep track of what's going on.
"If they feel like it's best for the safety of the players, safety of the franchise, safety of the league to mandate that, then we'll all listen to it."
Chicago State Stops Traveling
The Chicago State basketball program was scheduled to play at Seattle University and Utah Valley University but announced they would not make the trip.
"Chicago State athletics views our decision as a reaffirmation of our commitment to the well-being, health and safety of our student athletes," athletic director Elliott Charles said in a statement.
Ivy League Cancels Conference Tourney
The Ivy League had some of the first institutions to suspend spring classes; many other schools have since followed suit. Additionally, on Tuesday, the conference canceled its postseason tournament.
The regular-season champs (Yale for men's, Princeton for women's) received the automatic NCAA tournament bids. The conference also canceled remaining practices and games through the end of the semester.
Big East, A-10 Implement Precautions
College basketball conferences started taking steps to address COVID-19 ahead of their conference tournaments. The Big East, for example, announced locker room access for its tourney would be limited to the athletes, coaches, and essential personnel. The Atlantic 10 also announced it would suspend handshakes for its tournament.
International Soccer Affected
Serie A announced that its soccer games—reflecting all other sporting events in Italy—would not have any fans in attendance. Italy is considered the European epicenter of coronavirus. 
Ligue 1 in France also announced there would be no handshakes at its matches (a step also taken by the Premier League). Ligue 1 later employed the empty-stadium policy. It's not clear yet what will happen with the EPL, though all players are being tested after three showed symptoms.
NBA Takes First Steps
The NBA has been at the center of the coronavirus discourse in the U.S. sports world. The league took its first steps to address the virus when it sent out a memo encouraging players to do fist-bumps instead of postgame handshakes.
Monday, the league announced it would limit locker room access to essential personnel. Meanwhile, the owners continued to discuss how to proceed.
No Fans for XFL Matchup
The NFL doesn't have much reason to worry about coronavirus right now—though the draft is in question—but the XFL is a different story. In its first season back in existence, the league is facing a major hurdle.
The first step in response: the Seattle Dragons and L.A. Wildcats announced no fans would be allowed to attend their matchup in Seattle Sunday. That city is one of the biggest U.S. hubs for the virus.
MLB Makes Plans; Moving Mariners Series
The MLB is on the cusp of its new season, but—just like the XFL—it's now facing a huge logistical challenge. During spring training, locker rooms have been closed to the media. 
Additionally, the Seattle Mariners and Texas Rangers are planning to move their season-opening series slated for March 26-29 in Seattle -- again, because of the city's status as a COVID-19 epicenter. The new destination has not yet been determined.
NHL Responds, Too
The NHL regular season is in full swing. Starting Monday, the league closed off media from locker room access. 
The league announced it planned to continue with business as usual, with the regular season ending April 6 and playoffs beginning shortly thereafter. However, that decision now appears shaky.
Several teams have responded. The Columbus Blue Jackets announced no fans will attend their remaining home games (there is a state-wide ban in Ohio on large gatherings). The Maple Leafs have stopped air travel for their European-based scouts. And the San Jose Sharks, given a Santa Clara County ban on large gatherings, are considering what to do about their remaining home games.
"No events are scheduled at SAP Center until Tues., March 17," the team said in a statement. "We will be reviewing each scheduled event due to take place for the rest of the month and provide an update in the coming days. We appreciate the understand and patience of our fans, guests and partners during this unprecedented time."
Ohio State, Michigan Call Off Spring Football Games
College football is a religion in some parts of the country, including Columbus and Ann Arbor. Big 10 fans eagerly anticipate their first look at the new iterations of the teams, but the Buckeyes and Wolverines chose to cancel their spring football games. They also announced they'd be limiting recruiting.
Status of Tokyo Olympics is Unclear
Everyone's been looking forward to the 2020 Summer Olympics in Tokyo, but will the Games happen? Organizers said the status isn't clear now and might still be unknown in late May.
The IOC, however, said they maintain "full commitment to the success of the Olympic Games Tokyo 2020, taking place from July 24 to Aug. 9, 2020." The flame-lighting ceremony is actually happening this week in Greece—and no fans will attend.
No Fans Will Attend NCAA Tourneys
Wednesday, things got really real. The NCAA announced no fans would attend NCAA tournament games (men's or women's). Yep, we're looking at vacant arenas for the huge college basketball showcase. 
NCAA President Mark Emmert announced only "essential staff and limited family" would be permitted into the games.
Warriors to Play Without Fans
San Francisco is another U.S. hub for the virus. Accordingly, the Golden State Warriors—an organization always at the forefront of social issues—announced their remaining home games would be conducted with no fans in the crowd.
This followed the San Francisco Health Office prohibiting gatherings of more than 1,000 people. Obviously, Warriors games draw crowds bigger than that—an average of more than 18,000 so far in this (disappointing) campaign.
Juventus Player Tests Positive
The first major pro athlete known to contract the disease: Juventus defender Daniele Rugani. The 25-year-old had played against Inter Milan on Sunday.
Juventus said it was "activating all the isolation procedures required by law, including the census of those who have had contact with him."
Hoiberg Taken to Hospital
The Big 10 Tournament is still being played as usual, which has spurred some criticism. Ahead of Nebraska's 89-64 loss to Indiana Wednesday, Huskers (and former Bulls) coach Fred Hoiberg was not feeling well. He left early and was taken to the hospital.
The team announced, however, that he was not diagnosed with COVID-19 and has been discharged.
Rudy Gobert Tests Positive
Jazz center Rudy Gobert was the first major pro U.S. athlete known to contract the virus when he tested positive Wednesday. This came after some light-hearted but irresponsible behavior on Gobert's behalf Monday.
Needless to say, people were not thrilled with Gobert.
NBA Suspends Season
Following Gobert's diagnosis, the NBA announced its season had been suspended. Games that night would be completed, but then the league would go on hiatus.
Twitter exploded—an NBA season suspended? In 2020?!
Though everyone was disappointed, it seemed to be a well-accepted decision. As Mark Cuban explained, this is important.
Donovan Mitchell Diagnosed
And as for the latest development: a second Utah Jazz star was diagnosed with COVID-19 on Thursday. According to Woj, Gobert had been "careless" in the locker room—and now Spida has coronavirus, too.
MLS Suspends Season
Just a day after the NBA announced that they were suspending their season, the MLS followed suit due to the virus. Like the NBA, there's no timetable as to when the league will return, but they're obviously putting their player safety first. 
NCAA Conference Tournaments Canceled
While not a surprise, the NCAA conference tournaments began to get canceled a day after the NBA suspended their season. It's quite clear that no sports will be played in America for a little bit. 
PGA Announces Tour Events Without Fans 
While a number of leagues have suspended play, the PGA announced that they will continue on with their schedule, but without fans in attendance. That includes the PLAYERS Championship, and presumably the Masters, which take place in April. 
NFL Has No Plans to Move Start League Year 
While NFL teams begin to take scouts off the road and cancel a number of draft visits, the league announced that they have no plans to delay the start of the league year, which starts on March 18. This means free agency and everything surrounding it will still go on as planned. 
Duke Drops Out of NCAA Tournament 
No official annoucnement has been made on the future of the NCAA Tournament, but Duke has already announced that they're suspending all atheltics going forward. 
NBA Suspended for At Least 30 Days 
While we're still waiting for more updates, the NBA has notified all teams that the league will be suspended for a minimum of 30 days. Obvioulsy, it could be much longer than that, but details are scarce right now. 
Olympics Officially Postponed Until 2021
While we wait to see when other sports leagues might return, the Olympics are officially being pushed until 2021. This postponement comes after a number of countries said they wouldn't send their players to Japan this Summer if the games didn't move.