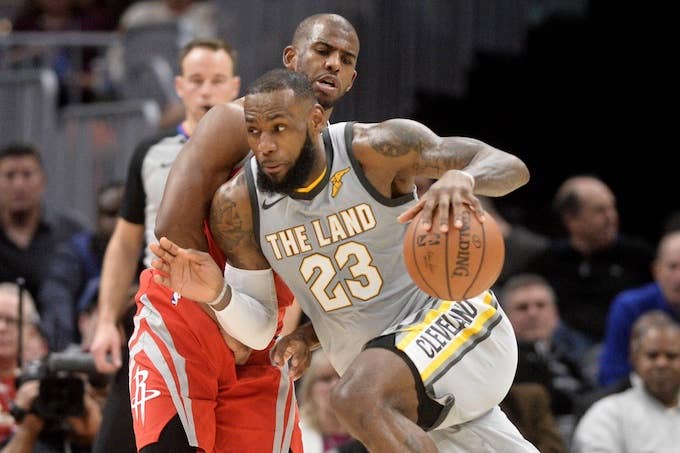 Every basketball fan seems to have an opinion on where LeBron James will end up next season. Lately, the conversation has focused in on the Lakers, with the general sports populace—and certainly LaVar Ball—growing confident the King will end up sporting purple and gold.
Late in May, a report surfaced stating Chris Paul was trying to recruit LeBron to Houston. Paul, however, seems to be losing faith—per a new report from First Take's Stephen A. Smith, CP3 also now thinks LBJ is bound for Hollywood.
"According to my sources, several things are happening: A. Chris Paul is telling folks LeBron ain't trying to come to Houston, he wants to be in L.A.," Stephen A. said. "These are things I'm getting through the grapevine. Chris Paul is saying LeBron wants to be in L.A."
Smith also noted that Paul George signing with the Lakers is far from a certainty, contrary to popular opinion.
"Point number two: folks are not sure Paul George is coming to L.A.," Smith added. "From what I'm being told, Sam Presti and the Oklahoma City Thunder are going to back up the Brinks truck for Paul George. They're going to offer him the max."
Stephen A. has become known for his boisterous rants on TV, so it'd be easy to discount the above statements because he's not a traditional news-breaker like Woj. But don't discount his connectivity within the league or forget that Stephen A. spent much of his career as a newspaper reporter.
Granted, just because people are "saying things" doesn't mean the rumors will come to fruition—but Smith's insights are interesting nonetheless.
Though CP3 may be confident LeBron is headed to L.A., he still seems focused on his recruitment. 
"Chris is going to return there," Adrian Wojnarowski said Monday. "And listen, right now, Chris Paul's focus isn't so much on his own free agency. He's trying to recruit LeBron James to Houston, and somebody close to him said to me he is as focused on recruiting LeBron as anything he's done in this league. He wants to find a way."