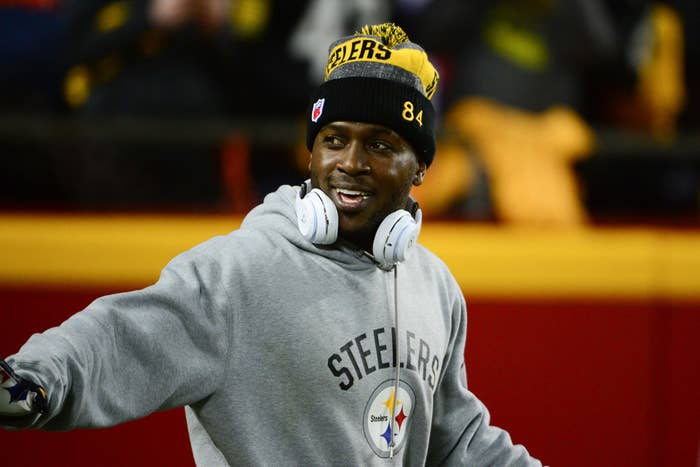 Antonio Brown isn't only one of the best players in the NFL; he's also one of the most gregarious figures. Like Odell Beckham Jr. and Michael Bennett, he relishes in the spotlight. As it is with Beckham, Bennett, and most athletes who have similar personalities, however, sometimes that extroversion and propensity for actions rooted in a "look at me" desire can rub people the wrong way. 
A report from Ed Bouchette of the Pittsburgh Post-Gazette indicates Brown's antics are starting to trouble some of his teammates and coaches. The biggest mistake Brown made recently, of course, was live-streaming a Facebook video from the Steelers locker room that happened to catch coach Mike Tomlin saying some less-than-savory things.
"Brown's antics are wearing thin on some of his teammates and certainly his coaches," Bouchette reports. "He has one year left on his contract and they promised him this would be the year they negotiate an extension for him. What will he want and what will they be willing to pay? Brown has them over one large barrel."
Brown, who will soon turn 29, was a sixth-round pick who has blossomed into a star. He has made the Pro Bowl five times.
Bouchette further reports:
"It should be noted that no one ever really spoke about attitude or off-field issues regarding Brown before the locker room video incident. You could easily argue that the narrative has been blown out of proportion, but some comments Ben Roethlisberger made recently indicated he has been frustrated with Brown at times. While Mike Tomlin and the rest of the Steelers organization were unhappy with the way Brown's season ended, it's tough to imagine them trading the 29-year-old or letting him walk in a year. Brown is still one of the top five—if not two or three—receivers in the league. He's going to get paid no matter what."
This could be much ado about nothing, or it could be an early indication that trouble is brewing in Pittsburgh. Roethlisberger, who is pushing 35, doesn't have much left in the tank. However, the Steelers made the AFC championship game this year, and young running back Le'Veon Bell is one of the best players in the league. A rebuild doesn't seem likely.
It would be a shock if the Steelers and Brown couldn't work through their issues to agree to a new deal.