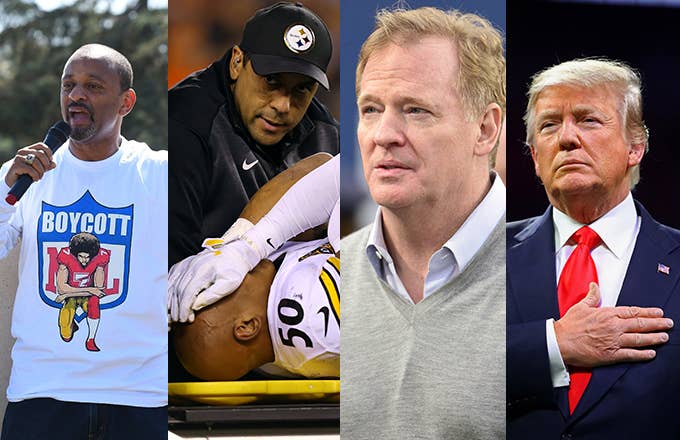 After the NBA announced that it is formally pushing to legalize sports gambling in the U.S., Houston Rockets General Manager Daryl Morey fired off a tweet that was both bold and unsurprising.
Tick tock it is just a matter of time before the

@NFL

is basically irrelevant as a sport - no global base, no one plays anymore

pic.twitter.com/f99MMLpY4d
The pro-football camp responded as if Morey had just gone helmet-to-helmet with its quarterback. Mike Florio, the owner of NBC Sports' Pro Football Talk and a mainstay on Football Night in America, published a rebuttal with the headline, "Houston Rockets G.M. joins the anti-football idiot parade."
"Daryl, you're an idiot," Florio wrote.
The back-and-forth was emblematic of a division that has arisen between two camps: Team Basketball Is the Future and Team Football Isn't Going Anywhere.
Team Basketball says the NFL has reached its apex and is headed downhill. As this side tells it, the NBA, the pesky little brother, has hit puberty and will soon be dominating their games of one-on-one. Morey, Mavericks General Manager Mark Cuban, and Lakers legend Kareem Abdul-Jabbar are among those of this belief.
Team Football throws a flag at this claim. As this side tells it, the NFL is still easily the most popular league in the U.S., and what we have seen recently is likely a short-term downtick. Florio, Patriots President Jonathan Kraft, and former ESPN VP John Wildhack are among those of this belief.
Regardless of whether you land with Team Basketball, Team Football, or somewhere in between, there is no denying that 2017 was a rough year for the NFL. The issues the league faced were abundant. Among them:
Players taking a knee during the National Anthem
Former 49ers quarterback Colin Kaepernick remaining unsigned
The league becoming the president's public enemy No. 1
Diminishing viewership
Fans' increasing awareness of the long-term impact of concussions
Owners feuding with Commissioner Roger Goodell
Too many stars getting hurt
No one knowing what a catch is
The Patriots predictably dominating
The two teams in the biggest U.S. media market being abysmal (Giants 3-13, Jets 5-11)
Viewers' Changing Consumption Habits 
The NFL's viewership turmoil has been well-documented. TV ratings fell 9.7 percent in 2017, after dropping 8 percent in 2016. Though 14.9 million people tuned into an average NFL game in 2017—still a gargantuan figure—16.5 million had tuned in to watch in 2016.
Andrew Brandt, the former Packers vice president who is now a columnist for the MMQB and host of the Business of Sports podcast, says people have claimed the NFL is in decline for 20-plus years. Pump the brakes, Brandt says. Though there is "some validation" to the idea that the NBA's future is bright, he doesn't see reason to believe the NFL is in any real danger.
"I think it's healthier than some would suggest," Brandt says of the state of the NFL. "I think the biggest challenge for the NFL is not concussions, it's not players taking a knee; to me, it's how to maintain and attract younger viewers. Whether that's being more social media-oriented, whether that's being more mobile, video, on demand. And I do think the product has to shorten. I think three hours is just too much."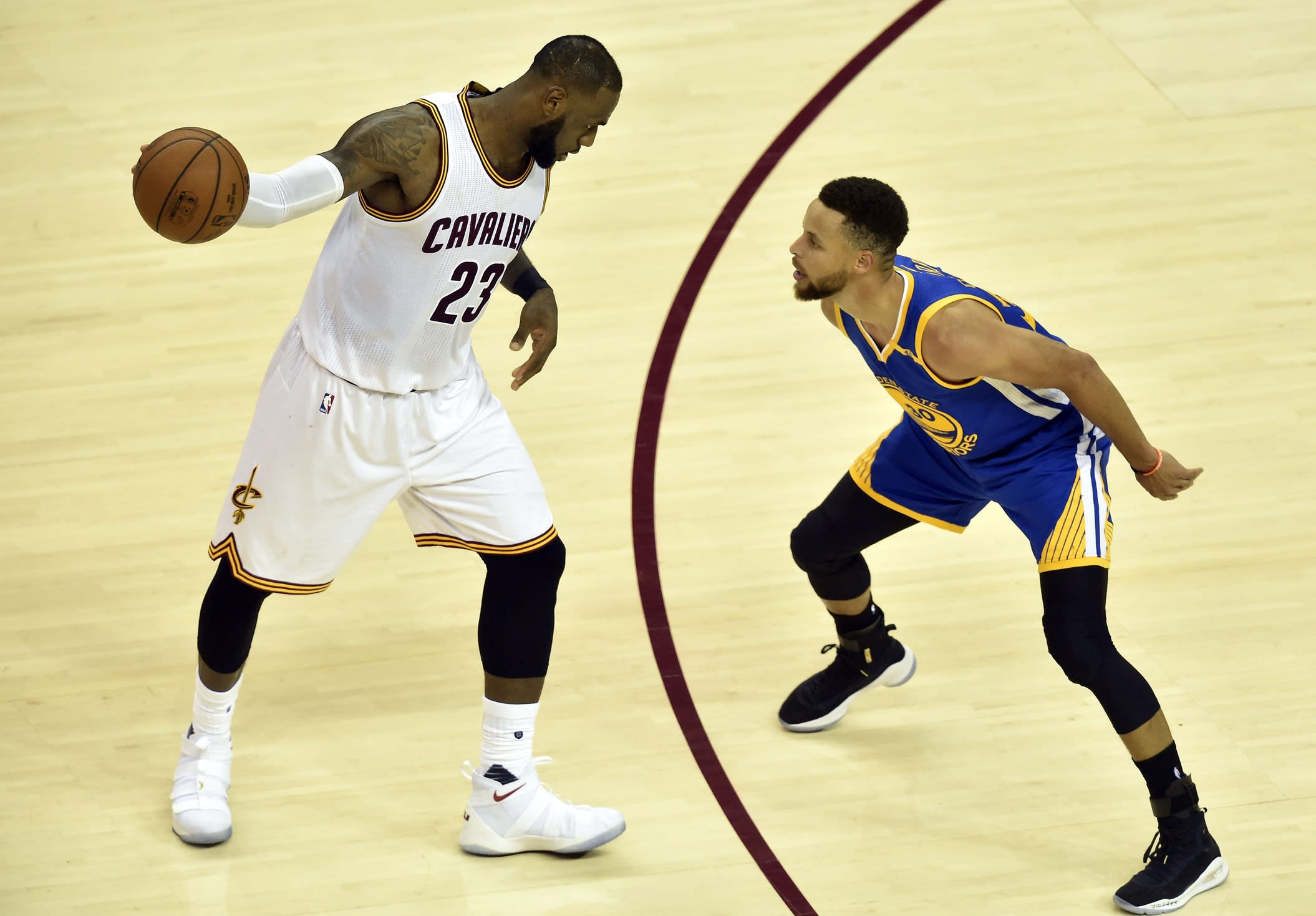 Jon Lewis, aka Paulsen, who runs the revered site Sports Media Watch, says the NFL's numbers are certainly down, but they're still quite strong. "The NFL right now is like if LeBron James played in AAU, but he played horribly—he would still be 10 times better than any other player in the league," Lewis says. "That's kind of where the NFL is, in my view. The NFL is so far ahead of everybody else that these numbers, even though they're down, are spectacular."
Donald Trump Wages War
Attracting viewers may be the preeminent issue the league faces, depending on whom you ask, but the other items enumerated above had an effect on the sport's public support in 2017 as well—not the least of which being players protesting during the National Anthem. It began with Kaepernick taking a knee in August 2016, but extended to this season.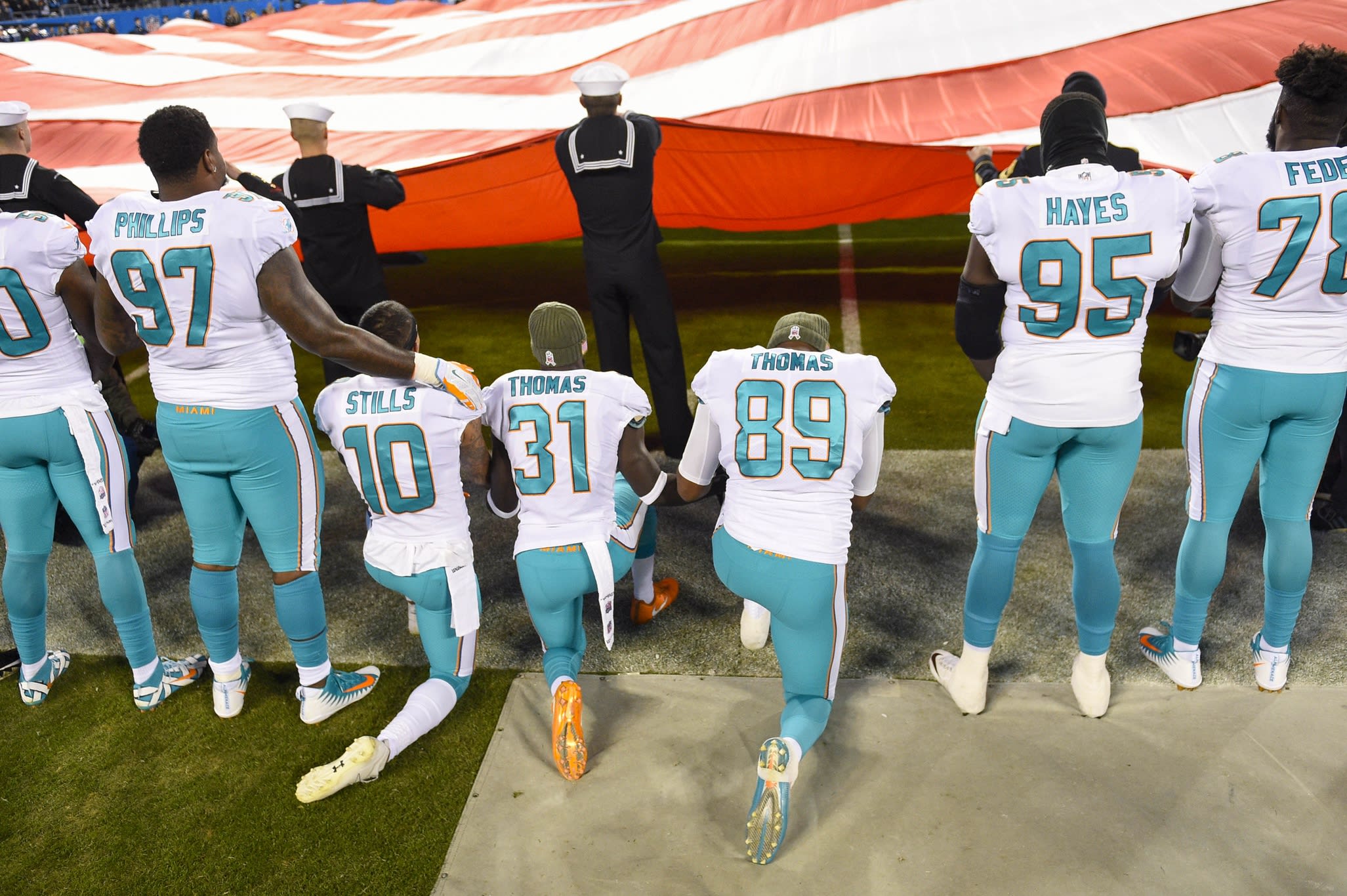 This launched a national debate, with people on both sides upset. Kaepernick's supporters were disturbed by owners' apparent attempt to stifle the players' right to free speech. ("We can't have the inmates running the prison," said Texans owner Bob McNair.) The other side was indignant that players would protest during the country's anthem—an action they felt was a slap in the face to U.S. military veterans.
Compounding this issue: Kaepernick was not signed to an NFL roster in 2017. As numerous less accomplished quarterbacks—like Matt Barkley and Aaron Murray—were scooped up, people became increasingly convinced Kaepernick was being blackballed because of his political stance.
Meanwhile, Mark Cuban said a politically outspoken player like Kaepernick would be welcomed in the NBA, which in 2014 permitted its players to wear "I Can't Breathe" shirts after Eric Garner was choked to death by a police offer.
The NFL's protest caught the attention—and the fury—of the White House. The league became President Donald Trump's public enemy No. 1. "He's trying to destroy us," a team owner told Bleacher Report of the president. "He's trying to use race to divide the players and our fans. It's all over a grudge." That supposed grudge stemmed from Trump's failed attempt to purchase the Buffalo Bills in 2014.
The league attributed its 2016 ratings slide to the polarizing presidential election. What about its slide in 2017?
Well, the election never really stopped. Through his first year in the Oval Office, Trump has remained must-see TV. And if more people are watching the president's every move, fewer people are watching football.
"You can't deny that when you have a politician of a certain stature talking down a league, it's going to impact the ratings somewhat, but at the same time there are so many issues with the NFL that it's really ridiculous to suggest that it's just the one thing," Lewis says.
Increasing Awareness of Concussions and CTE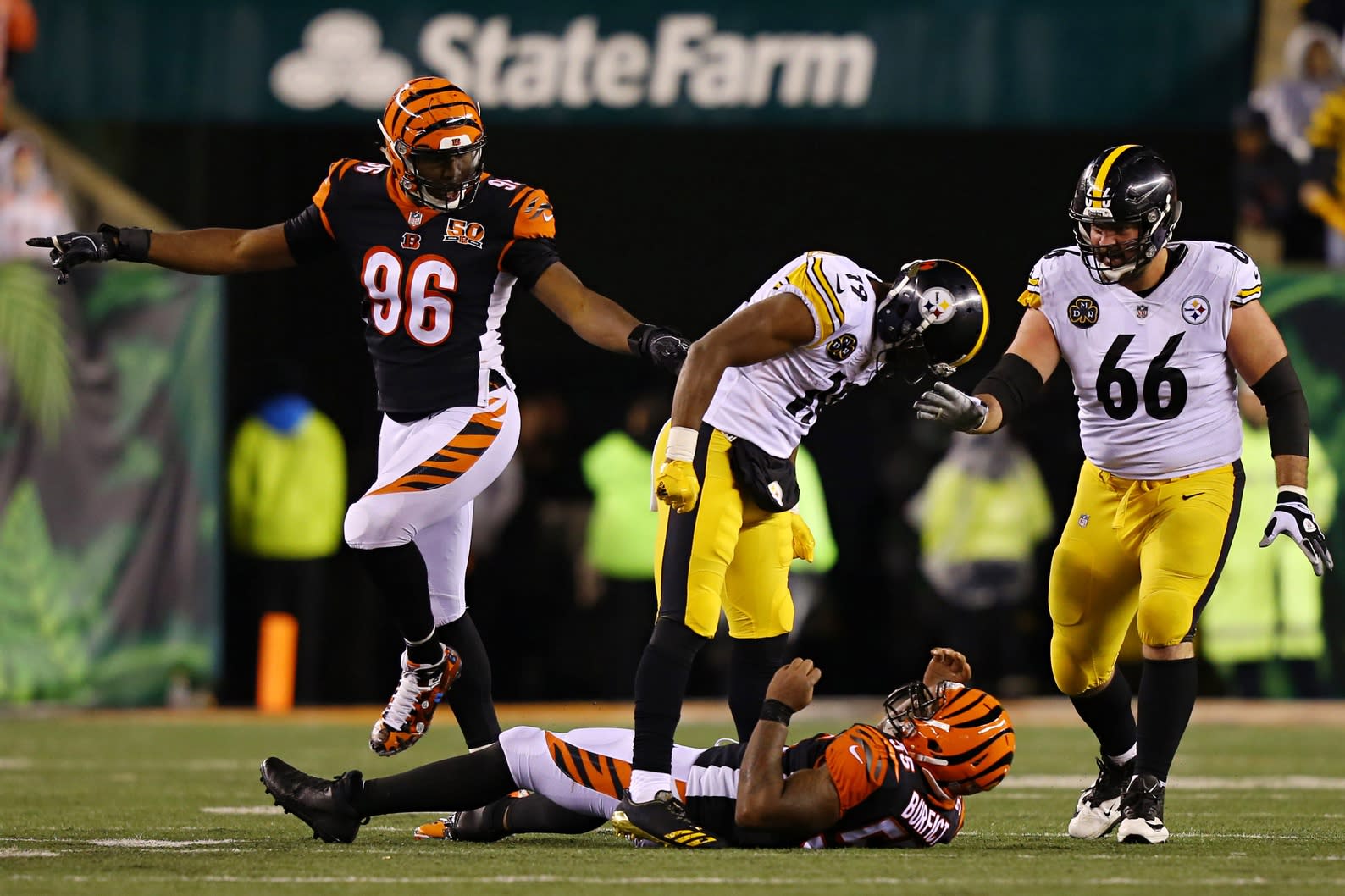 The populace has known for years that playing football can lead to long-term brain damage—the movie Concussion debuted in 2015—but that awareness heightened in 2017. A study published last year in the Journal of the American Medical Association revealed that of 111 former NFL players whose brains had been tested, 110 had chronic traumatic encephalopathy (CTE).
The troubling finding wasn't unique to those who had played the game at the top level. The researchers also examined the brains of college football players, finding 48 of 53 (91 percent) had CTE. Dr. Bennet Omalu, the face of CTE research, has called allowing kids to play football "the definition of child abuse."
A number of public figures—LeBron James, Barack Obama, even former NFL stars like Brett Favre and Troy Aikman—have said they would not want their children to play football. A recent Harris Poll found only 18 percent of parents would allow their children to play football, whereas 66 percent would allow their kids to play basketball.
Basketball is now the most popular sport among American youth, according to ESPN. Football clocks in at third. 
Will dwindling youth-participation numbers lead to the NFL's demise? Morey thinks so. Brandt disagrees.
"I don't think the concussion or CTE issue has a correlation to the popularity of football," says Brandt, the NFL columnist. "I think it has a correlation to perceived safety issues with participation, but I don't think it correlates to popularity. There are millions of us that accept that this is a dangerous sport and has life-debilitating potential, but we watch and consume and it's that conflicted relationship we all have."
The Biggest Stars Suffered the Biggest Injuries
While the league dealt with big-picture issues like the anthem protest and brain injuries, it also suffered from smaller negative storylines in 2017.
There was infighting between the NFL's most well-known owner, Jerry Jones, and its commissioner, Roger Goodell. Jones—frustrated with the league's handling of Ezekiel Elliott's suspension—attempted to have Goodell removed from power.
In addition, star after star was injured and missed most of the season—the marketable Aaron Rodgers and J.J. Watt, the social media sensation Odell Beckham Jr., the fantasy phenom David Johnson, and the emerging DeShaun Watson among them.
Richard Sherman
Deshaun Watson
Andrew Luck
Aaron Rodgers
Odell Beckham Jr.
Brandon Marshall
Zach Miller
Jason Peters
Joe Thomas
Marshall Yanda
JJ Watt
Whitney Mercilus
Eric Berry
Dalvin Cook
David Johnson
Darren Sproles
Ryan Tannehill
Julian Edelman
Allen Robinson

Way too many.
This is the stymieing catch-22 the league faces: to keep ratings high, the NFL needs its key players on the field. For the players to stay healthy, the NFL needs to implement rules that water down an inherently violent game. But watering down the game makes it less watchable.
No End in Sight for Patriots' Reign
The league in 2017 also wrestled with inconsistent and at-times baffling officiating. Seemingly every week there was a widespread "was that a catch?" controversy. Austin Seferian-Jenkins, Kelvin Benjamin, and Jesse James all had apparent touchdown catches overturned.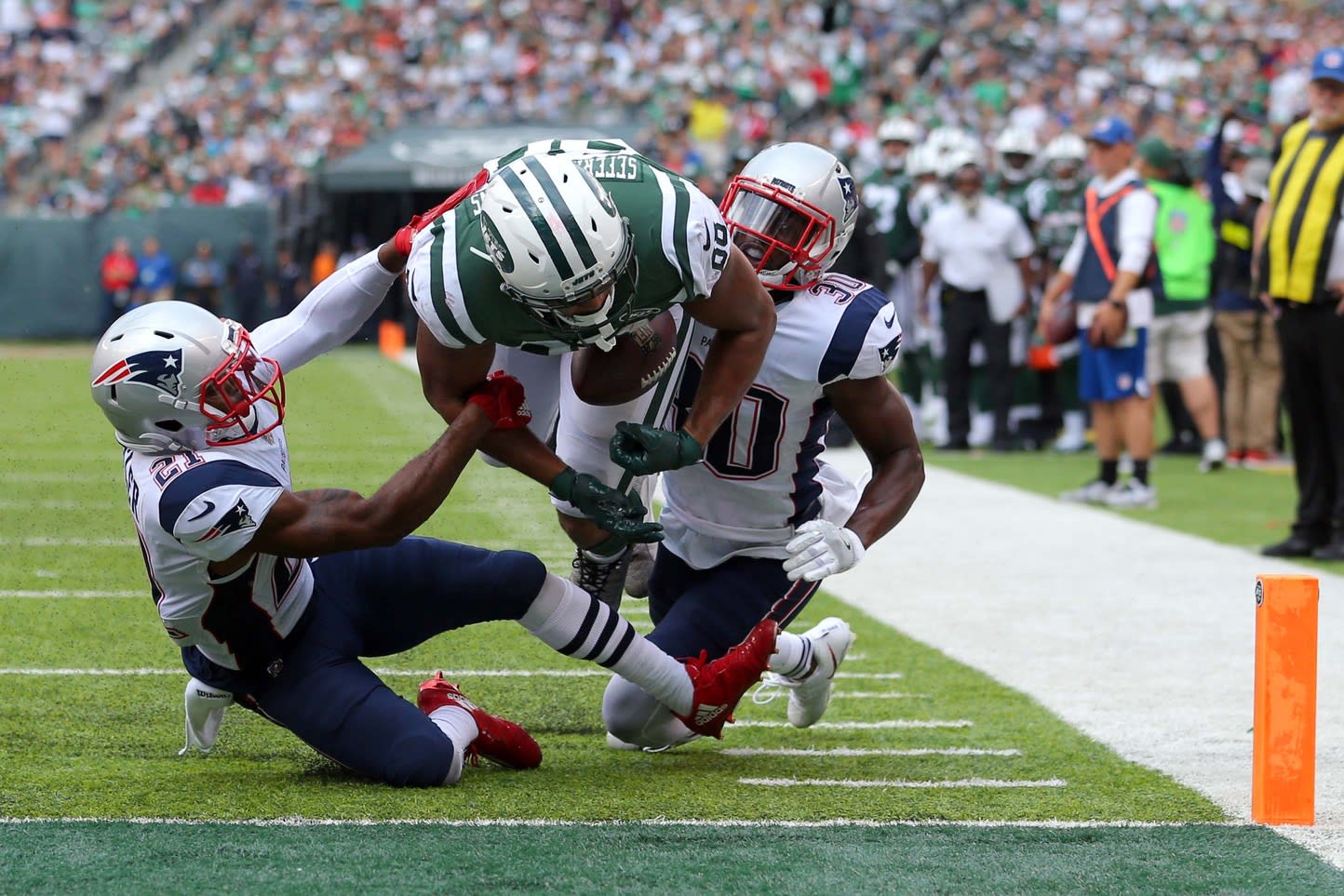 Adding to the disconcerting optics is the fact that all three plays happened in key moments of games the Patriots went on to win. It seems ludicrous to imply the NFL has some harebrained scheme for New England to win—the league took two draft picks from the team in the wake of Deflategate, and the Patriots' continued success is, if anything, probably harmful for the NFL's bottom line. But that hasn't kept fans from thinking as much.
In 10 years we will be watching a 30 for 30 about all the collusion that has been going on between the NFL and Patriots since the beginning of this "dynasty".
At some point in this season, it became apparent that the Patriots were the best team in football—again. It seemed inevitable that they'd win another Super Bowl. This kind of predictability doesn't help to hold the public's interest. 
Consider how one article about potential internal turmoil in New England that could end the dynasty consumed the sports world. People seem to be eager for a new NFL storyline.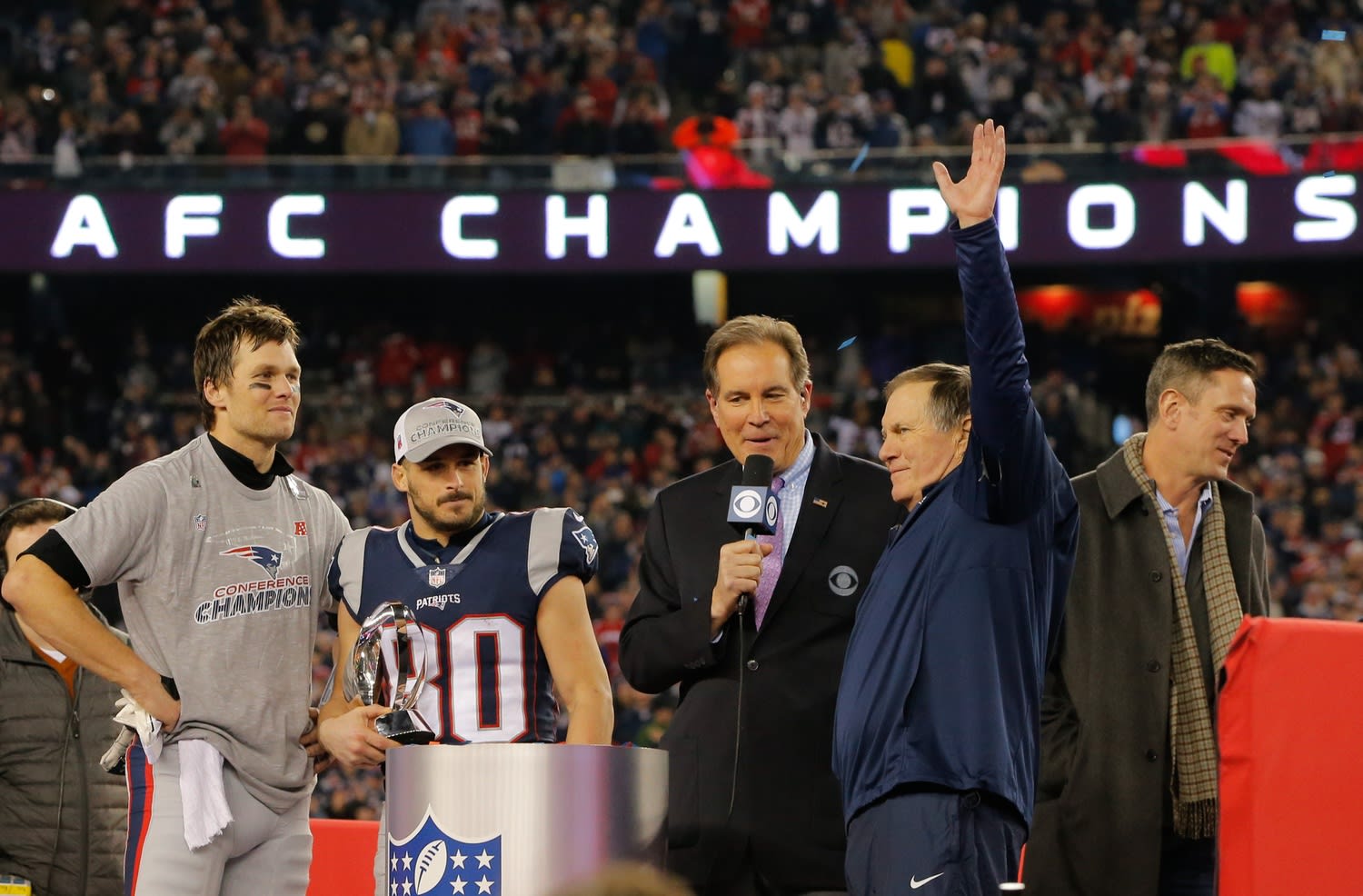 Don't get it twisted: The NFL is still King of American Sports. The league's dominance since the 1960s has been as consistent as the Patriots' dominance since 2001.
For evidence of the league's health, consider financial numbers for this weekend. The Super Bowl's host city of Minneapolis will garner roughly $200 million in direct revenue; the average 30-second TV ad will cost $5.1 million; and more than 100 million people will tune in to the broadcast. It will be the most-watched program of 2018, more than doubling the viewership of the No. 2 program.
The NBA thinks it's got next. The NFL thinks that's funny. The NBA may own social media and international expansion, but the NFL owns fantasy and gambling—and still owns TV.
It is too early to tell whether America's Game should be legitimately concerned about its future, but one thing is clear: The NFL is hopeful for 2018 to be a rebound year, a year that bucks its recent downward trend.