The day after, there are two sides to Zion Williamson's NBA debut.
We'll start with the good side since Williamson lit up everyone's timeline with a blistering 3:08 run in the fourth quarter that will go down as one of the most memorable authored by a rookie in his first game in league history. It's been a long time coming for the No. 1 pick in last June's draft to finally suit up in a meaningful game and only the sorriest of human beings—or Spurs fans—were loathe to see the most hyped rookie since LeBron James go off.
And go off he did—finally—in the fourth when Williamson reeled off 17 straight points. The burst took over Twitter as numerous NBA observers posted screenshots of the US trending topics while Williamson lit up the Spurs. Of course, things didn't start so well. Williamson looked hesitant and deferred too much in the first half. Since he was on a strict minutes restriction it was tough to get in any kind of rhythm with a seat on the bench beckoning every few minutes after he checked in. Through three quarters, basketball fans were preparing to collectively yawn at his debut. It was great to see him finally play, but with more conditioning and court time with his teammates needed, we'd probably have to wait another night to see something special out of the 19-year-old Pelicans savior. We should've known better since Williamson defies convention.  
salute to Zion Williamson for going off and giving us a desperately needed memorable moment. No one will remember that the Spurs actually held on to win last night's game. We'll remember Williamson, a generational talent, dominating for those 3:08.
Because in a flash, Williamson, who entered the fourth quarter with only 5 points, flipped the script. It started with a 27-foot 3-pointer with 8:52 to go in the fourth. Ok Zion. Then came the alley-oop layup over LaMarcus Aldridge. Yo Zion. Then another three. Damn Zion. Then another bucket around the basket where he showed off his burst and incredible athleticism after his shot was blocked. Wow Zion. On the next Pelicans possession he dropped in his third straight three. OMG Zion.
Then, off a Lonzo Ball steal, Williamson let one fly from 26-feet. Incredibly, astoundingly, it was pure. GTFOH Zion. With 6:18 left to go, New Orleans had its only lead of the final period. Four threes in a row from a kid who never hit more than three 3s while at Duke, who could've scripted that? 
"When you're not able to move around and do athletic movements for a while, the only thing you can do is just shoot spot-up jumpers, I guess that was the result of that," Williamson told reporters after the game.
They weren't the prettiest arching shots you've ever seen, but they were taken in confidence, and in rhythm, and they came down on the Spurs like a sledgehammer. Inside Smoothie King Center in downtown New Orleans, it must've sounded like a Saints game. Zion, of course, didn't get to finish off the Spurs. The minutes restriction, since he's only a few months removed from knee surgery, cost him the chance to close out what he started, much to the chagrin of the New Orleans faithful that soon chanted "We Want Zion." Coach Alvin Gentry wouldn't give them what they wanted. 
Zion doubters watching his NBA debut. 😂

22 points in 18 minutes pic.twitter.com/NdHcz05XGL

— Complex Sports (@ComplexSports) January 23, 2020
"The medical people said that was it," Gentry told reporters after the game. "He wasn't happy about it. I don't think anybody would be happy about it if you were playing at the level he was playing."
The thousands in attendance definitely got their money's worth. So did everyone who stayed up to watch as it matched the highest-rated NBA game ESPN has televised this season. Without a thundering dunk, Williamson scored 22 points, grabbed 7 boards, and dished out 3 assists in 18 minutes. He dominated the Spurs, social media, and all the highlight shows. While I'll contend he didn't look that fluid moving around the court and we only saw bursts of his stupefying athleticism, Williamson's debut was pretty damn impressive. 
It was also, in my opinion, the NBA's top feel-good moment of the season and arguably its most entertaining. And here's where I'm going to throw cold water on an awesome evening.
Because the bad side of Wednesday is that it sadly represents the most memorable moment from the NBA season so far. And I don't think I'm being hyperbolic when I write that, nor am I the only one who shares that opinion.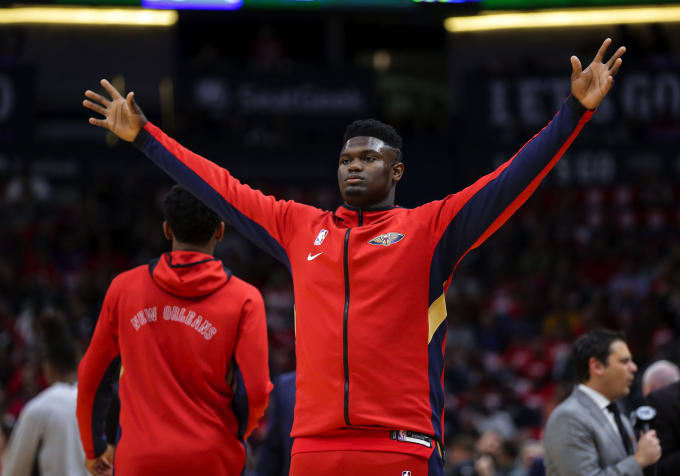 The 2019-20 season was ripe to be the NBA's most captivating ever before it tipped off in October thanks to all the player movement and the fact that all the talk wouldn't be about free agency, it would actually be about basketball for a change. But halfway through, why does it feel like the season has been bereft of signature moments or memorable performances? Yeah, Luka Doncic is doing things no 20-year-old has ever done in the NBA and Giannis Antetokounmpo is on his way to winning another MVP. LeBron, AD, and the Lakers are fun to watch and racking up the wins. The Clippers can't wait for the postseason to begin. Ja Morant's been great, but who didn't see that coming? All those 50-point performances from Dame and James Harden no longer excite because it feels like they do it every night. And who gets hyped anymore for a triple-double when the entire league is basically positionless?  
Maybe I'm in the minority here and I'm probably just insanely jaded—it takes a lot of impress me—but with stars missing so much time (Steph, Klay, Kyrie, KD, PG, Kawhi, and others) and the number of serious title contenders probably limited to at most just a handful of teams, I feel like the 2019-20 NBA season hasn't lived up to the hype. Highly publicized declining TV ratings would back me up. It was supposed to be wide open with so many superstars relocating and the Warriors taking a massive step back. But right now it feels a three-horse race between the Lakers, Clippers, and Bucks. All-Star selections are boring. Does anybody really care about the Dunk Contest anymore? Other than Doncic, has any other player emerged as a revelation this season? Are there any regular season storylines worth getting wrapped up in? I can't be the only one wishing it was April already and the playoffs were about to start.  
Maybe it's just a temporary feeling since we're in the dog days of the NBA season right now and the shine of its eagerly anticipated start wore off long ago. Maybe once we get past the All-Star Break things will perk up. We know many more memorable moments are coming once the postseason arrives. Sure there's been plenty of pettiness and typical social media drama to keep hardcore fans engaged in the NBA's daily news cycle, but we low-key need more vibes like we got Wednesday. 
So salute to Zion Williamson for going off and giving us a desperately needed memorable moment. No one will remember that the Spurs actually held on to win last night's game. We'll remember Williamson, a generational talent, dominating for those 3:08. Good game, good night, good start, and god damn do we desperately need more of that.