When the rematch between Andy Ruiz Jr. and Anthony Joshua was officially announced back in August, the location of the fight was about as shocking as Ruiz's upset victory this past June.
The fight's promoters weren't taking it to Joshua's native England, or staging it in the United States again. And they didn't seriously consider Mexico, where the Ruiz family hails from. Instead, the Saudi Arabian capital of Riyadh was announced as the site of arguably the biggest fight of 2019. Eyebrows were raised. Heads were scratched. An explanation was required. 
Boxing has a rich history of staging massive fights in exotic locales. Two of Muhammad Ali's most legendary fights—"The Rumble in the Jungle" and "The Thrilla in Manila"—were held in spots nobody predicted would ever host such massive events. Holding "Clash on the Dunes"—the official nickname, if you will, of Joshua-Ruiz 2—in Saudi Arabia was similarly shocking and historic, since no Middle Eastern country had ever hosted a championship fight in boxing's most glamorous division. And after the country successfully staged the showdown, fans of major international sports like boxing, soccer, golf, and motor sports can expect many more events to be held there.
That's because Saudi Arabia is looking to flip the script and create a new conversation about the country via a fledgling yet sensational sports scene. It's new territory for the oil-rich nation that's largely been an afterthought when it comes to sports, but by investing heavily in facilities and attracting marquee athletic events—the promoters of "Clash on the Dunes" reportedly received around a $50 million site fee—Saudi Arabia's General Sports Authority hopes a strategy implemented in 2016 will see soon pay off two-fold. First by increasing interest in athletics domestically and second by turning the nation into a destination for rabid international sports fans ready, willing, and able to spend money to support their favorite athletes or teams in person.
"Sports reaches everyone, and I think it is fundamental in the '2030 Vision,' and one of the key visions in the '2030 Vision' is to promote and grow sports within the Kingdom," Prince Abdulaziz Bin Turki AlFaisal Al Saud, chairman of the GSA, said in September while promoting Joshua-Ruiz 2. "We are not just hosting fights; we are increasing the interest in the Kingdom. We have seen the interest in sports have grown drastically in the last few years, and we want to give this opportunity to Saudi citizens who can come and watch this fight."
So if your fandom isn't restricted to teams that play exclusively in the United States, chances are you're going to hear and see more big-time events going down in a country that has won just three Olympic medals—no golds—since it started sending athletes to the games in 1972.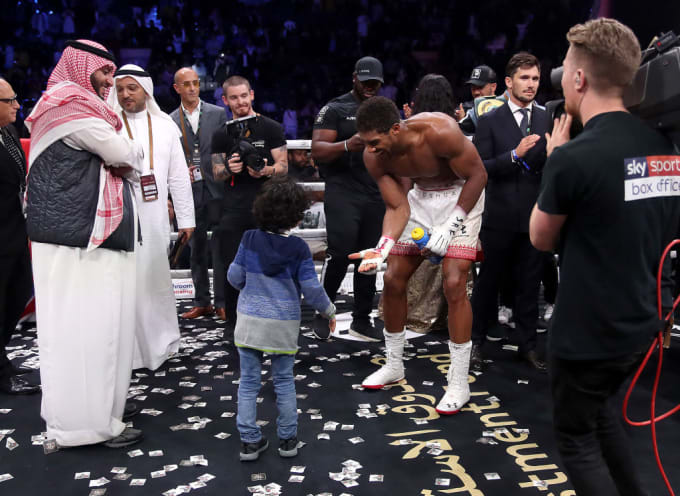 In terms of what's been staged already and what's currently on the schedule, this past weekend's fight, in which Joshua became the unified heavyweight champion of the world, was by far the biggest. Organizers touted that fans and media from 65 different countries were expected to attend Ruiz-Joshua 2 in an outdoor stadium built specifically for the fight. 
"Sometimes there was shock and criticism, but this was an absolutely wonderful decision," Matchroom Boxing managing director and fight promoter Eddie Hearn said about bringing the Joshua-Ruiz rematch to Riyadh. "The hospitality from the Kingdom of Saudi Arabia has been incredible. The fighters have had an amazing experience here, with first-class facilities being specifically built for them to prepare. This is a new dawn for the sport of boxing."
It's kind of nuts to think about, but the site of Saturday's fight didn't exist a few months ago. Commissioned by the GSA, the 15,000-seat Diriyah Arena was erected in two months. Akin to Carson, California's Stubhub Center, which regularly hosts big fights, Diriyah Arena is bigger by 7,000 seats and was packed for Saturday's rematch despite rain showers that intermittently soaked spectators. Located near a UNESCO World Heritage site, it will be reconfigured over the coming months to accommodate other events like the Diriyah E-Prix and Diriyah Tennis Cup. 
But bigger, better, and more noteworthy will be the soccer, golf, horse racing, and other major sports events on the country's schedule, since Saudi Arabia's strategy is ambitious. Starting in January, the Spanish Super Cup, featuring the popular club teams Real Madrid, Barcelona, Atletico Madrid and Valencia, will be held in Saudi Arabia for the next three years. Italy held its Super Cup there earlier this year. The Saudi Cup, a horse race happening in February, will feature the sport's richest purse ($20 million). The Saudi International, a stop on golf's European Tour, will tee off for a second straight year in 2020 featuring a number of superstars. Formula One racing has reportedly held discussions to stage a major race there as early as 2021. WWE even got in on the action. Its Crown Jewel PPV was held this past Halloween to Riyadh, the capital, in 67,000-seat King Fahd International Stadium.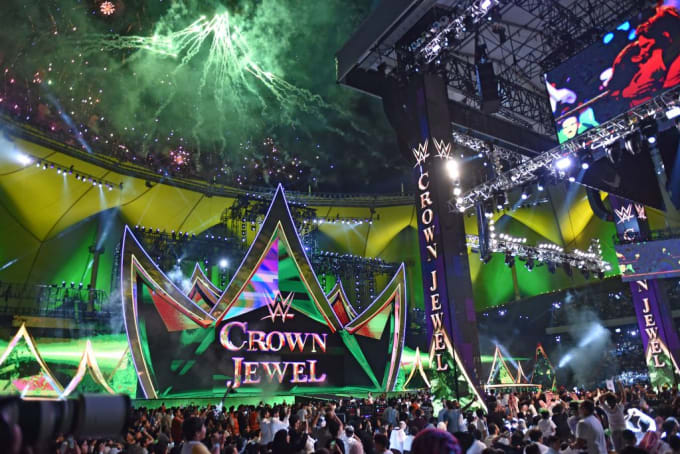 Critics of the government's domestic and international policies will continue to question sports leagues staging major events there. Saudi Arabia hopes that, by hosting them, more people will talk about the country from a sports perspective rather than a political one. It also hopes tourists visit. Among other reforms that have reshaped the daily lives of its 22 million people, Saudi Arabia significantly increased the number of visas issued to travelers last year. Staging "Clash on the Dunes" just outside Riyadh offered the opportunity for many to see the birthplace of Islam for the first time. 
After the fight that Joshua easily won via unanimous decision, Ruiz was boisterous proclaiming he wanted a third throwdown. He also said he wouldn't be opposed to fighting in Saudi Arabia again. That's a very different tune than he was singing over the summer when reports surfaced that Riyadh would host the rematch. 
"That's a positive because he was a bit weary at first, so it's nice that he's changed his opinion," Joshua said after the fight. "Has everyone had a good time here? I think everyone's had a good time here."
Joshua, of course, had the best time since he won back his belts. In the earliest hour of Sunday morning, thousands of miles away from his home of London, Joshua celebrated by spending an unusual amount of time in the confetti-strewn ring and thanking all who came out to support. Many in the crowd who cheered his victory were women, a mixture of citizens and fight fans from abroad. Years ago they would have either been segregated from men in a public setting or banned from attending. It was an historic scene and a sign of things to come.