Julia Rose Talks Flashing Gerrit Cole at World Series: 'We Had It Planned Almost a Year Ago'
Julia Rose, the woman who flashed Astros pitcher Garrit Cole during the World Series talks about the incident and the MLB ban.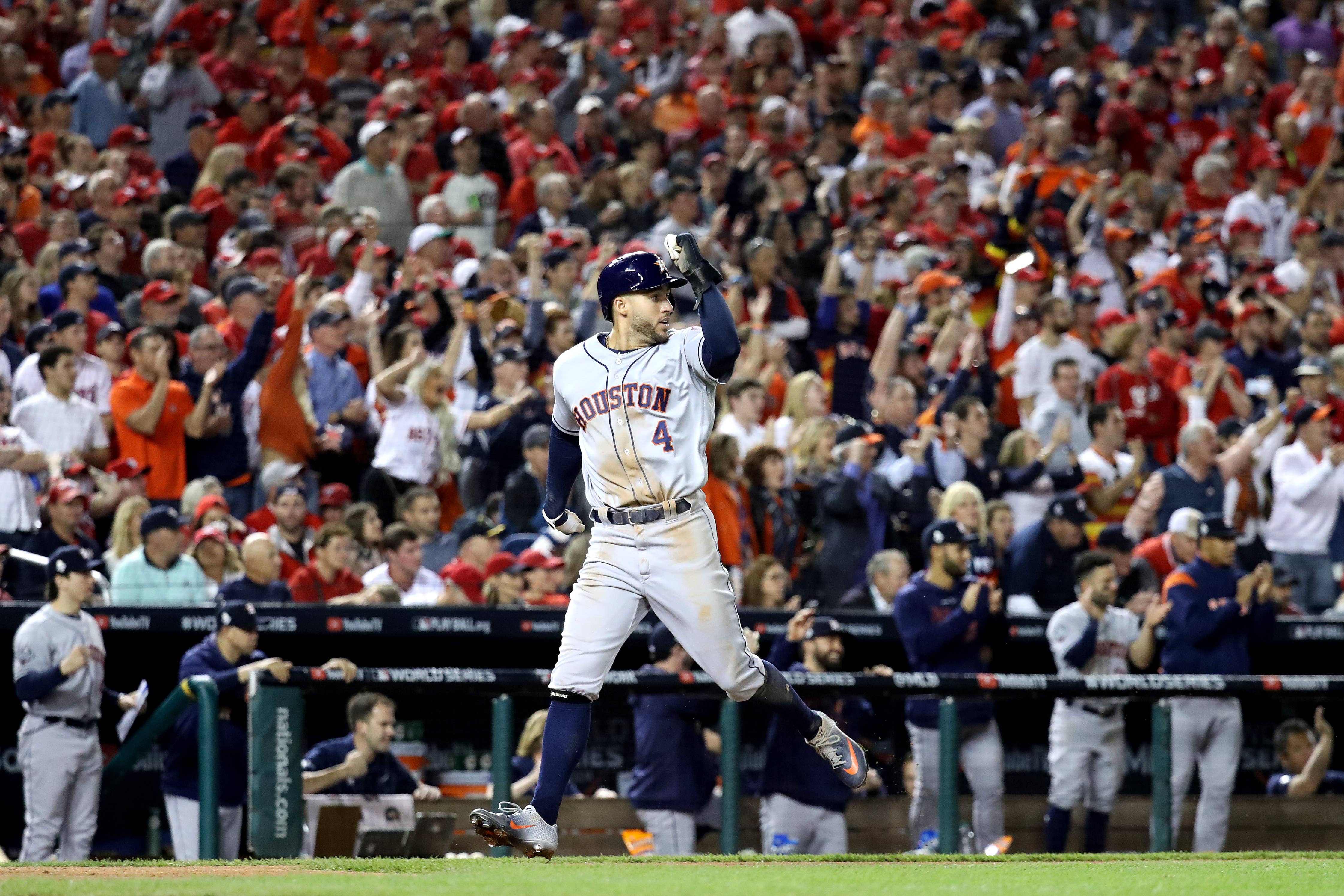 Getty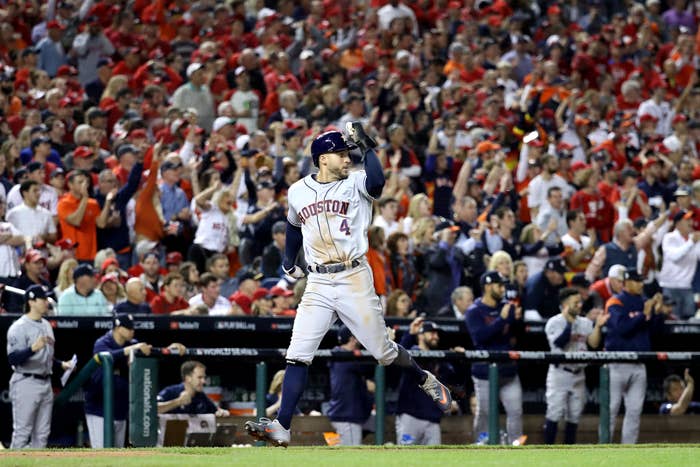 Julia Rose wanted to make a splash on the biggest stage. Well, talk about mission accomplished. Chances are, if you were watching game five of the World Series, you saw Rose and her friends flashing Houston Astros pitcher Gerrit Cole on live TV for the entire world to see. Rose and company were immediately snatched by security and held in "MLB jail" for nearly two hours before word came down that they were banned from all future MLB games forever.
Rose wasn't exactly shocked by the ruling. When you have something planned for over a year, you're essentially ready for whatever. "Yeah, so we had it planned almost a year ago. I knew I wanted to do something at the World Series, but we just didn't know, obviously, who was playing, what game, where it would be, the location or anything," Rose told Complex Sports. 
With game six of the World Series set to take place tonight, Complex Sports talked to Rose about how she planned the incident, why she did it, how much they paid for the tickets, and much more. 
(This interview has been edited and condensed for clarity.)
So what, exactly, happened that night? From the start, just run me through it all. 
Yeah, so we had it planned almost a year ago. I knew I wanted to do something at the World Series. But we just didn't know, obviously, who was playing, what game, where it would be, the location or anything. Once we found out who the teams were, we then bought the tickets, I believe, not even a week ago. We had to get tickets for game five. And game five was a gamble, obviously, because if it's a sweep or something, then we wouldn't even make it to game five. So we crossed our fingers, and bought tickets last minute.
We were just going to play on one of the girls who ran down with us and do it where our seats were. But when we showed up to the stadium yesterday, one of the GMs at the stadium knew who we were and pulled us aside and basically told us that you have to zip our jackets up because our shirts said SHAGMAG, so they said they didn't want SHAGMAG on TV, that we couldn't promote for it, and they had no idea of what we had planned.
So we agreed and we said we'd zip up our jackets. We knew we were going to do that, obviously, at the game, but then what we found out after talking to some friends watching the game at home was that they knew what we were going to do, because they had shifted the cameras over so we weren't on camera anymore because we had seats literally right on the edge. So they perfectly shifted the cameras over and we're like, "Okay, now we're going to have to mix things up and we're going to have to take this, go on the opposite side, and just run down the stairs when you find a good opportunity and do it."
And just like, if people try and stop us, we just go for it. And so that's what we did. We went to the bathroom and took our jackets off, draped them over our shoulder, we casually walked down, we had the attached two security guards that were chasing us down, and I was like, "Three, two, one, go," and we're waiting for his wind-up. I think we distracted him so much, then we didn't even make it to the wind-up. It was awesome.
Gerrit Cole for sure saw you guys, right? Because you couldn't really tell on TV.
For sure. We made eye contact for sure.
Oh, that's insane. How much did you guys pay for the tickets, if you don't mind me asking?
Yeah. Our overall total tickets for the four that we had, we had six tickets total, for all of them, we paid around $80,000.
Why the World Series? You said you picked out the World Series last year. Is it just because the camera angle? Like you guys thought that would be the best way to get on TV?
Yeah, it's one of the best sports with the most coverage. You know where the cameras are most of the time. Personally, I'm a huge football fan, but when it comes to football, you know it's like almost impossible to get on camera. So we knew the cameras and where they'd be, and it's the kind of just-go-for-it-type thing with baseball.
What like what was the commotion around you guys immediately when it happened? I saw the photo of the guy taking a picture of you guys.
As we are taking that photo, there's two security guards trying to pull us back, but we knew that, like, you can't get really hands-on, so we've kind of just tried ignoring them, then. But, like, they radioed for backup. Backup came and then they ended up escorting us back up and waited, and then cops showed up, and security showed up, and we were escorted by, like, five security guards down to MLB jail, I guess you could say. We were detained for about two hours, and that's when they came down and handed us the letter basically stating that we're banned from that stadium for five years and all MLB events indefinitely.
Did you think you were going to get arrested? 
We were prepared for anything. We knew, worst-case scenario, we were going to get arrested. We even were like, "Everyone make sure you eat and go to the bathroom before we do this because you don't know when the next time you'll be able to pee is going to be." We thought maybe a fine. Me, I honestly didn't expect to be banned from life from all MLB events. I did not expect that one. But, I mean, I guess it comes with this. 
So kind of walk me through why you guys wanted to do this and make such a statement.
I started the magazine called SHAGMAG and I bought both of the girls on with it. It's basically a "Free the Nipple" magazine that inspires a lot of women who want to feel sexy and see that kind of content. Knowing that October is Breast Cancer Awareness Month. Our platform is "Dude, we love boobs and we like to support other women." So why not raise awareness for this, donate most of our support that we get from this stunt, and donate and help pay off medical bills for women that can't pay them off themselves? So that was the true motive behind it. That's "Let's make as much attention around SHAGMAG, see how many subscribers you can get, and then donate a bunch of the proceeds to helping them with their medical bills or breast cancer."
How many followers did you get today?
Instagram or subscribers to SHAGMAG?
Both.
Followers on Instagram, I think I just broke a little over like 120,000. Subscribers on SHAGMAG? I think we've reached a little bit over 500 today. 
Did anyone out of the ordinary hit you up today? Like any big celebrity? 
Johnny Knoxville hit us up, and I was like, "This was awesome." Which I feel like he's the man of all stunts. 
That's a huge co-sign.
I know. I'm like, if Johnny Knoxville says "good job," then you know you did a good job. We actually went back to the stadium, I know we're not supposed to, to get pictures and we had people coming up, fans literally being like, you guys are the MVP. Like, it's just, it's an awesome experience. It's really great.
You have to like talk to Gerrit Cole at some point, right? Like, it's sort of got to happen.... 
I mean, apparently he has a wife, and, you know, things can get tricky in that situation. But I have had people say, "Oh, I guess that players reach out, but you definitely got his attention." And it was, you know, who knows if people are telling the truth or not? But I have reached out, and I said like, "Hey, Gerrit. I was just trying to, you know, catch your eye really quick." Hopefully his wife and I can be friends one day.
At least he didn't give up a home run when you guys did it. 
We were hoping for that. We're not going to lie.
Really?
Yeah. We hoped it was something like that. We were trying. 
He definitely stopped. He was definitely distracted.
Yeah. I mean [laughing], it's pretty cool that we could distract Gerrit, so that was, like, really awesome.
Who do you want to see win the series? Obviously the Astros just took the lead back.
I'm from Texas, but I have to say, you know, coming to Washington, we kind of wanted to go for the home team because you never want to be rude at a home game. But I am rooting for Astros, being from Texas myself. Hopefully the Astros bring it back home.