Sometimes common sense prevails, which is exactly what happened in May 2018 when the Supreme Court knocked down the archaic and utterly ridiculous 1992 federal law that outlawed gambling on sports. 
Since then, gambling has emerged from the shadows as more and more states continue to legalize it and mainstream media outlets embrace content and greenlight programming around a formerly taboo subject. Case in point: arguably the best thing ESPN does these days is the "Bad Beats" segment on SportsCenter with SVP and numerous networks, like the Worldwide Leader and Fox Sports, have gambling specific shows airing daily. There's more gambling content than ever—Complex Sports has been known to bring you some on occasion—but what if you're looking to wade into the waters and start betting on your favorite sports but don't know what you're doing and need a little primer? 
If you're hellbent on throwing down some action on the games you're already going to be watching, especially with the start of the NFL season right around the corner, we thought we'd offer up a our version of Sports Gambling 101 for any novices out there. Ten states now offer some kind of legalized sports gambling with more to come this year. If you live someplace that doesn't, you can still find a local bookie who will gladly take your action or you can try with an off-shore sportsbook likely based in the Caribbean or Central America to get your kicks.  

Regardless of what route you want to take, here's a very basic education on all the things you need to know before you start putting dollars down on the big game. Three years ago, as an ode to Biggie, we brought you the 10 Crack Commandments of Sports Gambling. It's still relevant today but goes into slightly greater depth about proper sports gambling etiquette (yes, it exists) and other behaviors than what you'll find below. So read up and godspeed, future sports gamblers, and do not blame us if you end up on the streets.
It's Entertainment, Not Income
If you've never placed a wager on a sporting event before, you need to know that while the goal is of course to win and pad your pocket with extra cash, gambling on sports should never be considered an additional stream of income. Pros, who use extensive power rankings and complicated algorithms, can make a living off of it, but you're not a pro. Yeah, you can get on a hot streak and yeah, you can occasionally hit on a bet that pays off big thanks to astronomical odds. But the game is rigged in favor of the house and they'll always have an advantage since you're basically paying a tax every time you place a wager and you don't actually know more than anyone else when it comes to sports. That's just reality. 
You're probably going to lose more than you win because sports is incredibly unpredictable and stupid things happen thanks to the arbitrary bounce of a ball. Treat gambling on sports like entertainment—set aside some dough like it's your bar money or for an upcoming sneaker drop—so you don't end up homeless after stupidly putting your rent money on the Patriots covering a 16.5-point spread on the road. 
Know the Terms
You know what the spread is? The total? Moneyline? What a parlay is? Did you take the points or are you going to lay 'em? Gambling has very specific terms and knowing the lingo not only gives you instant credibility, it's going to save you money and heartache.  
I'm not going to tell you what all of them are here—there are plenty of sports gambling glossaries that you can Google—but I can't emphasize enough that you should know the baseline terms before you place your first wager. Start with the ones above and as you become more comfortable gambling you can begin to broaden your horizons—or descend down a darkhole depending on people's perspectives.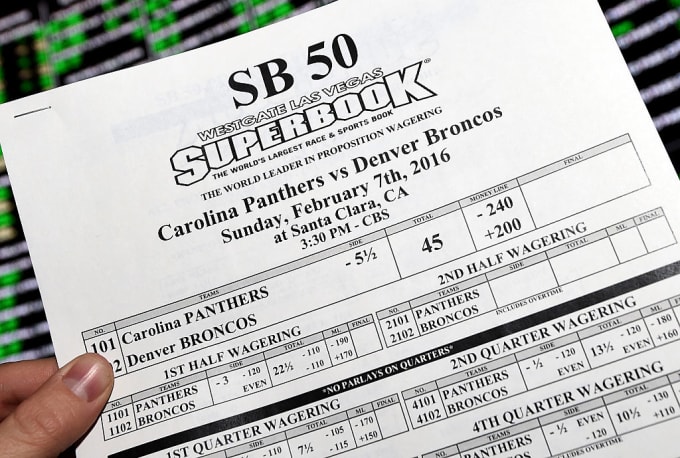 Bet With Your Head, Not Your Heart 
Just because you watch your team every week and read all about them and know the precise defensive scheme the new coordinator implemented during training camp doesn't mean you should blindly place a wager on them every Sunday. Yes, knowing your favorite team as intimately as your significant other can be an advantage, but the quickest way to lose a lot and despise your squad in the process is to keep throwing down dollars on your team to cover or win outright just because you want to "support" them. That's lunacy. Your team isn't going to win every game. And they sure as hell ain't going to cover every game. Pick your spots so you don't end up broke and hate your heroes.  
Stay Away From Parlays
Parlays are when you combine two bets into one wager. Both bets have to hit for you to win money. Newsflash: it ain't easy picking two separate winners when you're starting out as a gambler. Hell, it ain't that easy when you've been doing it for years. Parlays pay off bigger than a single game wager, but that's because the odds of hitting it are a hell of a lot longer. Yes, you'll occasionally read about the person who hit a six-team parlay and collected $100,000. But for every one person who hits on a huge parlay, there's hundreds of thousands who would've been a lot richer gambling much more conservatively. 
Props Are For Suckers
Prop bets are the ones you hear about for the Super Bowl, like how long the national anthem will last (always take the over) or what color Gatorade will the winning coach be doused with (clear or yellow have the most wins). NFL regular season games don't have bets like that, but sportsbooks usually put out plenty of player props like how many yards will Todd Gurley rush for or how many 3-pointers will Steph Curry hit. The vigorish (aka the juice, or the percentage taken out your winnings by the house) is usually higher/more punitive of those so the payoff isn't as great.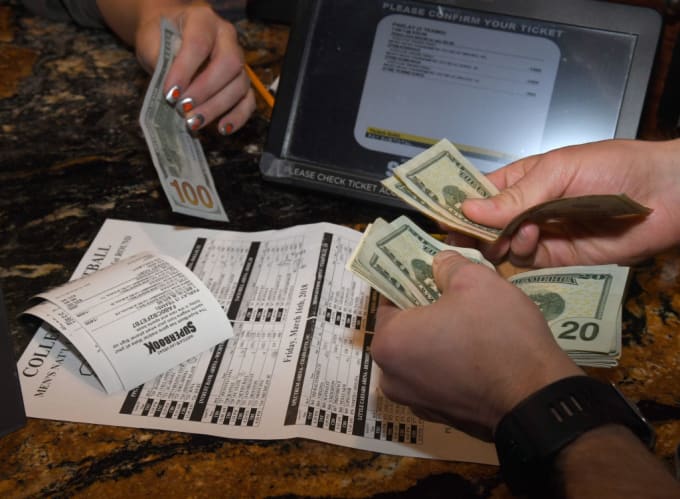 Don't Hedge
Playing both sides of a game is whack. Don't be one of those guys that puts a bunch of money on a team but tries to limit their liability by putting a smaller sum on the other squad so you don't get taken to the cleaners should your big bet fail.  When you become a truly seasoned gambler maybe you can try to middle a game (look it up) but that's way different than hedging a bet. Don't do it. Be an honorable gambler. 
When It Seems Too Good To Be True, It Probably Is
Basically, if the public is absolutely pounding one side of a bet—say the Chiefs are only favored by a few points at home over one of the worst teams in the league—and it seems like the easiest money of your life, that's when you're in for a rude awakening. Most gamblers are squares, or amateurs, and will largely place bets on the favorite and the over because they want to believe the better team will win (and cover) and root for points to be scored because that's more fun than watching a 12-9 field goal fest. Discipline yourself early on to take the underdogs and chances are you'll come out way ahead of another gambler mostly throwing down on favorites.   
Never Pay Someone For Their Selections 
Forking over money to a sports gambling subscription service to get their daily or weekly picks is the definition of being a sucker. Newsflash: those guys who claim they hit 72 percent of their bets know nothing more than you do and are putting one over on all the desperate, pathetic degenerate gamblers out there who really should be in a meeting rather than placing another wager. You should be your own handicapper and when you become more familiar and comfortable gambling on sports, you'll be able to handicap games and better judge the value of a spread or total put out by a sportsbook, ideally taking advantage of any bad lines you see. The guys running those pick subscription services are nothing but a bunch of frauds. And, real talk, what's the fun in paying someone else to pick a game for you?