The fledgling wrestling company AEW will get another chance to prove itself as a viable alternative to WWE Saturday when it holds its second pay-per-view. And though it's difficult to conceive of a multi-billionaire backed venture like AEW as the scrappy underdog in any sort of competition, here we are.
The PPV, known as All Out, is the natural bookend to the September 2018 "All In" PPV. That show took place before the AEW's conception, but was promoted by AEW's future founders. All Out, which returns to Chicago's Sears Centre Arena where this all began, looks to expand upon that success. The event will crown the inaugural AEW World Champion and unveil the AEW Women's World Championship belt. The inaugural champion for the women's division will be determined on October 2, when AEW's weekly television show, AEW on TNT, begins airing regularly on Wednesday nights. 
Here are our predictions for AEW All Out's most intriguing matches, along with the most interesting AEW rumors we've heard so far.
Adam Page vs. Chris Jericho (Inaugural AEW World Championship)
This is a tough decision. Who do you give the first title reign to? The seasoned, yet aged veteran with the Hall of Fame caliber career? Or the young gun who's talented, but unproven on a massive stage? 
Chris Jericho will probably take the win here, despite the inevitable backlash from die-hard fans that it's the "safe choice," or that AEW is the drop-off for former WWE wrestlers. We know that Jericho can deliver in the big moments, and he knows better than anyone how to generate heat and negative reactions. When he finally does drop the title, it'll be to someone (maybe Page) who will get over massively as a result.
Pac vs. Kenny Omega
This was originally a match between Jon Moxley (formerly Dean Ambrose of WWE) and Kenny Omega, but due to a staph infection in Moxley's elbow, Pac (formerly Neville of WWE) was booked in Moxley's place. 
We were probably going to get both of these matches eventually; we're just getting them in a different order now. And since AEW will want to preserve the hype surrounding the original match, Kenny Omega will walk away with the win here to keep him looking strong. Both men, however, deserve to be main event stars—particularly Pac, who was criminally misused during his WWE tenure.
Cody Rhodes vs. Shawn Spears
This has the potential, like all of Cody Rhodes' recent matches, to steal the show outright. Spears (formerly Tye Dillinger of WWE) is another talent who was underutilized "up north" and now has something to prove. And for Cody, this is personal; he has a family legacy to defend, and the chance to be his own boss in a world dominated by the McMahon family.
Expect Cody Rhodes to win a hard-fought, potentially bloody match and build towards a more extreme rematch somewhere down the line.
The Young Bucks vs. The Lucha Brothers (Ladder Match for the AAA Tag Team Championship)
These two tag teams have had several stunt-heavy matches, which seem more like athletic showcases than worked fights. Expect this match to be more of the same, with the added danger of having a ladder in the center of the ring.
The Lucha Brothers will be winning this one; despite some rumors back in April, it doesn't appear they are signed to exclusive AEW contracts. And as great as they are as hired guns, AEW cannot rely on them to do weekly appearances if they're still tied to AAA. It's best to cut the cord here and focus on the new AEW Tag Team Championship instead of the AAA Tag Team Championship that the Lucha Brothers currently hold.
Women's Casino Battle Royale (Winner competes for AEW Women's Championship)
The winner of this 21-woman battle royale will fight for the AEW Women's World Championship on the premiere episode of AEW on TNT. The entire list of female competitors has yet to be announced. But of the names announced thus far, there are four standouts: Britt Baker, Kylie Rae, Sadie Gibbs, and Awesome Kong. The first three have been featured prominently as the top talent in the AEW women's division. And Awesome Kong is, well, Awesome Kong. Like Jericho, she's an objectively talented, known quantity.
Expect Britt Baker to take the top spot. And expect her opponent to be someone with a dramatically different body type, to highlight AEW's claim of giving every woman, regardless of shape and size, the chance to be AEW Champion.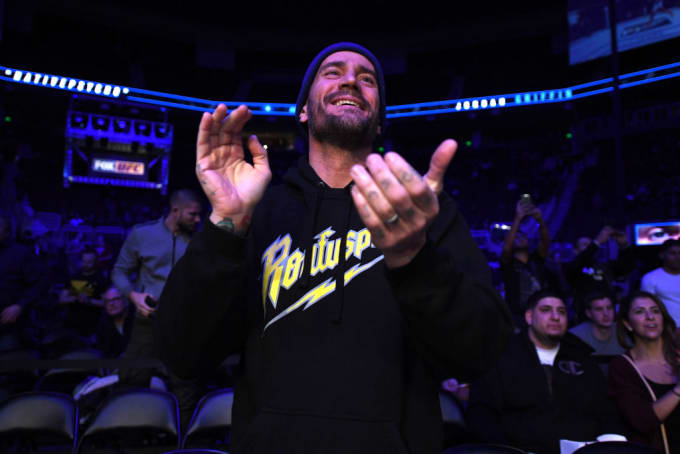 CM Punk Making an Appearance?
It seems like a perfect star alignment. All Out will air from Chicago. Punk lives in Chicago. And the fans will blow the roof off the arena if he makes an appearance. What better way to stick it to WWE than to show up on the night of their rival's crowning moment?
Rumors will inevitably swirl for the next several days. Vegas, for what it's worth, lay odds in favor of Punk showing up. But Conrad Thompson, who booked Punk for the Starrcast III fan convention in Chicago the same weekend, says that fans shouldn't get their hopes up: 
"My only thing is I want to clarify since there is speculation out there. This is not a piggyback booking. I did not book CM Punk through AEW. He is not going to be at All Out. Anyone having that expectation is probably gonna be disappointed."
No Classic Babyfaces or Classic Heels?
Dave Meltzer of Wrestling Observer Newsletter reports that AEW will not use traditional babyface or heel characters. Typically, a wrestling promotion wants a unified fan response—for the good guys to get cheers, and for the bad guys to get boos. Moving away from that suggests that AEW is moving towards something more subtle and mixed, and thus, more realistic.
This, coupled with Cody Rhodes' idea that AEW will track win/loss records, shows how AEW is distinguishing itself from the more entertainment-heavy competition.
Good Ol' J.R.
And lastly, some great news for longtime fans: According to Dave Meltzer, Jim Ross, the former, long-tenured voice of the WWE, will be doing play-by-play commentary for AEW on TNT, just as he will be doing at All Out on Saturday. Ross' presence gives AEW some needed legitimacy and history, and it's fantastic to hear that Ross is more than just a marquee, part-time hire; he will be available for many events, beyond the major PPVs. Boomer Sooner!