Zion Williamson Is About His Business: "My Intentions Are to Stay With the Pelicans My Whole Career"
In an exclusive interview with Complex, Zion Williamson talks playing his whole career with the Pelicans, Lonzo Ball being the best PG in the NBA, and more.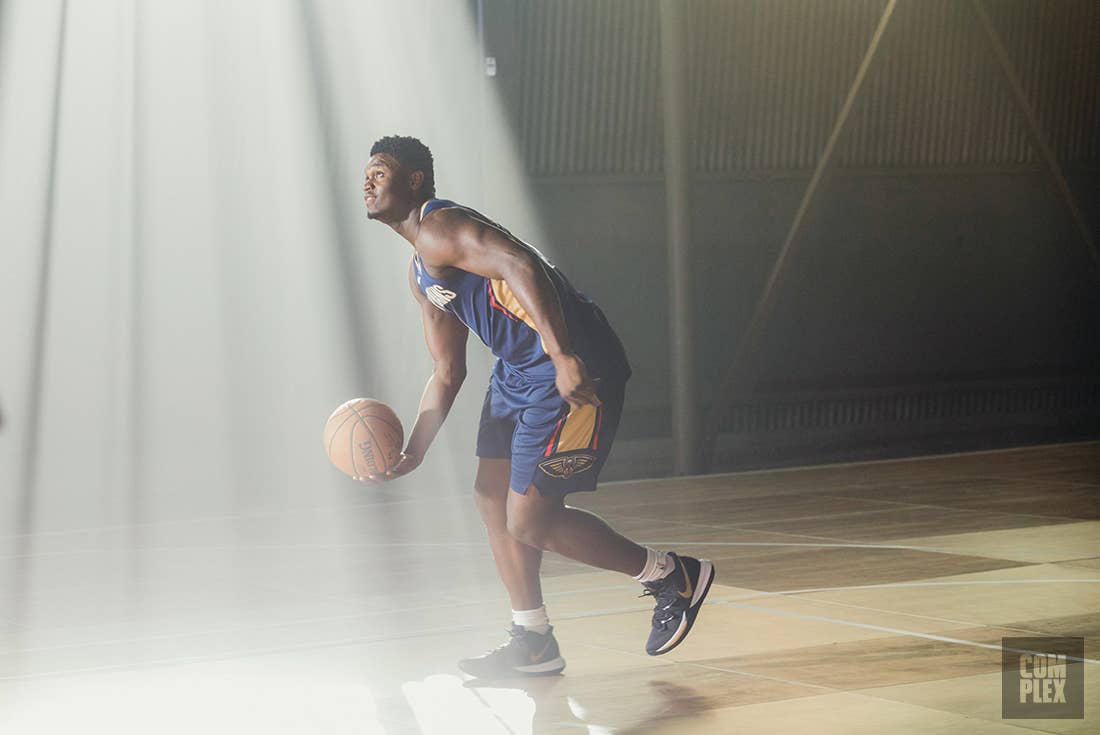 Complex Original
Image via Complex Original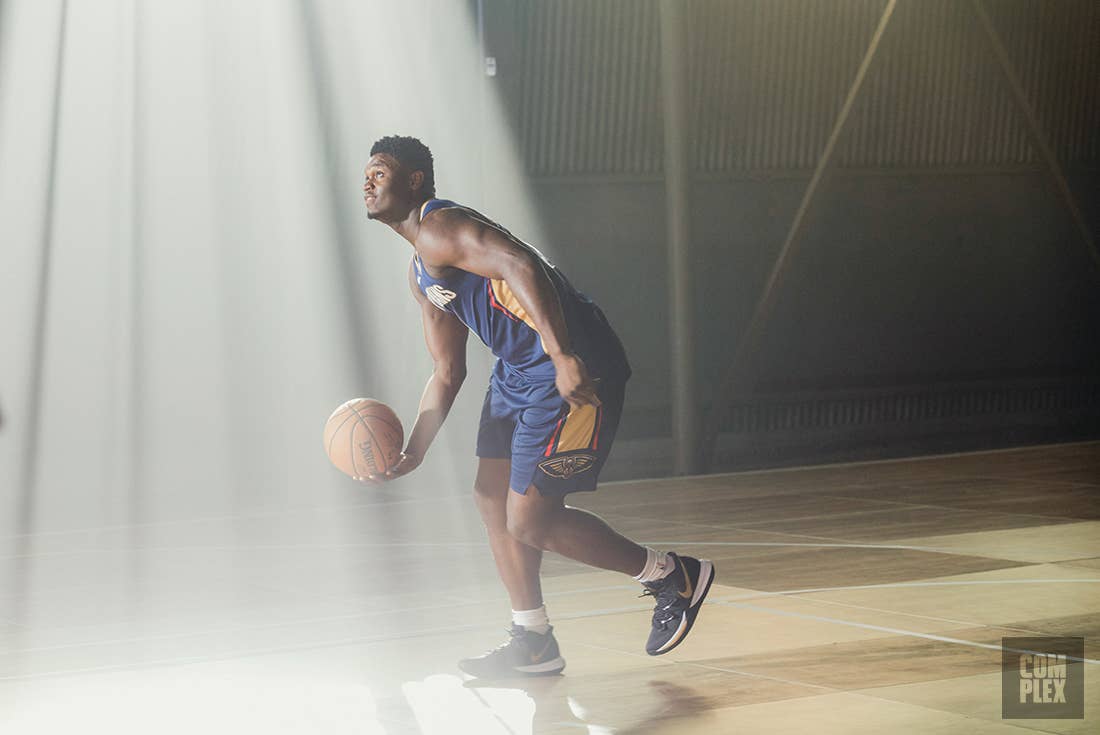 It happens in a flash. If you look away for even a second, you'll miss the show. After a few quick, powerful dribbles toward the basket, and from about a step inside the free throw line, the 19-year-old phenom Zion Williamson lifts off, cocks the ball back with his right hand, and slams it through the hoop, making it all look so easy.
No matter where he is, Williamson is the show—even in an abandoned warehouse in Los Angeles.
The warehouse falls silent in the wake of the monstrous dunk. An audience of about 50 remain frozen, amazed at what they've just witnessed. A sheepish grin breaks out across Williamson's face as he observes the incredulous onlookers. The only thing you can hear in the gym is JAY-Z and Kanye West's "Otis." "I invented swag" echoes from the speakers.
"CUT!" a director shouts. It only took one take, and, of course, Air Zion stuck the landing. 
The most hyped prospect since LeBron James is getting cinematic for a commercial for NBA2K. He's now an official ambassador for the franchise, a fitting partnership, since he is a living, flying video game cheat code.
At this point, Williamson's come-up is well documented. He burst onto the national scene at age 16 with thunderous dunks that captivated Instagram and Twitter. He was truly a prospect that fans saw grow from their phones to TVs in just a few years. He then quickly proved he wasn't a one-trick pony at Duke, earning the National College Player of the Year Award as a freshman and becoming the first pick in the 2019 draft. 
Of course, the cult of the mononymous "Zion" has extended far beyond the sidelines. He's received co-signs from Drake and JAY-Z; Obama watched him play at Cameron Indoor; Rick Ross name-checked him on "Money in the Grave"; and just last week, the South Carolina native inked the most lucrative rookie sneaker deal ever with Jordan Brand, worth a reported $75 million over five years.
All of the hype has led to this point. Williamson is set to embark on his NBA journey, eager to lead the Pels to their first chip. Not only that, but contrary to the trend du jour of superstars taking their talents to larger NBA markets, he plans to remain in New Orleans for the long haul.
"Growing up, I loved what Kobe did and Dirk did... My intentions are to stay with the Pelicans my whole career," he tells Complex in an exclusive interview.
In between takes at the 2K shoot, we chopped it up with Williamson about his new team's ceiling, why he thinks Lonzo Ball can be the best point guard in the NBA, potentially reuniting with RJ Barrett, and more.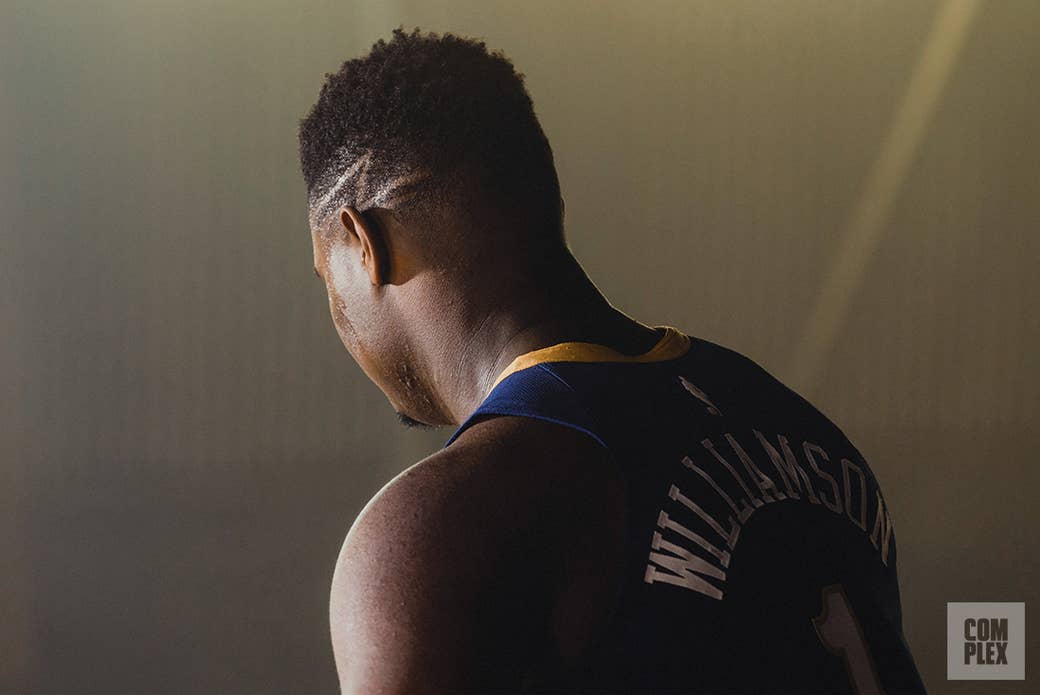 One of your new teammates, Lonzo Ball, is somebody that you've raved about in the past. You said he was a great point guard. There are some people out there starting to question whether he can be an elite player in the league. What do you see as his potential?
I'm expecting Lonzo to come into his own. I'm not saying he wasn't himself in L.A., but now he's in a scenario where he can truly be himself. We're about to play a super-fast-paced game. I think we all trust him with the ball and all trust him to make the right read. You've seen it, I've seen it. He's a playmaker. He makes the right plays.
Do you think he can be the best point guard in the league? Could that be in his future?
That is in his future.
"I'm expecting Lonzo to come into his own. I'm not saying he wasn't himself in L.A., but now he's in a scenario where he can truly be himself."
The NBA is so fluid now, and this free agency period proved that things can change quickly. What do you say to NBA fans, and Pelicans fans, more specifically, who think, "Eh, Zion will probably play here for a few years, then leave at some point, like all the other stars"? 
I'm gonna try to give you the best answer I can give. Personally, I've always told myself I want to stay with one team. Growing up, I loved what Kobe did and Dirk did, and I think if anybody's a Michael Jordan fan, they kinda erase the Wizards thing. He still did very well there, but at the end of the day, I don't think people look at it from the business point of view. Some people want to stay with one team but they get traded. My intentions are to stay with the Pelicans my whole career, but if something happens, I wouldn't leave because I hate the place. It's just the business.
Obviously, LeBron teamed with D-Wade and the Heat in 2010. Kyrie and KD are linking in Brooklyn. Have you ever thought about what it would be like to reunite with RJ Barrett at any point in your career?
Yeah, we talked about it in college a lot. We kinda talked about it as we were both going to get our careers started and see how it goes. I mean, if we can possibly link up in the future, that would be great. But we both understand that if things are going well in our prospective cities, we'll just kind of leave it there.
"My intentions are to stay with the Pelicans my whole career, but if something happens, I  wouldn't leave because I hate the place. It's just the business."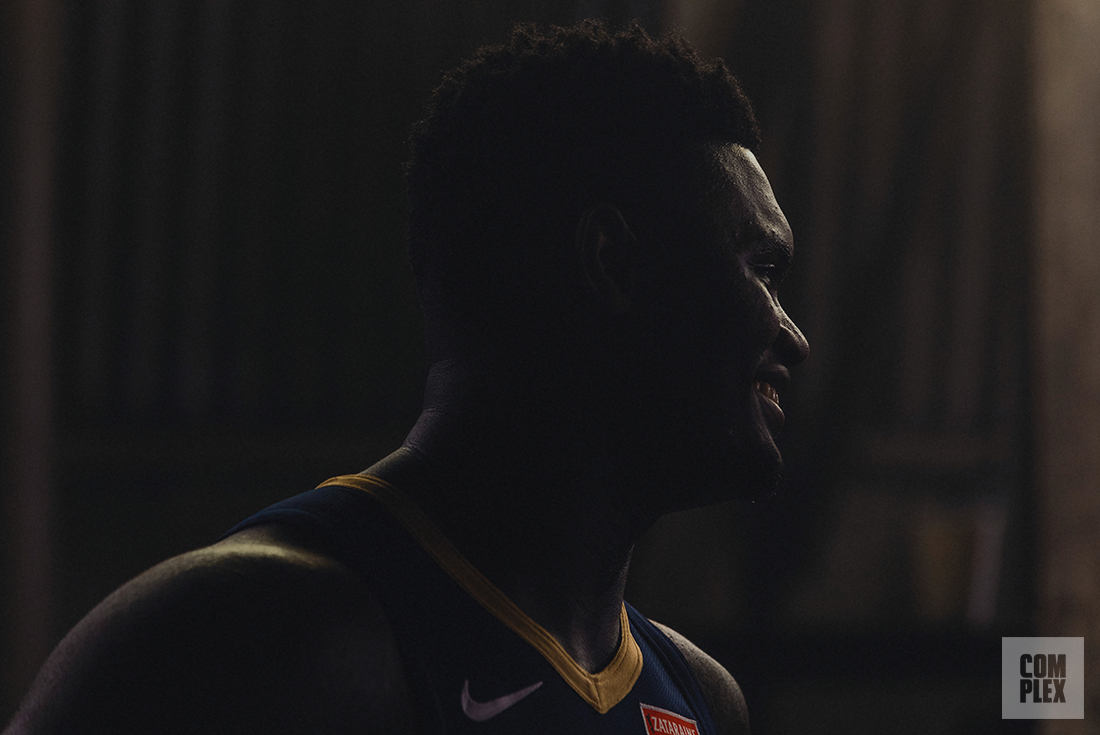 You've got a promising group of young talent playing for the Pelicans this year, between you, Lonzo, Brandon Ingram, and Jaxson Hayes. What do you think this team's ceiling is?
Me being confident in my teammates, I would say I think the ceiling is [a] championship. But I have to be realistic about this. I have high expectations for us, but you gotta see how we're gonna work. I think we are going to work, but it does take time to adjust to each player—knowing what they like to do, finding out their tendencies. So I think the quicker we find out those things, I think we have a very high ceiling.
When do you think that championship is coming? What's realistic?
What's realistic is sometimes you never know. From the start of the season, who would have guessed the Raptors would have won it [last year]? I'm going to be honest, I didn't have them in my top five.
So you think legitimately, this year, you guys can be that surprise team? The Raptors who came out of nowhere?
Yeah, we can win it. I think everybody has that on their minds. View it as just one ball—whoever can put the ball through the hoop more times will get the most points, and that's who wins. Get the most stops—just gotta see who wins. I try to look at it from that point of view and not from who's on which team. Any given night, I learned it in college, you can lose a game.
And anyone can win a game.
Exactly.
"Me being confident in my teammates, I would say I think the ceiling is championship."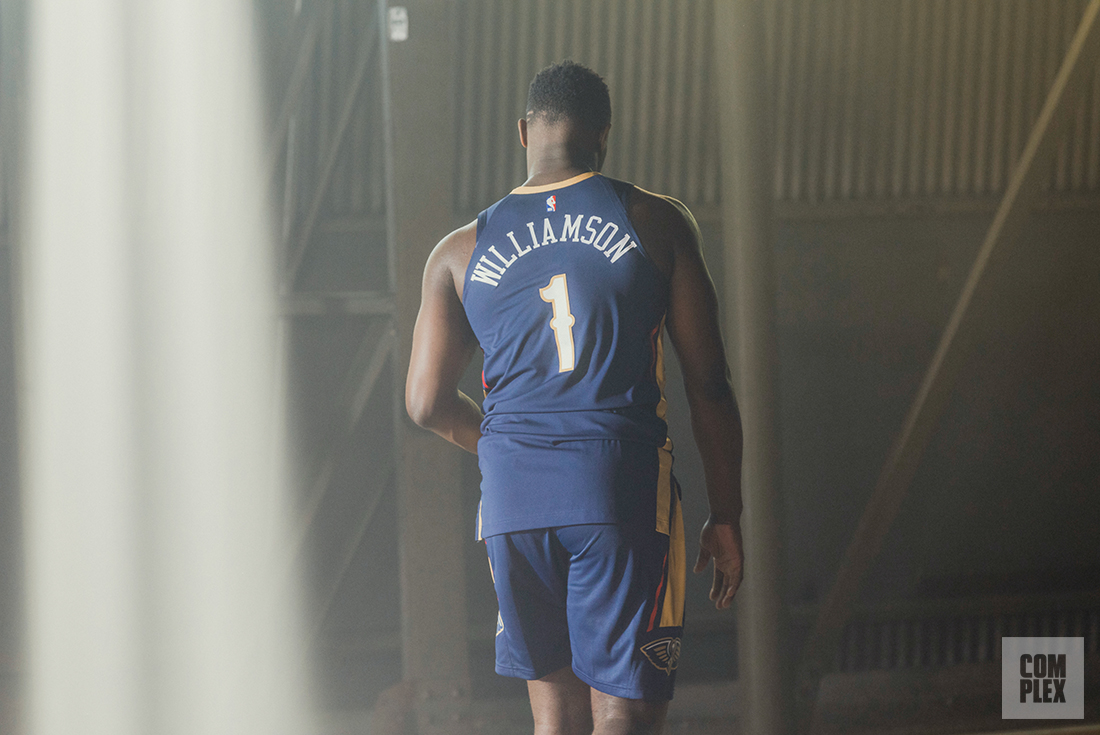 Let's talk NBA 2K. How excited are you to be in the game this year?
You know, people tell you to enjoy things, but everything happens so fast. Summer League, getting drafted, and now being in a video game I've been playing since I was a little kid. Like, I'm about to be in the game! There's no creating a player—my guy's already there. I don't think it's hit me yet, but when it does, it will probably be like one of those "Wait, what? Wow!" moments.
Did you play a lot of 2K with RJ in the dorm room?
We didn't play as much 2K, to be honest. RJ would usually just be chilling in his room, and me, I understand the scenario. I'm in college only one year, so I tried to go meet as many Duke freshmen as possible. Cam [Reddish] has this joke with me. Cam would be like, "You know something, Zion? You act as if you have 400 followers. You can't go walking around campus all the time like you're a normal student." I'm like, "I am." He's like, "No, you're not. You will get bothered."
Your 2K rating also came in; you're an 81. What did you think about that? Too high, too low, about right?
I was shocked it was even in the 80s. I thought they kinda had a thing with rookies where they would give them like a 79 and below. Seventy-nine at the highest. So I'll be honest, when I saw 81, I was like, I can work with that.
You have some bragging rights over RJ. He's a 78. LeBron was also a 78 as a rookie. You've got both of them beat.
Yeah, that's a lot of expectations, but I'm ready. I'm ready.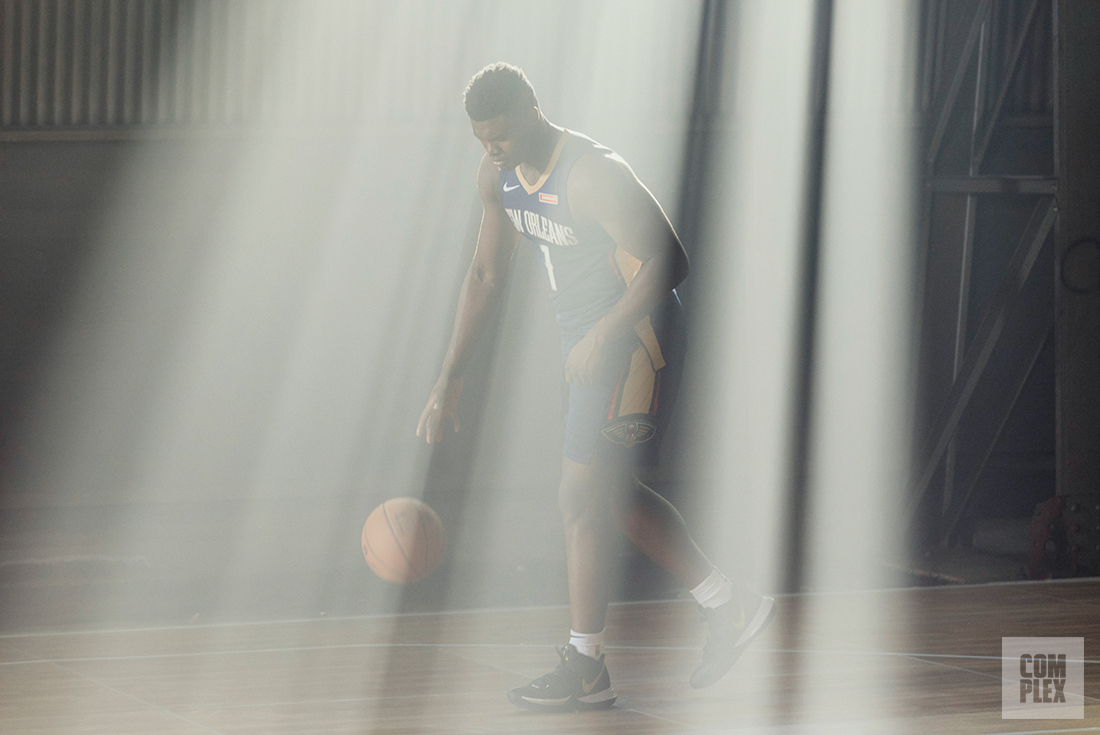 I think I've got a pretty good player comparison for you. One that I bet you've never heard before.
[Laughs.]All right, I'd be shocked.
Coach Carter. You're a big fan of that movie, right?
Yeah, I am a big fan.
Ty Crane.
Ty Crane! Wow!
Lefty. High school phenom. Crazy hops. Compared to LeBron.
Wow, that's actually crazy. I've never heard that before! You went to the movies with that one!
Out of all the comparisons you've heard, where does that one rank for you?
I would give that one a top two. I don't know which one is No. 1, but that one's definitely top two. The creativity put behind it. If you know me, I love those basketball movies. My all-time favorite movie is He Got Game.