On March 10, 2019, Antonio Brown beat the system. The disgruntled All-Pro wide receiver demanded a trade from the Pittsburgh Steelers and was actually granted his request. A shocking outcome because 1) It saddles the Steelers with over $21 million in dead salary money they'll have to eat this season, and 2) The NFL thrives on suppressing the agency of its players at every possible turn.
Meanwhile, situations identical to AB's take place on the regular in the NBA. Just ask Kristaps Porzingis, Kyrie Irving, and Paul George—stars under contract with a team who expressed a desire to leave. Talk to Anthony Davis in a few months. Basketball players sit comfortably in the driver's seat, steering the car of their career in any direction they choose while football players face a different reality.
In the archaic NFL, owners and GMs man the wheel with the players—no matter the caliber—strapped tightly into the backseat. Thanks to non-fully guaranteed contracts, they possess much less power than their NBA brothers, which made Brown's ability to maneuver his way out unique and ultimately triumphant. It also represented a big "fuck you" to the league, especially when you consider he wound up in Oakland, a desired destination. Not even NBAers enjoy that luxury. Look how far the Spurs shipped Kawhi Leonard away from his native Southern California!
Does this mean the power dynamics in the NFL are shifting from the suits to the athletes?
"I don't think the NFL is changing," Brown told Complex exclusively. "I don't feel like it's getting better. The thing I was able to do was unprecedented. It'll probably never be done again."
Perhaps AB is right in positing that he is the anomaly and owners will continue to profit on the backs of their players. But maybe this is the first step in a larger revolution. The immense power Brown flexed is something we've never seen in the NFL before, so he's successfully set a new precedent. And once something happens for the first time, you can count on it happening again.
We chopped it up with No. 84 about player agency in the NFL, as well as his new YouTube channel and podcast, the Giants trading Odell Beckham Jr., his experience on The Shop, and more.
(This interview has been edited and condensed for clarity.)
I wanted to start by saying congratulations on the new team, the new contract. You must be psyched about them.
It's a great honor, man. I've got a fresh start in a great situation with some great people, and I'm just honored to put my hand in the pile and be a part of it.
That's awesome. I gotta ask you before we jump into the YouTube channel, are you shipping that legendary sneaker collection of yours out to the Bay or are you keeping it in Miami?
This legendary sneaker collection gotta come to the Bay, man. I gotta show them what I'm stepping like and show 'em how to step right, so definitely about to send that shoe collection to the Bay area and get ready to go.
Which sneakers are you making sure that you take with you?
All the all-whites, all my Off-Whites, all my Nike high-ends. Obviously the AB Boomins. The AB trainers are coming. Just all the exclusive shoes that help me perform comfortably and look fly of course.
Do you have any sneaker-related projects in the works now in light of the new city, new team?
We got the Boomin' Boxes. We got the Boomin' Boxes coming for Raider nation and the whole world. It's a carefree box that the network helped me produce and package up. There's gonna be some nice, exciting things in the box. I can't really explain to you what's in the Boomin' Box, but we have some great things coming for our fans and Raider nation.
It's cool hearing about another athlete starting their own content platform. Can you tell us a little bit about what we can expect to see on the YouTube channel?
Well, YouTube is an incredible platform that provides me with a platform to use my voice and express myself. So you'll be able to see the day-to-day lifestyle of me, my team (the Raiders), the AB84 team, and my family. How we spend our time and how we maximize our time. Being the most productive, the most efficient that we can be in regards to work, training, recovering, eating. Just open up my life and allow fans to see what it takes to be AB and my team of people that help me be me. The guys in my corner when I'm coming in from a fight. Just helping me get up and ready and get prepared for the next fight. Raider nation get ready, we about to be boomin'.
On a recent episode of The Shop, you talked with LeBron, Meek Mill, and others about how the media works to control the athlete's narrative. How much did that idea of controlling your own narrative factor into starting the YouTube channel?
It absolutely factored into it! For me it was seeing what I went through to eventually land in Raider Nation. I had to go through all of that media scrutiny of people talking down and trying to bring me down, creating narratives that were so untrue. It really inspired me to make my YouTube channel and start this platform to give me the voice and opportunity to express myself now, never allowing these corporate companies who work for the NFL to create bad narratives about me.
We all know when ESPN and these people say certain things, it'll have an effect on the world and on what the public perception becomes of me. Having that YouTube platform with its nearly two billion users, I'm excited to control that narrative, to share the truth. I want to give fans a perspective that they may not ever get with an interview on some of these corporate media outlets.
So the YouTube channel will offer people a behind-the-scenes look at your life on and off the field. What will the podcast sound like?
The podcast is not like an interview setting. It's just me having a conversation with real people I love, like Bill Romanowski and other people around me. Allowing people in the world to know, "Okay, what's AB's mindset? Who helped him do all this training stuff? Why the hell does he do this stuff anyways?"
Or we might be breaking down my opponent. My Uncle Bill will study the cornerback I'm playing that week, and we gon' sit down and talk about what we plan on doing against him. Then when we do it, we're not only saying our words, but our words are becoming our actions. So that's what the podcast is about. Encouraging people with our words, and hopefully inspiring them with our actions.
It sounds like we'll get plenty of football content on there. Are you guys going to stick to strictly football and only talk to football related guests or have other guys come on there?
No, we're gonna talk about life, too. We got 84/7, the gym that I own, and we're gonna talk about business. We're gonna sit down with my financial people and talk about finances. We're going to educate the world from a total perspective. It's not just going to be about football—it's going to be about life, nutrition, training, recovering, real keys with real people that care. People can tune in and learn from and grow from and get better by listening to these guys.
As a player, you gotta understand when teams pay you a certain amount of money, they want you to be a certain type of way. Not just with your play, but with your leadership, with your actions.
Right now, I am a leader in everything I am doing. Everything I've put out, people follow. They listen, they take heed to it, they take it in. So with these podcasts, it's more opportunity to be a better leader and to put out more positive stuff. I want to encourage and inspire people on how to do better business. Talk about 1099s and the NFL and Nike and some of these companies only paying me five percent of my royalties. With my jersey sales, [which are] No. 5 in the NFL, the NFL pays me a million dollars at five percent. How much more are the NFL and Nike making off of me? That's an extra 9 or 10 million [dollars]. So we're just going to be educating people on things because I think the public is so outdated with information. Give them an exciting experience, something they can look towards and grow from and learn from.
That sounds like a great educational tool for people. Another thing you discussed on The Shop was setting yourself up now for a career after football. What do you envision yourself doing after football is over?
I got a lot of football left, man, so I don't know. Right now, I'm just thinking about stuff right now that can help with when I'm done playing. Me and my uncle talked about me playing the next 10 years. When we talk, it's not like we're just saying this shit. My uncle already talkin' to me like, "Yo, we already passed Jerry Rice. Like fuck Jerry Rice," you know what I mean? Not personally, but in the sense of I'm playing the next 10 years and am setting myself up now for when I'm done playing.
I've got the podcast, the 84/7, the gym, maybe I'll open one in Vegas. See if my uncle maybe wants to open one in Oakland. We're already setting ourselves up for when the game's over, protecting our money, locking it up. Million dollar 529 [plan] for the kids, annuity, tax-free bonds. Obviously, life after football is going to present a lot of opportunities, but right now we're just singularly focused on playing the game, playing at a high level. I couldn't really see myself doing nothing else but being the best player.
One final question about The Shop. There were so many iconic figures in that conversation. LeBron, Meek, Jamie Foxx, Anthony Davis, yourself: What was your biggest takeaway from that conversation? Either a story or a piece of advice that really resonated with you?
The show was only 20 minutes, but we literally sat in a room for four hours and just talked about real issues and was breaking bread like real people. The whole thing is we gotta continue to be leaders. Obviously, we know people at the top of these food chains are not making it easy for people like us to get up there. But as people who are up there, we gotta create ways and create leverage for other people to be able to progress up. That's it. We gotta create opportunities, as leaders, that inspire people to be able to make the next steps in their lives, and we're the influences of that.
I gotta be leery of what I put out, leery of what I do. Because I know anything I'm promoting, everyone that's watching is gonna be following. As leaders, we just want to take the role as leaders and do things right. Progress over pride, like LeBron said. That was the whole motivation that came out of that room. Progress over pride and being better leaders.
I'm a huge Giants fan. It absolutely crushed me when the team traded Odell Beckham, who I know is a good friend of yours. What were your first thoughts when you heard about that trade?
It's part of the business. It's sad, but it's part of business. As a player, you gotta understand when teams pay you a certain amount of money, they want you to be a certain type of way. Not just with your play, but with your leadership, with your actions. Obviously, everyone was surprised, but honestly I'm never surprised at what this game could bring. At the end of the day, it's a business. It's never personal. Just gotta be always professional, and you can never be surprised of the moves teams make. Obviously Odell is one of the unique players in the NFL, but if you do your research on all the Giants receivers and the history behind those guys, you can figure it out.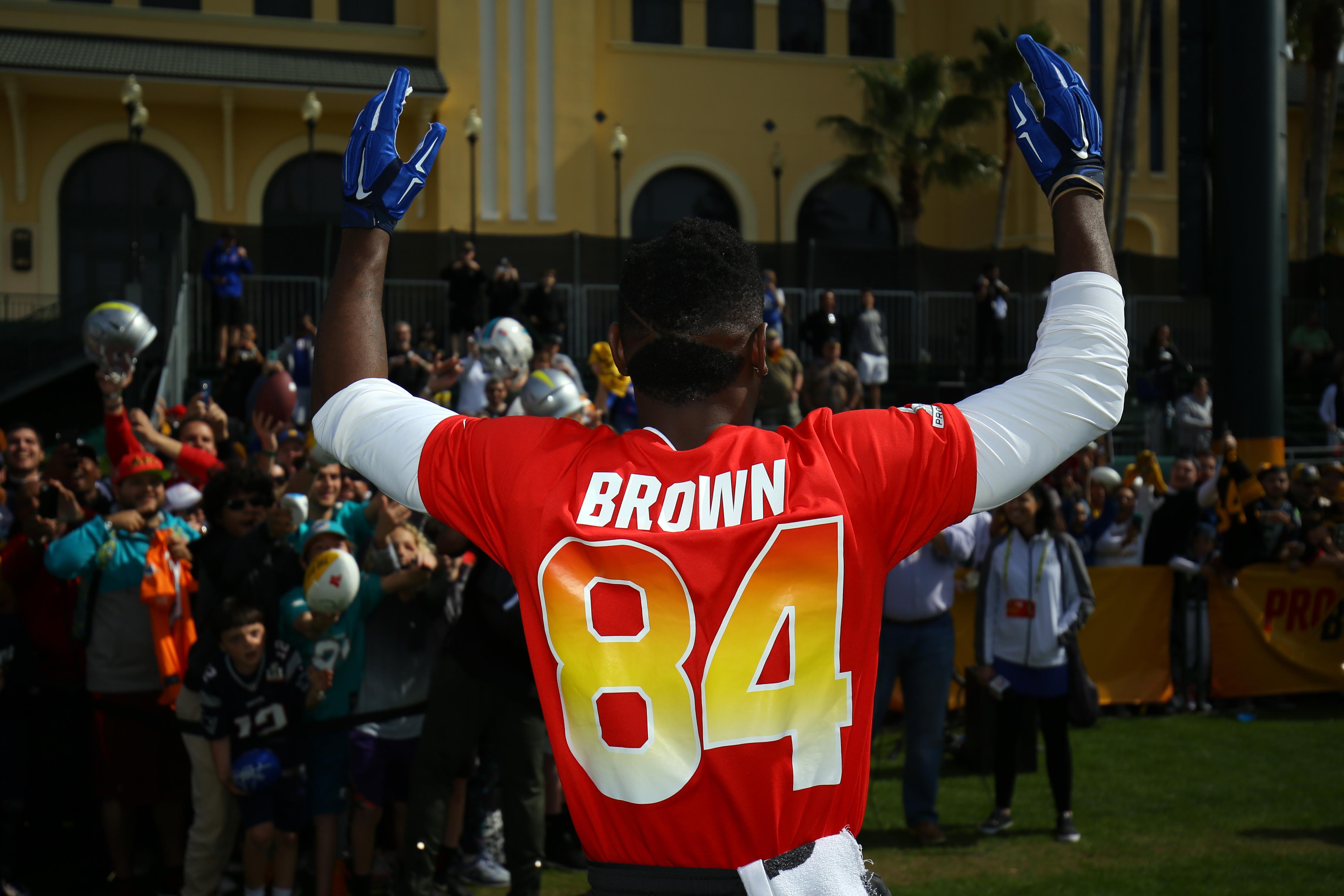 We've begun seeing a trend with NFL players this off-season of dudes basically flexing their agency. Obviously, you requested a trade and you got one. Le'Veon Bell wanted a different contract structure, so he sat out the season and is now with the Jets. Do you feel like the power dynamic in the NFL is changing at all?
I don't think the NFL is changing. I don't feel like it's getting better. The thing I was able to do was unprecedented. It'll probably never be done again. For me to be able to have the same contract, and not even add a year, just add more money, I don't think that had ever been done.
For me, it's all about changing the game and being dynamic and doing things that have never been done before. I'm just grateful that me and my team, Drew Rosenhaus, the great people I have in my corner, we was able to do something special that'll probably never be done again. I think what it has done is really inspire players to take hold of their situation, run business better, make business boom, and do the right things in regards to your circumstance. So at the end of the day you can be in the best position.
If there was one piece of advice you could offer an NFL player who is dissatisfied in their current situation, or with their current team, what would it be?
Just watch AB. Study AB. That's it. If you need help, call Team AB84. We've got the best team in the league. We do the best deals, we do the best marketing. Just hit us up if you want your business boomin'. [Laughs.]
You're with the Raiders now. What was it about the organization that enticed you to sign an extension after the trade? How did coach Jon Gruden sell you on signing long-term?
Coach Gruden just got so much amazing energy. He's a loving person, really caring, really compassionate. He's just an amazing guy. Talking to him you just feel good. I never played for any other coach in my life that said he had 600 plays of me on tape and wanted to talk about them. So his level of study for the game, his level of commitment for the game, his level of passion for the game is second-to-none. That's the guys you wanna be around. Him and Mr. Mike Mayock, I think they not only love the game, but are married to the game. I'm excited to work with those guys and be about it with those guys.
The organization traded a lot of its core pieces last year, like Khalil Mack, like Amari Cooper, but of course they added you this offseason. They added Trent Brown, they added some others. Is this team in a rebuilding phase or are your guys' expectations for 2019 to win the Super Bowl?
Absolutely. Starting April 14th, our expectation is to win the Super Bowl. Every time we take the field, we take the field with the goal of winning the Super Bowl. I feel like we've got a bunch of good guys coming in on this team, a lot of new guys, and we're gonna develop that expectation in the building right away. Everyone is here to win a Super Bowl. I think this team is going to be really special, and I'm excited to see us get on that mission together.