All the basketball fans out there acting extra to get the attention of their favorite NBA star needs to chill. Deandre Ayton would kindly ask that you follow this strategy if you want to have a real moment with a star.
"Approach me like I'm nobody," says Ayton. "I'm a regular human being. I'm just a regular dude who likes to play basketball, but does get paid to do it."
The No. 1 pick from last June's draft is slowly learning the ropes of life in the Association, including how to handle overzealous fans. But under the tutelage of two notable elders and one young teammate, Ayton is having a stellar rookie season (16.5 PPG, 10.5 RPG, 2.0 APG) as the Suns sputter to an 11-47 record before the All-Star break. Phoenix, of course, isn't going to sniff the playoffs for a ninth straight season, but Ayton fully expects to be a centerpiece of Suns' comeback to relevancy.
"We're in a little gutter right now, but just to know that better days are coming," says Ayton.
We caught up with the rookie to talk to him about how he handles fans, his famous basketball mentors, when he's finally going to sit down with JAY-Z, and why he's repping Rockin' Protein these days.
(This interview has been edited and condensed for clarity.)
So off the top, tell us why you partnered with Rockin' Protein?
First and foremost, it's a fire drink. My favorite flavor is strawberry and it's made with real milk as well. I'm really big on what goes inside my body. Especially after workouts, on and off the court and in the weight room, that's my go-to drink.
How have your workouts and routine changed from college?
Me being disciplined about my recovery, sometimes lifting before or after games, it's all responsibilities about taking care of your body for the long term. And that's why I've been disciplining myself—I didn't do it in college. I lifted when I was supposed to lift and now I'm lifting because I want to spend 15-plus years in the league.
Do you have a basketball mentor? Curious if it's with the Suns or somebody else around the league, but who has been most instrumental in your development into the player you are today?
My skills development coach, Rasheed Wallace, and JC, Jamal Crawford, J-Crossover. Those are the guys I listen to. And Kelly Oubre, believe it or not. He's got it figured out pretty much. He knows how this world and league works and he's just giving every little piece of advice like big bro, little bro.
What's the biggest piece of advice Kelly's given you because he's a guy that hasn't been in the league for that long?
We're in a little gutter right now, but just to know that better days are coming. It's the trials and tribulations, but there's a pot of gold on the other side of this rainbow and we're going to keep pushing and pushing until we get through.
And what about Rasheed and Jamal?
I put them into the same category because they're OGs. They're never too high or too low when it comes to stardom or certain things. The only thing you can do is control what you can control at a young age. Just make sure you're team is ready to play and just really playing hard. That's it.
Curious how much you were following the trade deadline? I know you weren't involved in any rumors, but now that you're in the league do you follow it differently?
I try and not to get into social media as much. But with teammates, word starts to get around and you start to hear certain things. But me being a young player like this, I'm so confused and clueless to what's going on and how it's going until the final decision is made so I focus on what I have to do on game days and recovery. I can't really do nothing about a trade deadline.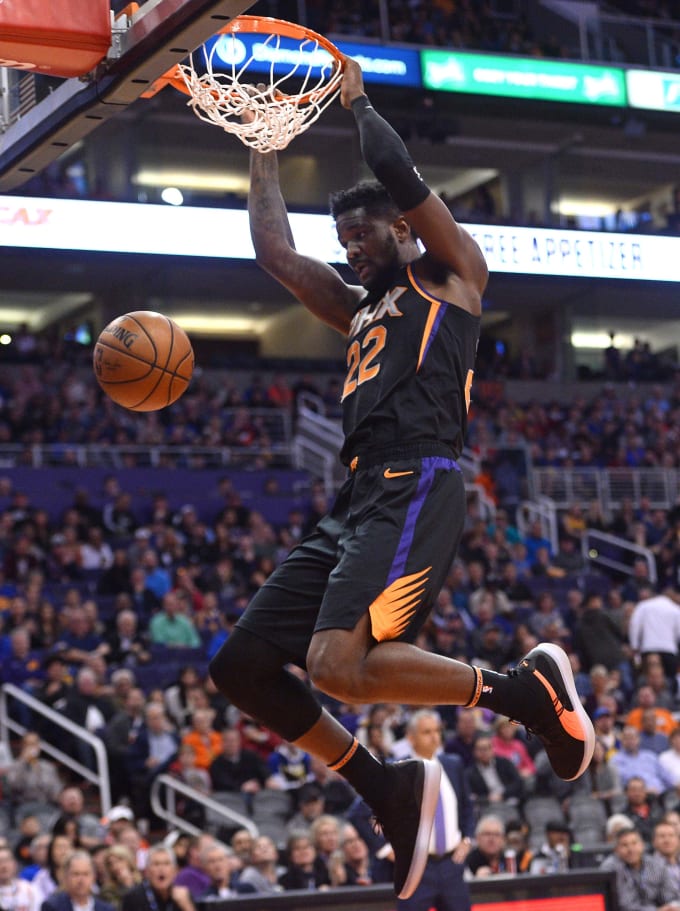 What part of life in the NBA turned out to be way different than you expected?
I should be used to this already, but just try to emphasize to people that us basketball players have a life and not everything you guys see off the court...sometimes we're into different things. Sometimes we like to stick to ourselves. Sometimes we like to go on hikes. Some stuff like that, like a regular human being would do. It's not that some fans are bad, but some fans get carried away. They just don't know the time or place to be cool or just approach us like a human as well. That's most shocking how people treat us.
When I'm in public, people think they have to try their very best, like fireworks, to get my attention. I want to turn my head or ignore them, but when a fan approaches and is cool about it…approach me like I'm nobody. I'm a regular human being. I'm just a regular dude who likes to play basketball, but does get paid to do it.
Have you had your welcome to the NBA moment yet?
I'd probably say when I played the Warriors. Just the environment. The team in general, not the guys, but the team, the environment, like this is really the Warriors. The culture they have and the fans shaking the floor for a preseason game, I'm like, "Yo, you guys can relax. Chill." I'm just super blessed to be around this league and around great people. Some people are behind the scenes that are the most important people who make us what we are today.
What are your expectations for your first All-Star Weekend?
Really have fun, not passing up certain opportunities on experiences and meeting people. Just try to meet everybody and come in there with an empty head and fill it up with wisdom.
Who are you most looking forward to playing with in the Rising Stars Challenge?
Everybody, really. All of those guys I'm pretty familiar with, have seen them already or in college. It's going to be a fun game.
You're a Puma athlete and JAY-Z is the president of Puma basketball. Have you had a chance to sit down and talk to him yet?Not yet, but that's definitely one of my plans, to really sit down and talk to him about this world. I've just got to really work toward that. You just can't really request to, you know, [sit down]. But my phone will be right here, on loud, waiting for him.