In many ways, Emile Smith-Rowe is just your average 18-year-old. Growing up football-obsessed and watching YouTube compilations of players from Ronaldinho to Lampard to improve his own game, Smith-Rowe now spends his time chilling with his mates, listening to the new Lil Baby and Gunna albums, and has also left most of his Christmas shopping to the last minute. 
While that all may seem fairly normal for most teenagers, Emile's also an Under-17 World Cup winner who's now regularly scoring goals in Europe for his boyhood club – Arsenal. As part of one of the most exciting generations of young England players in recent memory, he his teammates at both Arsenal and England are showcasing their sauce on the field on a regular basis – and they're naturally on the pulse when it comes to flexing their style off it. 
The new in-store shopping feature on the Nike app streamlines the shopping experience and it's helping Emile and his peers do exactly that. Heading down to Nike Town London after a typically full-throttle Unai Emery training session, we linked up with Emile to test out the app while he talked us through his favourite sneakers, breakthrough season at Arsenal, and got an insight into the skill, style and sounds in the dressing rooms for both club and country.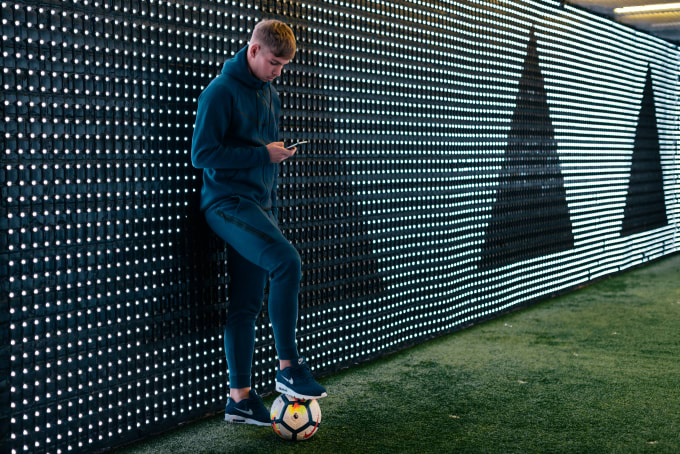 COMPLEX: You've been trying out the new Nike App today – how have you been finding the added in-store functionality?
Emile Smith-Rowe: I think it's really good to be fair. Its really easy for me to have a website that you can just go on and choose what you like rather than going into the store – just being able to chill at home and go on the the Nike App is cool.
How does your perfect Nike shopping experience look like?
I normally try and get outfits that match each other. I'll always wear the same colour shoes as my tracksuit. That explains what I'm wearing today (laugh), I've come today decked out in all-blue. I'm normally a pretty casual guy, as I'm a big tracksuit person – so I'll normally just wear trackies most days. 
What are your favourite Nike sneakers down the years? Do you remember your first pair?
I think it was a pair of Nike Air Max 95s. Over the years, probably just like 90s, 1s… I like the Nike VaporMax now too. 
Have you got a favourite Air Max?
I'm always wearing the 90s now – I've got them on today too. They're just proper comfortable and easy to wear with anything. 
How will you be doing your Christmas shopping this year? Do you shop mainly through apps, online or on the high-street?
Depends what everyone wants to be fair. My mum and dad will definitely want something from Nike so I'm gonna have to start thinking about it soon.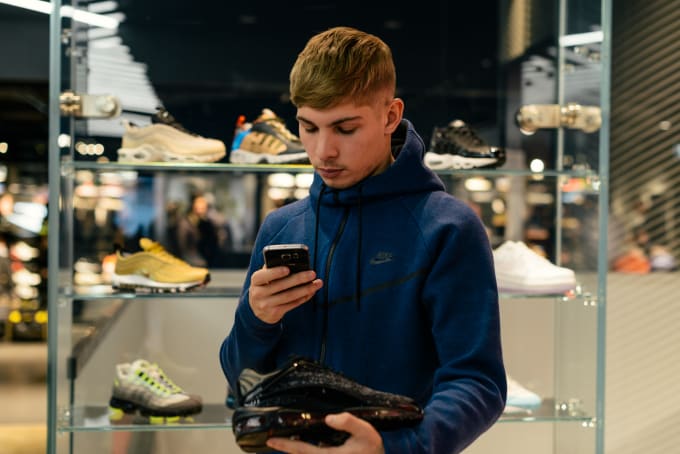 Can you still go out and not get mobbed by fans?
(Laughs) Yeah, I can still go out for sure – I'm not getting too much attention just yet. I'm gonna have to get going soon though as I've left it all very last minute – I never really plan ahead for Christmas shopping!
You're part of a very style-conscious generation of players – is there anyone in the Arsenal or England set-up that is more into their fashion that yourself?
Everyone cares about their fashion in both set ups for sure. When I'm with England, everyone's always talking about fashion and asking what we're all wearing. Everyone's trying to get their hands on the most limited things.
Within your teammates, whose style do you like the most?
Aubameyang definitely has the most different style. He's always busting out something gold – like his cars – or colourful… like that photo of him in the Naija collection with the rainbow Air Max TN's on. He's always in something bright and pulling out something crazy. In the young England set up all of us are mad on it when it comes to style. It's funny cos everyone always ends up trying to look different, but we end up looking the same as we go for the same items. 
What sort of music goes on in the Arsenal dressing room at the minute?
Rob Holding is always on it for us! He's got a lot of bangers so is usually in control of the Bluetooth speaker in the changing room. Because we've got lads from loads of different countries, he's sticking on stuff like French Rap and Spanish trap through to new UK stuff. 
On that note, who are your favourite UK artists at the moment?
Not3s and Yxng Bane are always on rotation, but I'm normally listening to American music. It's all about Gunna and Lil Baby at the minute, obviously. Then I also bump A Boogie Wit Da Hoodie a lot… Future, Young Thug and Roddy Rich are all hard too.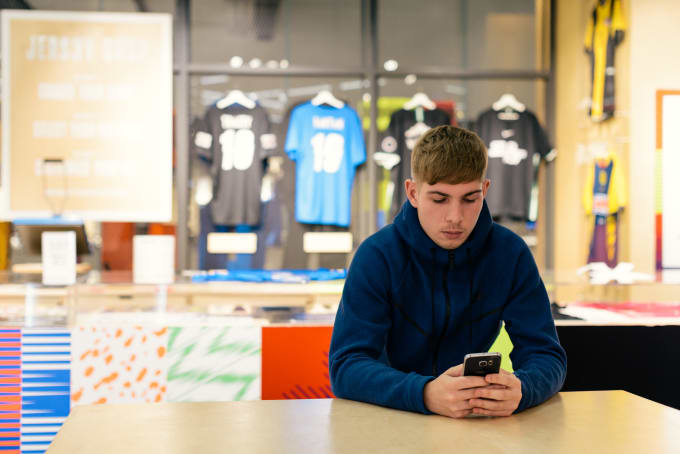 You already have an U17 World Cup to your name with one of the most talented groups of players in the world. What's your relationship like with all those boys you won the trophy with?
At the time we were all together and we've all stayed in touch. We had such a strong team, and it's good to see some of the lads getting promoted up the ranks at the moment. We'll always message each other on our achievements, so if someone has scored or started we'll always show love. 
We're always pushing each other on and that helps each other stay motivated going forward. I'm close with Callum (Hudson-Odoi) who is doing well at the minute, and seeing Phil (Foden) get promoted up the ranks is also motivating for me. 
Was that your career highlight so far?
Definitely for my country – it was an unbelievable experience. At club level, making my debut and scoring was incredible. 
You're doing bits in the Europa League – is that a competition you want to go far in so you can get more playing time?
(Laughs) Yeah I'm really enjoying it. I'm just appreciative of my manager giving me the chance to express myself there. 
How important has Emery been with your development?
Very important. Since he's come in from pre-season he's always had faith in me and believed in my ability. We have a really good relationship – but it's not just with me, it's with all of the young players too. He's a very passionate man manager – and that's definitely a plus for us. His English is better now too which is a big change from pre-season too!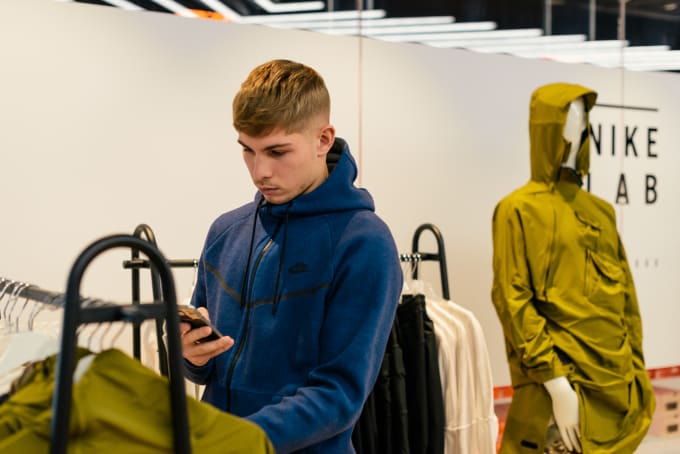 You've said you watched a lot of clips of players like Lampard, Iniesta, and Xavi growing up on YouTube. How much do you credit watching videos online to helping your game?
From when I was young, my dad would make me watch clips of players like that to improve my game, so from young I've always looked up to them. YouTube was really important for my development – but I'd have to watch clips on my dad's phone as I wasn't allowed 
Is there anyone in the squad at the minute who is helping you improve your game?
Definitely Torreira. He's just come in and bossed it from the start. It's crazy training with him and good to see him doing so well at the minute. 
What are you targeting with Arsenal for the rest of the season?
My main target is definitely making my Premier League debut – I've played in other cups but am definitely looking forward to that moment. Hopefully I'll be able to do it this season.
Download the Nike App to enjoy effortless in-store shopping in Nike Town London now. You can download the Nike App here.