"Per Aspera Da Astra" is a fitting phrase for Jérôme Boateng's life and career. 
Latin for "through hardship to the stars", Jérôme made it out of the streets of Charlottenburg and Wedding in Berlin to become a World Cup-winning centre back. A proud family man – his number 17 is the date of his mother's birthday – Jérôme's siblings were always inspiring him to be fiercely independent.
But it's clear to see that his half-brother Kevin-Prince wasn't just influential on his footballing ability. Fascinated with 'the culture' from a young age, Jerome has become renowned for having a unique taste in style and music that the vast majority of other pros his age are only just beginning to get into. 
He's one of only two football players signed to Jay-Z's Roc Nation Sports agency, meaning he's firmly in charge of the music in the Bayern Munich dressing room, and was hit up by Virgil Abloh to be one of the first players to rep the Off-White x Nike football jerseys before anyone else. He's a senior figure of sauce for the likes of Leroy Sane, Kylian Mbappé, and David Alaba, who are all following his forward-thinking footsteps in establishing their cross-cultural nuances outside of football. 
This is why Boateng's collaboration with Berlin's 032c magazine is a perfect fit and bares the aforementioned Latin motto on the back of the collection's standout workwear jacket as a result. Despite being from very disparate backgrounds, both 032c and Boateng are cultural innovators in with a shared love of fashion, music and dogs – which play a big role in the pair's 'BOA17' collection.
We caught up with Jérôme at the 032c installation at 'Bread&&Butter by Zalando – The Pop-Up of Style and Culture' to talk about their collaboration, his glistening career and where his love for music and style originates from. 
COMPLEX: The collection is 'hyper-personal' and is inspired by your dogs. Do you own all the dogs in the collaboration's promotional picture? 
Jérôme Boateng: No, no! They're not all my dogs – the only dog I have is Ivory, who is the pin you seen in the collection. If I had all those dogs in the picture they'd have to come to training with me!
What was it like growing up in Wedding?
I actually grew up in Charlottenburg, but I trained in Wedding… the connection there is also that my brothers grew up there, so my half-brother (Kevin-Prince) grew up there and me and my sister grew up in Charlottenburg. I would always go to see them and hang out with them in Wedding, which is why it was influential on the connection. 
How influential were your brothers on your fashion sense? 
My older brother Kevin was a big part of that. When I was 14, 15, I always looked up to him. He dressed so cool – and then I was like "Oh, I have to start doing the same now!" around then. Not to be better than him, but just to do something different and unique from him stylistically. 
When you get a little bit older, you're always trying to do something different from your siblings. I'd say I'm more into style than him nowadays!
Were you competitive with him growing up?
With style and design, no. But with sport, absolutely!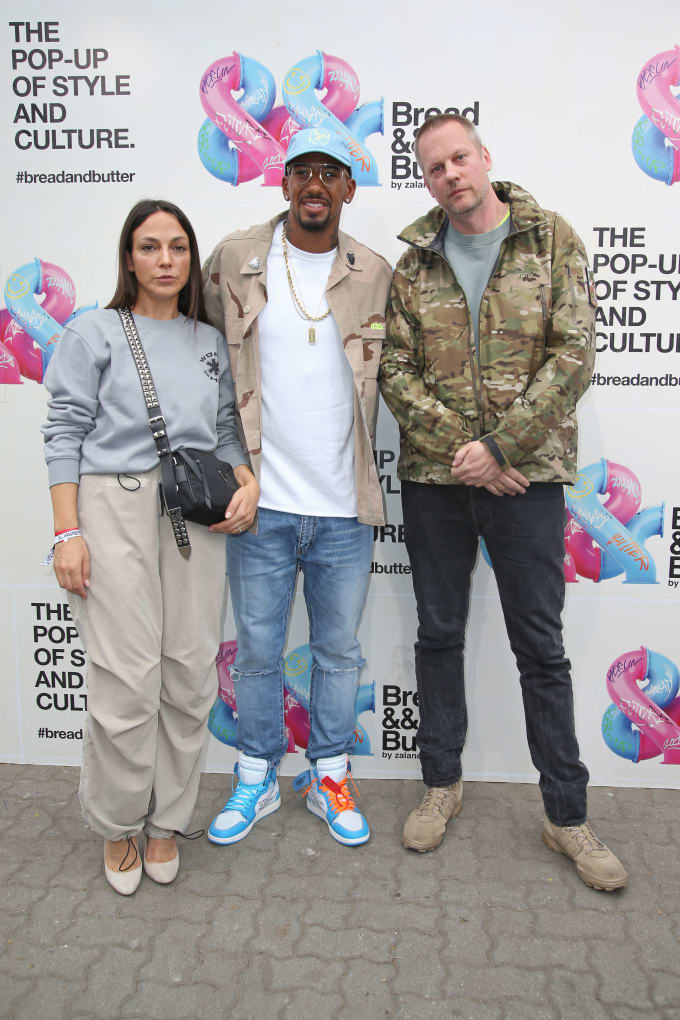 What do you think of the Bread&&Butter event? 
I think it's a great thing for young people – actually for anyone of any age – to come here, to meet up, to explore different stuff, different styles. You get new ideas from that. Culturally, it's a super-interesting event, too.
Are you going to get any new ideas from it or things to buy? 
If I have time, for sure – but I'm more interested in seeing what everyone's wearing and getting ideas from other people. 
Do you read 032c magazine often?
Yeah definitely, when there's a feature in it that I like and want to read about I'll check it out. 
David Alaba spoke to me earlier this year that you're always in control of the music in the dressing room. He was annoyed by that….
Why? He just plays Justin Bieber and stuff like that…
Well he was telling me he played Skepta and stuff like that…
Well he does, but only because I showed him first. Some he knows by himself, but that's only Justin Bieber and stuff like that, he likes this kind of stuff. Without me, he wouldn't be listening to Skepta.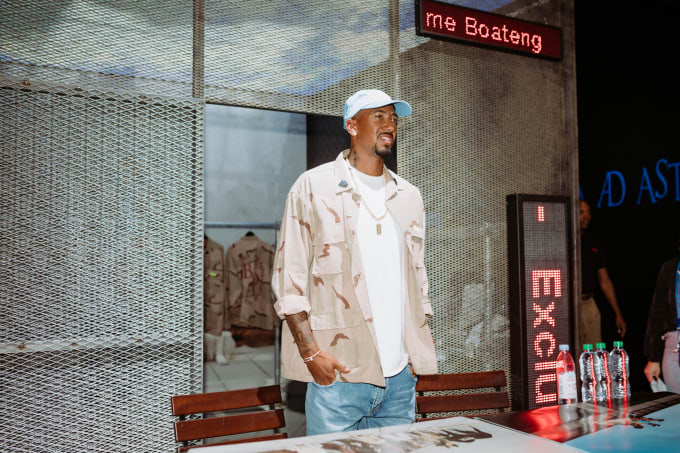 Do you always play that or do you keep it varied?
Yeah, hip-hop, R&B, a little bit of pop, house, a mix of everything - but mainly hip-hop for sure. 
And you're represented by Roc Nation Sports. How did that connection come about? 
It was after the World Cup actually, in 2014, and it was with my old management. I think they liked what they saw after that. We flew to New York, we met, and a week later I met with Jay… to meet an icon like him was crazy. He was so humble, really cool. I could bring my sister and my best friends too, so we were there for three hours, and it was an amazing experience. 
We kept talking about sport, his music – of course, I had thousands of questions about that – and my sister did too because she loves him as well, and it was an amazing experience. 
Do you listen to any UK music?
Yeah, Skepta and Giggs are my favourites. Those guys were put on by More Life by Drake but are definitely the guys getting played in the dressing room the most. 
Who has the worst taste in music in the dressing room?
That's a good question. I don't even know everyone's taste, but of course we have the South Americans who put on their reggaeton…
Do you not like reggaeton?
No I like it! But if it's the whole time it can get annoying. Other than that, I'd definitely say Thomas Müller – his music is definitely not for me. But yeah that's his taste, he grew up in a village and I grew up in a city, which is why our taste is so different. 
Who is the most stylish guy in the dressing room? And who is the least?
The least is definitely Thomas again – he dresses awfully. And without me, I would say David is probably the best. 
So you'd wear some of his hats?
No I wear my own (laughs). Well maybe if he gave me some I'd wear them! 
 

 

 

A post shared by Jerome Boateng (@jeromeboateng) on Aug 16, 2018 at 7:39am PDT
Are you mentoring any of the other players with their style choices? I've seen Wagner is copying your swag…
It looks good on him also doesn't it? I'm not really mentoring, but some of the other players keep asking "what is this?" or they see some shoes or a jacket they like and they ask me where it's from. So yeah I guess you could say I'm mentoring them a bit!
Do you like the Off-White collection and what Virgil has done?
Yeah absolutely, it's amazing. And also with Louis Vuitton – he has amazing ideas, and is so creative, so it's a move that he deserves and the world will love too. 
Onto football - who would you say is the toughest opponent you've faced?
I know it's a pretty obvious one but Messi. One on one, he's very hard to stop. 
What happened with your move with PSG? 
It didn't happen – still here! I've now got new goals for the season at Bayern...to win everything. 
Especially after the World Cup…
Yeah we have something to prove now, and we're excited to do that in the Nations League games for sure. 
And who would you say are the nation to watch going forward?
France obviously have a very young and talented team – but England are definitely a nation to watch too. Their young players look very strong. Belgium too have great players. Those three nations are definitely the ones Germany have to prove they can beat and are the nations that are getting very good.
'Bread&&Butter by Zalando – The Pop-Up of Style and Culture' present exclusive collaboration with leading cultural platform 032c and Jérôme Boateng: BOA17, a unisex capsule collection exclusively available on breadandbutter.com – Zalando's new shopping hub for selected streetwear and exclusive product drops.