Sean Davis is living the dream. The 25-year-old New Jersey native is slowly nestling into his role as star midfielder for the New York Red Bulls and he's primed to have a breakout season after scoring a cracker of a goal against Honduran side Olimpia in the CONCACAF Champions League.
Besides being an up-and-coming player for the team, Davis is still a 20-something who lives in the New York area who loves sneakers. "I have the original pair of Yeezys, and I'm working on getting more," he says.
With all the hoopla surrounding the start of the MLS season, we got to talk to Davis before the Red Bulls opener vs Portland about what it's like to be an Adidas athlete, whether he gets Yeezys or not, and how Red Bull players use their local celebrity to score a date or grab a table at a hot spot.
(This interview has been edited and condensed for clarity.)
How long have you been into sneakers?
I'm big into fashion to begin with. I like expressing myself through clothes. I like trying to find my own style. All the stars aligned, and I was able to land my own Adidas deal. Adidas has grown so much in the past few years, as I'm sure you know. I love wearing everything that they offer. From the streetwear to the more athletic wear. From the Originals to the Ultra Boost. I love everything about Adidas.
Growing up, being a kid who played soccer, Adidas was a brand you looked up to?
When I was growing up, the big shoe was the Predator, which they've actually brought back recently.
Did you beg your parents to get them?
Yeah. They were so expensive, but my parents were great, they were always so supportive. But I would always go Adidas, until I went to Duke and I had to wear Nike. But I'm happy to be on the right side now.
Do they send you Yeezys?
Yeah, I have the original pair of Yeezys, and I'm working on getting more.
Do you have to ask this guy [points to Adidas PR person]?
It's not easy out here.
Does Jon Wexler send them to you?
No, we have a bunch of guys who have a bunch of pairs. But I'm working on getting more.
Who has the best sneakers on the team?
I think our new player Marc [Rzatkowski], he's from Germany. His sneaker game is so strong.
How do you pronounce his last name?
I don't know yet, you tell me [laughs]. I call him Marc R.
When you're on the pitch, do you ever want to wear flashy cleats?
Right now, I wear Adidas Nemeziz, and they have a laceless pair. But I'd like to think I'm not flashy enough to wear that laceless pair. I go with with the one with the laces, and I love them.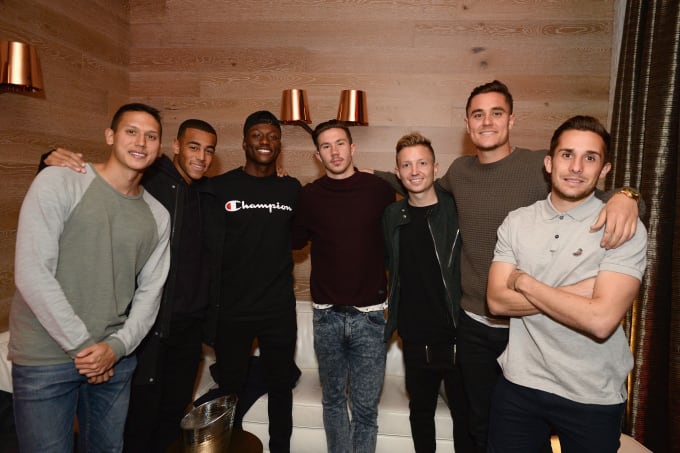 What do you do to have to wear the laceless pair?
I think, you know, at Red Bull we're not the flashiest team.
I know.
We're a very unified team. The team is the star, per se. I wouldn't see myself as the guy wearing the laceless cleats. But a guy like Derrick Etienne, Jr., he's very good on the ball. Very good at dribbling, and he likes to express himself that way. He's more suited to wear the laceless pair than I am.
What's your favorite sneaker?
That's easy, I'd go with Ultra Boost. I wear Ultra Boost all the time. Whether I'm traveling, putting a nice outfit together to go out in the city, or I'm training. If I had to choose one shoe, for the rest of my life, that would be it.
When you're out in New York, do you have to explain to people, "Hey, I'm a soccer star"?
I try not to. We call it The Red Bull Card here. I try not to.
Wait, wait. What is that?
The Red Bull Card. If you're trying to meet someone, or if you're going to a nice restaurant and need a reservation.
Do you pull that?
No, I try not to.
So would someone on the team like Bradley Wright-Phillips need to do that?
No. Brad doesn't need to. Brad's big time. He's well known. For some of the younger guys, it goes a long way. But we try not to use it.