WEST PALM BEACH, Fla. — Like watching one of his tumbling sinkers induce another ground ball, when Dallas Keuchel rolls up his sleeve to show his most prized off-season acquisition, it's easy to see it's something special. Even if you know absolutely nothing about tattoos.  
Five years ago, Keuchel's right bicep and shoulder were covered in ink, zapped into his fair skin by an artist from his native Oklahoma. Appropriately car-themed for the automotive-obsessed Astros left-hander, the work is respectable, probably even commendable. But when you look at Keuchel's lower bicep, elbow, and forearm, he doesn't need to point out all the intricacies—the pistons pumping full throttle, the elaborate rosary beads, the detailed Jesus nailed to the cross, and the date memorializing the best night of his life—to realize the artist who did it knocked it out of the park.
"I had a vision," says Keuchel, "but I let him run with it. He's the true artist, the visionary. It couldn't have turned out any better."
Keuchel's been hiding the work of renowned tattoo artist Mister Cartoon all spring training, sporting a sleeve over his right arm while his pitching arm remained bare. "A lot of former teammates have asked why I'm wearing a sleeve on my right arm and not my left," says Keuchel. But now that it's Opening Day and the 2017 World Series champions officially begin defense of their title against the Rangers in Arlington, Texas, Keuchel has nothing to hide.
On a perfect South Florida Friday afternoon, 13 days before the season opener, Keuchel is sitting on a yacht he can probably afford when he's commanding upwards of $25 million a year on his next deal. He takes off his pair of Christian Louboutin Louis Spikes before boarding the yacht—because when you board an impossibly expensive boat you leave your kicks on land. Rocking sneakers that retail for $1,295 seems improbable considering Keuchel's humble upbringing. It wasn't that long ago that Keuchel would save to score Jordans by begging his parents to pay him to complete household chores.
Keuchel has always appreciated a little stunting, even if his taste level wasn't always in sync with his bank account during his days at Bishop Kelley High School in Tulsa, his three years at Arkansas, and his three years in the minors before his 2012 MLB debut. An exotic car enthusiast and sneakerhead, his Instagram is sprinkled with shots of Lamborghinis as well as some of his favorite kicks, including the pair of Nike Hyper Adapts he wore for the World Series parade. As one of the premier pitchers in baseball, he can now comfortably afford the finer things in life. Including a couple of sessions with a tattoo legend.
Keuchel dreamed he would one day collaborate with Mister Cartoon to finish off his right sleeve. A connection was made between their reps, and a formal introduction happened in Cartoon's native Los Angeles before Game 1 of the World Series. Pleasantries were exchanged, along with some shit talking since Cartoon was born and raised five miles from Dodger Stadium. Naturally, he bleeds Dodger blue. They made a pact to get in Cartoon's studio during the off-season.
"He has an image in his head he's been thinking about and I have to get that out of his head and translate that onto skin," says Cartoon, who has done work on Lakers, Kings, and plenty of other professional athletes. "We went to eat and hang out first, really just vibe. For [athletes], I'll go out of my way to do that shit because it's someone that has a crazy schedule. I can't do that with everyone, of course, but he did win the World Series."
While the two might operate on opposite ends of the spectrum—"In a way, we're yin and yang, which works out," says Cartoon—there are ties that bind. Both are car guys—Dallas loves the exotics while Cartoon reveres the classics. Then, there's the city of Houston itself. Cartoon calls it a "second home" considering how much work he's done on local hip-hop legends like Slim Thug, Paul Wall, and Bun B, and Keuchel's been a mainstay in the Astros rotation for six seasons. Commemorating his crowning achievement in baseball—winning the World Series and the city of Houston's first championship since 1995—was part of Keuchel's vision and, ironically, one of Cartoon's favorite features of his work. Across Keuchel's inner forearm, in Cartoon's signature italic Roman font, is a ribbon that bears the date of Game 7—"11·1·17."
"I just think it's dope that a pro ball pitcher is fully-sleeved," says Cartoon. "He's like one of us. I go, 'Hey Holmes, you're never going to get a job now.' But I don't think he ever has to worry about that."
He does not. Keuchel's already made plenty of dough during his time in the bigs, but he's due for a big bump next season. A free agent at the end of the year—considering he's the 2015 A.L. Cy Young Award winner, a two-time All-Star, and a World Series champion without suffering any major arm injuries at age 30—he can command a lot of money on the open market. And he'll likely hit it since his agent Scott Boras usually steers his clients to the highest bidder. So if the Astros don't dangle a bag in front of the man with the second most famous beard in Houston, then he could call another city home in 2019.
"It's on my mind more times than you would think," says Keuchel. "I want to win. Winning the World Series is the best feeling. You want to try and make that happen again as many times as possible. I would gladly take less money to win. But there's got to be a certain point where taking care of your family and being well-off and winning kind of collide. Winning will always be the biggest factor."
Culture will certainly come into play as well, and while Keuchel wouldn't hesitate to shave his beard for the right organization like the Yankees (who have a strict facial hair policy), ideally he'll be free to let it flow and be himself. NBA and NFL players long ago surpassed baseball players on the cool curve, and Keuchel wants to be an example of how fashion-forward baseball players have become. He thinks Major League Baseball could do a lot more to let players stunt on the field by allowing more custom cleats and spotlighting the game's truly unique personalities. "Some of the younger baseball guys are getting some swag," says Keuchel. "It's going to be a tough road because basketball and football are way up here."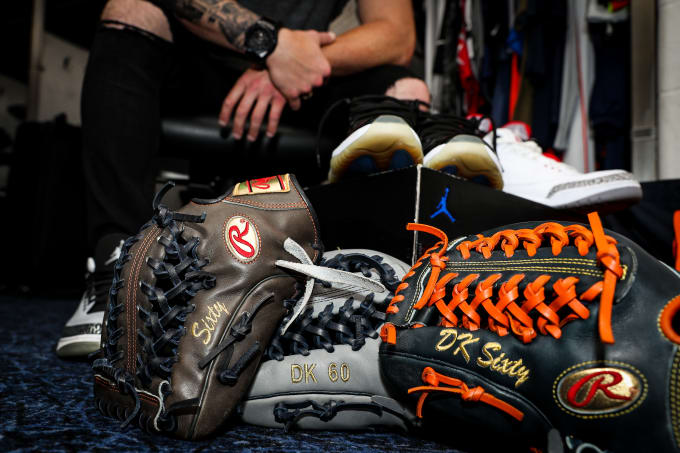 Consider collabing with Cartoon a subtle stunt. His back-to-back sessions with the artist took nine and eight hours, respectively, but Keuchel couldn't be more amped about the finished product.  
"I wanted to display certain things that resonate with me. [Like] the machinery aspect," he says. "I feel like the best athletes in sports are machines—they do it over and over and over again. I want to be that guy who is on the mound and everyone in the stands is like, oh crap, Keuchel's on the mound and we're going to lose again."
Keuchel has a large portion of his right forearm still unfinished and, of course, there's his pitching arm which remains untouched. Keuchel refuses to let Cartoon work on it while he's still playing. Keuchel's a little superstitious, but really, it's that he can't bear the idea of a surgeon—knock on wood—slicing open his shoulder or elbow and destroying Cartoon's work.
"You're cutting up a Picasso or you're taking a chainsaw to an exotic car," says Keuchel. "That's what kind of scared me from doing the left side until my career is over with."
So in another six or seven years—maybe even a decade if he's lucky—Keuchel will slide into the chair again. He'll have a concept in mind that surely will pay homage to a career that hopefully includes more individual accolades and ideally another World Series or two. That those things happen in Houston is not necessarily a requirement. That Mister Cartoon guides the needle is.