Though the NFL retains its dominant status in the United States, NBA ratings are trending upward. Some believe a changing of the guard in the American sport hierarchy is inevitable.
The NBA has a hot hand, and with its competition looking vulnerable, this is no time to stop shooting.
Lately, commissioner Adam Silver has been inundated with ideas for innovation from seemingly everyone who watches basketball.
We've honed in on six of these ideas and vetted them with media members who understand the priorities and inner workings of the NBA.
Here's what the experts think.
---
GREEN LIGHT
Shorten the regular season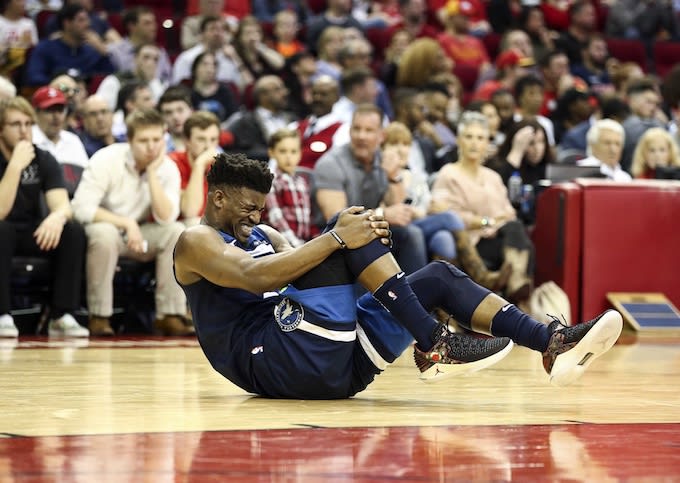 Eighty-two games is too many. The league tried to navigate around this issue by moving the regular season up one week and eliminating four-in-five stretches. It was a good start, but more action is needed.
Key figures like Steph Curry have been hobbled throughout the long season. Stars are willingly sitting out the All-Star Game.
The NBA has pushed to stop teams from resting their top players, but can you really blame them? They need to protect their most valuable assets for the games that count.
FOX Sports NBA reporter Chris Broussard believes a shortened season would be better for both players and fans.
"I talked to Michael Jordan about it, and he was like, 'Man, I loved playing 82,'" Broussard says. "There are some players that just want to play. It's the new generation that talks about rest, and obviously, they have the analytics to back it up. If the players want it, I think it'd be good for them. And as a fan, as much as I love basketball, I'd rather see a 66-game season because I think that would ratchet up the intensity of the games."
ESPN Front Office Insider Bobby Marks agrees with Broussard. He says the 2011-12 season, which was shortened to 66 games due to the lockout, was a better length.
"Each game had a little more importance to it," says Marks, who worked in the NBA for 20 years, including five as the Nets' assistant GM. "I mean, the ratings on TV are already good, but it would make the end of the season a little bit more important for everyone."
The on-court product gets diluted when teams start tanking in February. Anyone excited to watch another month of Phoenix Suns basketball?
The question is, who do you side with: owners or players? Owners' pockets would take an initial hit (in the long run, they could just up the price of tickets) if the season were shortened, which makes this a longshot—but that doesn't change the fact that it should happen.
Eliminate one-and-done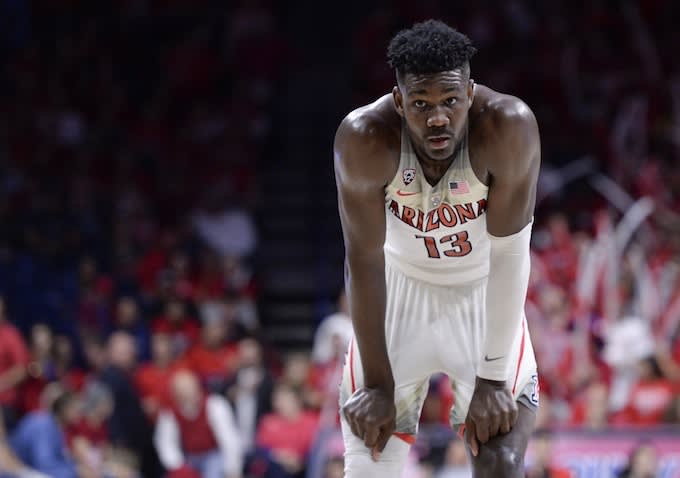 Kanye once rapped, "the system's broken: the school's closed, the prison's open." It could be argued that for top NBA Draft prospects, the NCAA now serves as both school and prison.
Since 2005, the NBA has required players entering the draft to be at least 19 years of age and one year removed from high school. The result: a shift from prep-to-pro (LeBron, Kobe, T-Mac) to one-and-done (Kyrie, K.D., Anthony Davis).
NCAA teams have paid top prospects under the table for years, but ESPN's explosive Arizona report has ignited discussions about how badly this broken system needs to be fixed. Silver is reportedly considering a new approach that would allow players to go from high school to the NBA but would include heavier G League involvement.
ESPN analyst Amin Elhassan, aka Mr. #HateHard, previously served as assistant director of basketball operations for the Suns. Elhassan says he "feels strongly" the G League should be part of the solution, but adds that players need an incentive to go that route. Paying players $25,000, a normal salary for a G League player, is not a sufficient incentive.
"If you look at the number of guys who were drafted out of high school, they usually worked out. By and large, there weren't too many misses," Elhassan says of the prep-to-pro era. "It's like anything else in life: If I want to open a restaurant, I can make that decision. It might be a huge mistake, and that's that. We should be free to make mistakes. An 18-year-old should be free to make the mistake of trying to enter the draft and not being good enough."
Elhassan's old boss, Steve Kerr, recently espoused a sound perspective on what should happen if that comes to fruition. If a player goes undrafted, Kerr said, let him maintain college eligibility.
WE SHOULD BE FREE TO MAKE MISTAKES. An 18-year-old should be free to make the mistake of trying to enter the draft and not being good enough.
Turner Sports analyst Stu Jackson, former NBA Executive Vice President, would love to see a "none or two" system: players can go straight to the league, but if they go to college, they've got to spend two years there. Broussard agrees that players spending multiple years in college would be best for the game, but says allowing them to go prep-to-pro is the fairest solution.
Either way, the experts say one-and-done needs to be vanquished.
Make the All-Star draft public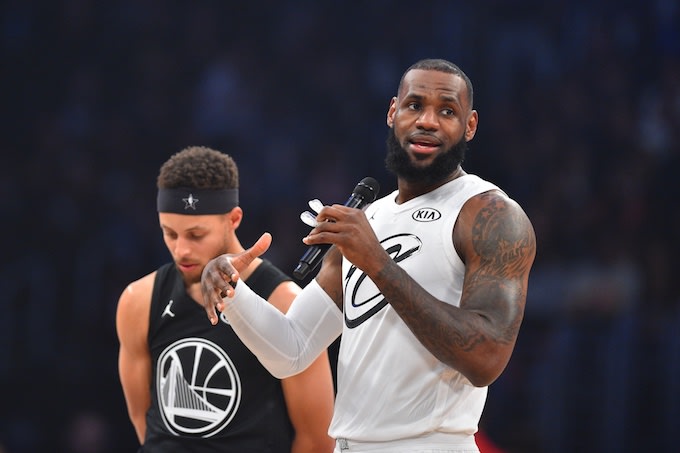 This year, for the first time, the NBA allowed two of its players (LBJ and Curry) to pick the squads after the All-Stars had been selected. This led to the most competitive All-Star Game in years. The game was also a ratings success.
Let's take things a step further: put the All-Star draft on TV. It could become its own event (cha-ching), or, to really heighten the drama, the league could go straight pick-up style: line up the All-Stars on the court and let the captains select them one by one.
You want Durant? Well, I've got the Brow. You want Giannis? I've got the Beard.
"I think it would be great drama the same way it is on the playground," says Jackson, who also served as a head coach in New York and Vancouver. "There's a certain amount of pride involved with being one of the first picks, and everybody has fun with the last player selected. Publicly from a fan's perspective, that would be fun, if there's a way to do it without embarrassing the NBA players."
Jackson's point about embarrassing the players is a fair sentiment, but they don't seem overly worried about it.
Yo @StephenCurry30 that was fun!! Definitely should've been televised. 🤷🏾‍♂️ #AllStarDraft⭐️

— LeBron James (@KingJames) January 25, 2018
"If you made the All-Star Game, it should be televised who is going to be on what team," John Wall said. "We're grown men, like [LeBron] said. If they ain't pick you, they ain't pick you."
Silver recently said it "sounds like" the draft will be televised next year.
RED LIGHT
Change the playoff system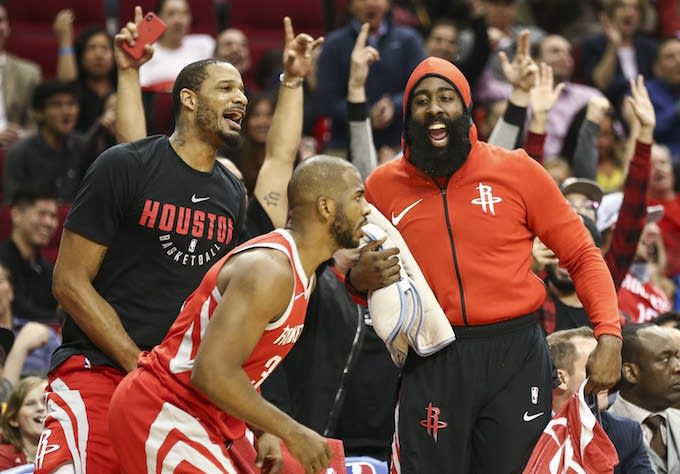 The NBA has reportedly discussed a new playoff format in which the top eight teams in the East and West would enter a 1-16 bracket, March Madness style, stripped of conference affiliations. This adjustment may increase the postseason's entertainment value, but it doesn't fix another problem: ensuring the best teams make the playoffs.
As Marks puts it: if there are 10 good teams in the West and six in the East, the proposed format is not a remedy. The other experts agree.
"I think on paper it sounds like a good idea," Jackson says. "But also part of me feels like it's a reactionary move based on the perceived imbalance between the West and East over the recent past, so I'm not a huge advocate of it."
The NCAA system works because the selection committee takes RPI into consideration. Strength of schedule can fluctuate dramatically between NBA teams, and the new playoff system likely would not take that into account.
Part of me feels like it's a reactionary move based on the perceived imbalance between the West and East over the recent past, so I'm not a huge advocate of it.
"Obviously it will never be the same for everyone, but they'd have to do more to balance out the schedules," Elhassan says.
Other critics of the proposed system say it would present a logistical nightmare—for example, what if Toronto and Los Angeles were matched up? One possible solution to this issue: returning to a 2-3-2 series format, as opposed to the current 2-2-1-1-1.
Or, as Broussard notes, if the NBA is willing to shorten its regular season, it could maintain the 2-2-1-1-1 format and extend the playoffs.
A 1-16 bracket sounds sexy, but it would create a number of wrinkles for the league to iron out. A two-thirds majority would be needed to approve the measure, and it's hard to imagine East owners being inspired to move in that direction right now.
Return to a best-of-five first round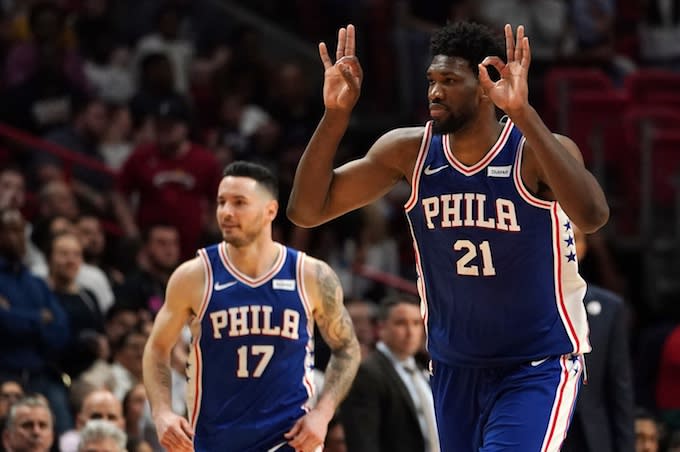 There is certainly a case to be made that returning to a best-of-five format would liven up the first round of the playoffs. One New York Times writer even called for a return to best-of-three.
The theory is simple: A shorter series means a higher probability of an upset, and a higher probability of an upset means more pressure-packed, exciting basketball. This is the NCAA Tournament model.
The experts, however, aren't feeling it.
"I hate the best-of-five," Marks says. "Just from having experience in it—the '01-02 playoffs [with the New Jersey Nets], we were the 1 seed, Indiana was the 8 seed, and that was a dogfight. What happens is, when you lose at home, it puts so much pressure on you for the rest of the series, you almost have to run the table. I think best-of-seven is best."
Some would say that's exactly their point—they want the pressure on—but Elhassan doesn't buy the "competition is better in a best-of-five series" argument. In 2014, five of the eight first-round series went to seven games. In 2017, No. 8 Chicago jumped to a 2-0 lead on No. 1 Boston.
"When you give them more games, it actually gets more competitive," Elhassan says. "As opposed to when you're down 2-0, that's pretty much it. It's lights out."
Even if the best-of-five would liven up the first round, it could come at the cost of watering down the rest of the playoffs. Say the league goes back to best-of-five, and in round one, Houston's shots aren't falling and Cleveland falls apart. Both teams are upset.
Suddenly, playoff TV ratings go in the tank. Casual viewers will tune into the NCAA Tournament for a Cinderella story, but only NBA diehards would get juiced for a Heat or Clippers run to the conference finals.
"I think ultimately you want to find out who the best team is, and as exciting as that might be for a round, if the Warriors are the best team and they've got all these stars, you're going to want to see them go fairly deep in the playoffs," Broussard says.
With best-of-five, lower seeds are guaranteed only one home game—so this is another idea that's likely a non-starter, one owners would all but certainly thwart.
Extend the dunk contest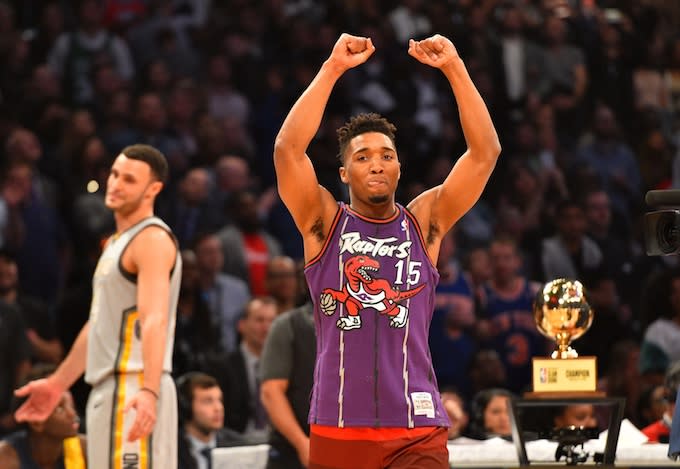 Donovan Mitchell and Larry Nance Jr. put on a show in this year's Dunk Contest, but some fans thought the show ended too abruptly. They called for a longer contest, one in which Dennis Smith Jr. and Victor Oladipo could have shown more in the early rounds, and Mitchell and Nance could've had more time to sort out who was the rightful champ.
Dunk contest wayyyyy too short. Bring back the throwback dunk contest where there's a quarterfinal, semifinal, and final. Not enough dunks 👎🏻

— Owen Fankhauser (@fanky_9) February 18, 2018
"I'm going to be honest with you," says Jackson, the former league EVP. "This is an issue that we struggled with during my 13 years in the league office, and it's an issue they're still struggling with: What to do with the dunk contest? More than any contest that I've ever been associated with, I've never seen more permutations than the dunk contest. There's no way to get it right."
This year's showdown was sensational, as was the 2016 contest that featured Zach LaVine and Aaron Gordon. The format doesn't need to be changed—but, Elhassan says, the judging does. What business do celebrities like Mark Wahlberg, DJ Khaled, and Chris Rock have deciding the Dunk Contest champion?
@Dennis1SmithJr Double pump= 39@VicOladipo No dunk= 31

What that look like?

— Dennis Smith Jr. (@Dennis1SmithJr) February 18, 2018
Adding Hollywood stars to the event is an obvious attention play, but Twitter indicated NBA fans disliked it.
Anyone else a little annoyed that 3 of the 5 judges for the dunk contest were celebrities? That's not right. DJ Khaled should never judge stuff like that 😅

— Coda YungStud Bonell (@Codaskateboards) February 18, 2018
Don't play yourself, NBA. If you're not going to fundamentally change the event's format—which is understandable—at least give fans this concession.
---
It may seem unwise to take chances now, but the NBA is booming today largely because of its willingness to innovate. The league's ahead-of-its-time international expansion strategy, with initiatives like Basketball Without Borders and the Jr. NBA, is a big reason Adam Silver and company sit in prime position.
Too often in sports, teams that build a lead elect to play conservatively. It's rarely the right decision. The NBA can capitalize on this pivotal moment by employing a full-court press—eliminating one-and-done, shortening the regular season, and making the All-Star draft public—to make a great league even better.