It Was Competitive, But the All-Star Game Can't Be Saved
Will we ever get an NBA All-Star Game that's entertaining, exciting, and dramatic from start to finish? We don't think so.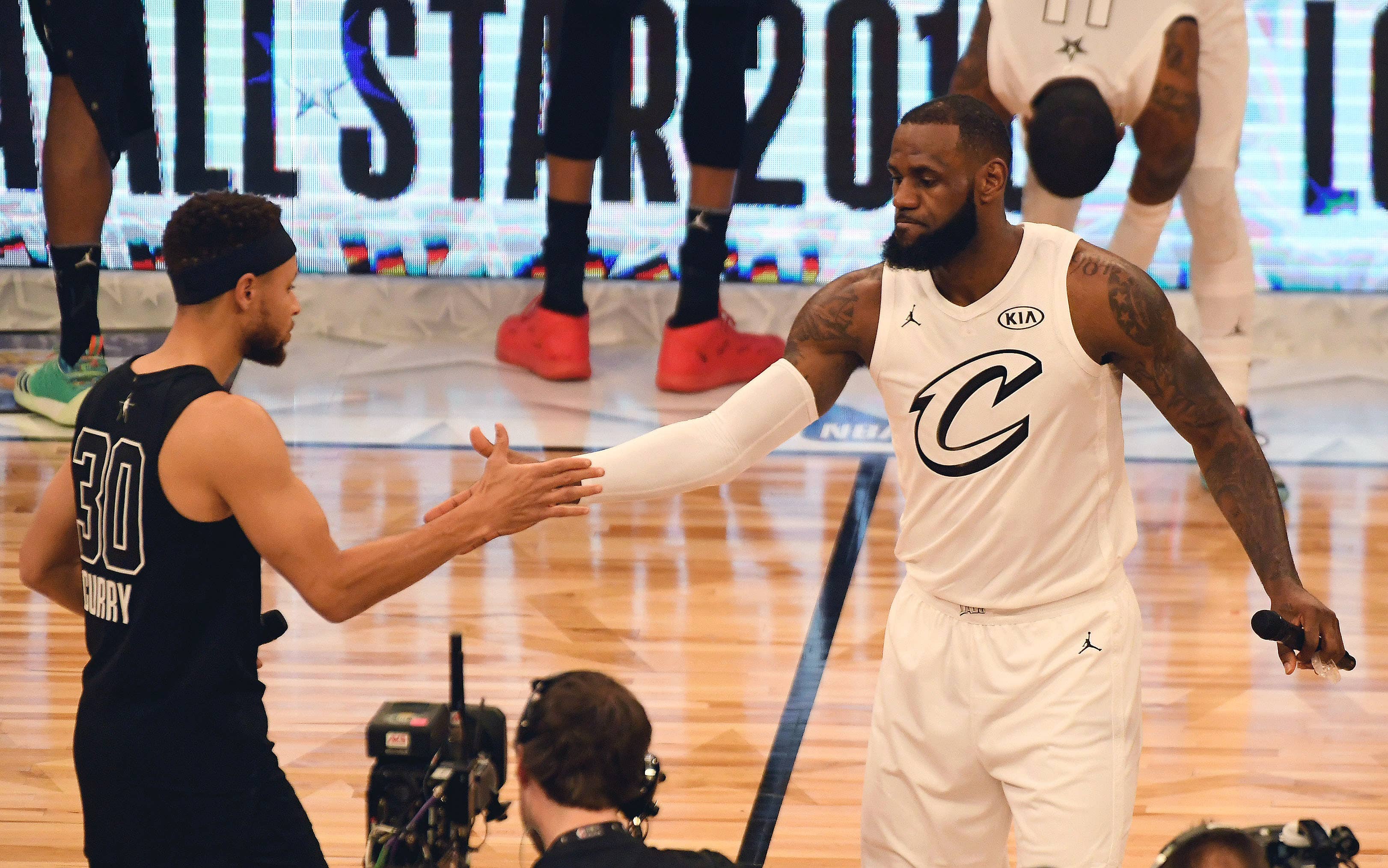 USA Today Sports
eam LeBron forward Anthony Davis of the New Orleans Pelicans (23 and Team Stephen guard Stephen Curry of the Golden State Warriors (30) shake hands before the 2018 NBA All Star game at Staples Center.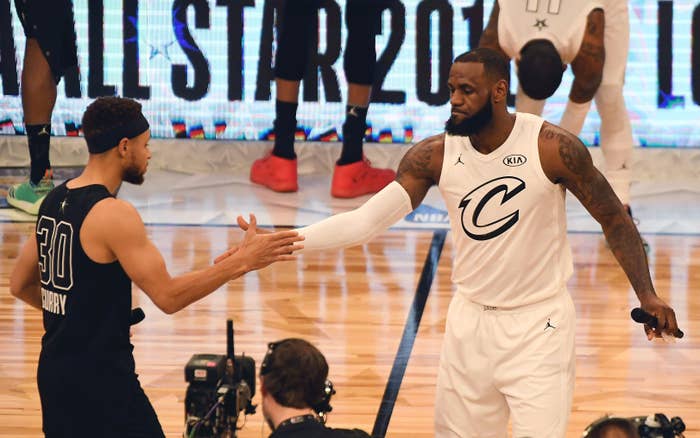 The 2018 NBA All-Star Game was supposed to change things. The game was supposed to mean something with a new format and new incentives for the players to play hard and, you know, actually give a shit for the first time in what felt like forever.
What had become a joke, basically the weekend's second dunk contest, was supposed to experience a rebirth Sunday. Captains were selected, sides chosen, and money for charity would be on the line. That's how the NBA thought it would transform a snorefest into a competitive and entertaining exhibition between two dozen of the best players in the world. Guys might even play defense for more than a possession. Basically the caliber of play would be the exact opposite of what the All-Star Game has been like for what feels like a decade.
And after Sunday's 148-145 victory for Team LeBron in Los Angeles, I wouldn't call what we witnessed a failed experiment on the NBA's part. The players were adamant that this version of the game felt different than previous ones.
But real talk, up until the final few minutes of the fourth quarter it was tough to tell who cared less about being in Staples Center: the All-Stars or all the beautiful people in the stands who sat on their hands the whole evening?
LeBron James won his third All-Star Game MVP award, leading all scorers with 29 points, and celebrated his squad's final defensive stop that sealed the win by sprinting toward his bench and jumping into his teammates in a rare display of ecstasy. Seriously, when's the last time All-Stars spontaneously showed any kind of emotion like that in this game?  
"That's why, it was so competitive," said James Harden, playing in sixth All-Star Game.
We asked a bunch of All-Stars if this game felt different and how competitive it really was out there on the court. And to a man, they all said this game was unlike any other.  
Were guys really going at it? "Yeah," said Russell Westbrook, a seven-time All-Star, with his typical deadpan delivery.
In his first All-Star Game, Joel Embiid thought it was "very competitive" out there. 
"I think a lot of us played hard," four-time All-Star Kyle Lowry said. "I think it was way more competitive."
"I think we tried to set the tone early by playing a little defense," said Steph Curry, a five-time All-Star and one of the captains along, of course, with LeBron. "A great change of tone for the fans. I think we accomplished that, all the way down to the finish."
"For an All-Star Game and for the way the game has been played the last few years, I think it was really competitive," two-time All-Star Kemba Walker said. "Especially in the fourth quarter."
Yeah, it was close in the fourth quarter, guys played hard down the stretch, and in the final two minutes both teams really clamped down and made it dramatic. But are you honestly going to remember any plays or iconic moments from this game? Were you appalled by how lackadaisical the play early on was, with a million turnovers? Did you yawn through most of this game featuring the greatest and dream of them balling out like it was the playground for more than roughly 10 minutes? You weren't the only one.
Twitter clowned this game early on when both sides looked like garbage and it remains to be seen if the NBA will roll out this format again next season. Almost to a man, the players seem down to do it again.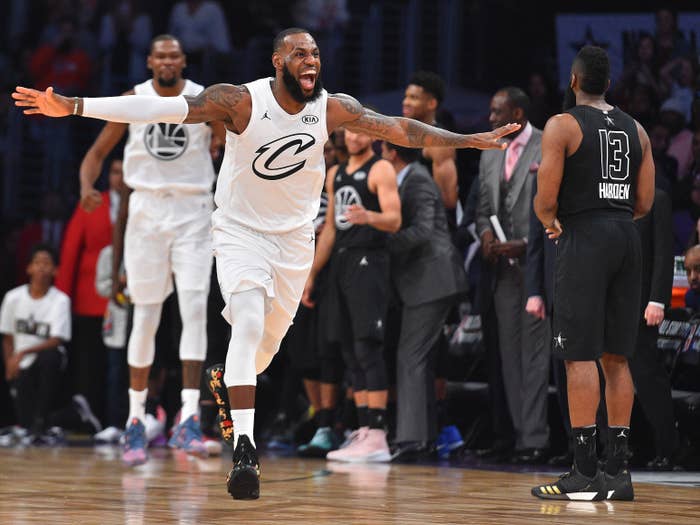 "I'm not against it, that's for sure," said James, who played in his 14th All-Star Game. "I had a heck of a time doing it in the conference call with Steph."
But there's another problem with this game. The league needs to televise the All-Star Draft and not dodge hurting anyone's feeling by conducting it behind closed doors. They missed a golden opportunity to really create some buzz around the game when they decided against televising the draft. There's talk the league will correct that next year if the format sticks. But it was a completely lame on the NBA's part to do something like that away from the public, about as lame as the atmosphere in Staples Sunday.
Prime example: The only time the crowd got on its feet after Fergie's abysmal national anthem was when Michael Jordan was introduced to the crowd during a TV timeout late in the fourth quarter to acknowledge Charlotte as the host city next year. It barely rocked for NERD x Migos performance during halftime. Until late in the fourth quarter, it was louder in the arena during the timeouts than the game itself.
But it was competitive. The players said it felt better, that it was a step in the right direction. Something to build on for the coming years. The All-Star Game can only get better from here, they want to believe. 
You can buy it. I'm not. The players said the right things and seemed genuinely happy with the results, but it sounded corporate. It came across canned. LeBron's celebration at the end kind of looked contrived considering it was barely reciprocated. Maybe the players are just trying to convince themselves that this game had some juice on the court because it had none in the stands. And not a lot on social media until mid-way through the fourth quarter.  
The bigger question in all of this is does the NBA need to save the All-Star Game? Probably not because at this point it might be beyond saving and why go crazy over an exhibition games guys are basically trying to get through without getting hurt and ruining the rest of their season. The players make too much money and are generally too close with each other to really go at it—unless we're talking about Embiid vs. Westbrook. Everyone in the game is cool with each other, for the most part. They'd all rather be on vacation anyway, and unless you throw a bag at their feet and say winner takes all, are things really going to change? Will we ever get an NBA All-Star Game that's entertaining, exciting, and dramatic from start to finish?
My money's on no.