Out of sight, out of mind. It doesn't take long for the world of boxing to stop talking about you if you're sitting on the sidelines. 
And to a degree, that's what's happened to Danny Garcia. The former unified junior welterweight world champion and welterweight world title holder took the longest layoff of his career after dropping a controversial split decision to Keith Thurman last March. Garcia is still one of the best welterweights in the world, but Keith Thurman, Errol Spence, Shawn Porter, and Jeff Horn have dominated the discussions around one of boxing's best divisions. 
After taking the first L of his career, Garcia needed to clear his mind, mend his body, and figure out a path to another title shot, preferably against Thurman. It took longer than expected, but Garcia returns to the ring Saturday against Brandon Rios in a welterweight bout he hopes sends a message to the rest of the division that he's not only ready for another title shot, but that he deserves one. 
"I've got to be Danny Garcia and win my fights and everything else will fall into place," he says. ​
We caught up Garcia on his last day of sparring, just as his hometown Eagles paraded through Philadelphia to celebrate their Super Bowl victory. The Philly native would have been there if he didn't have a fight to prepare for Saturday against former lightweight world titleholder Rios (Showtime, 9 pm ET). Before he laces up the gloves again, we talked to Garcia the Eagles, the long layoff, and whether or not a shot at a belt is realistic in 2018.
(This interview has been edited and condensed for clarity.) 
How'd you celebrate the Eagles Super Bowl victory?
It was a dream come true for me. I've been an Eagles fan since I was a little kid. It's great for the city of Philadelphia. It's our first Super Bowl. It's history. And I think we're going to win it again next year. We've got great chemistry. We're going to go back-to-back.
Eleven months is the longest layoff of your career. Why has it taken this long to get back in the ring?
There was just a lot of things that have to go together before a fight is put together. After the last fight, I wanted to take a little break and business things…there's a lot that goes on with it and I'm happy I'm back. I'm feeling good. Come Feb. 17, I'm going to show the world why I'm one of the best fighters. 
Is this the freshest you've felt in a long time?
I feel good. At first it was a little hard getting back into it. But once your body remembers, your muscle memory and everything…my weight is good. Everything is good. I'm ready to fight. 
You're supposed to learn more about yourself in defeat, I'm curious if you feel that's true and if so why?
Definitely. You definitely learn a lot about yourself—how strong you are, how mentally strong you are. Sometimes it feels a little different. I still know I'm a true champion, I'm a great fighter, some of the best fighters of all time have a loss, or more than a couple of losses. So at the end of the day what doesn't kill me makes me stronger.
Does the Thurman loss still bother you?
It bothered me at first, like the first five, six, seven months. It really bothered me when I got into training camp again because I wasn't really doing anything so that was still on my back. Once I started training and getting back to who I was, that's when I came out of it and was like, you know what, it's a new chapter in my life and it starts now.
You called this bout against Rios a classic boxer-puncher versus a brawler match, so tell me how you see it playing out?
I believe his only shot is to put the pressure on me and make it an ugly fight. Try and throw a lot of punches. We're prepared for that. We've done a lot of sparring with guys that come forward, guys that throw a lot of punches. I've been working on a lot of things in this camp and it's going to show on fight night.
Have you done anything drastically different this training camp since you're coming off the long layoff?
We're working on some new things, working on agility, a lot more speed. Everybody already knows we've got the power, we already know we've got the counter punching, the big left hook. We're just trying to strengthen the things we felt like we need to strengthen up.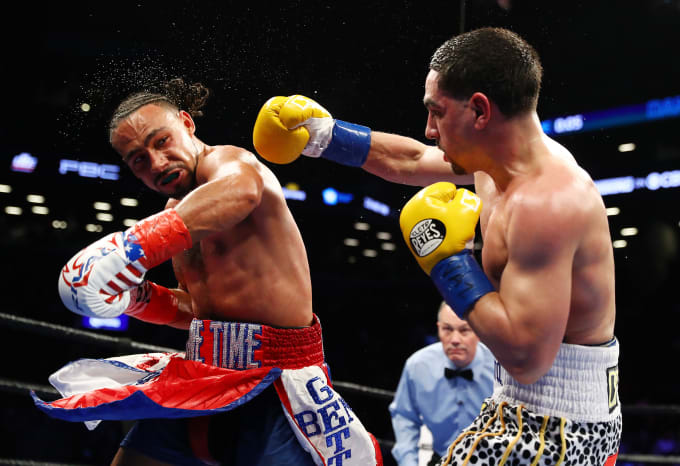 You're going to be the favorite in this fight with everyone expecting you to move on easily. Have you plotted out your run through 2018 yet, eyeing targets down the road? Or does too much have to take place within the division to plot out what's next right now?
We're going to let everything play out. We've been here before. I can't worry about nobody else. I've got to be Danny Garcia and win my fights and everything else will fall into place.
What is the goal for 2018? Another shot at a belt or setting yourself up for the big shot in 2019?
I would love to go right to the rematch [with Thurman]. I would love this fight to have occurred a few months back and go right into a rematch and like a true champion [Thurman would] give me my rematch. It didn't happen, but I'm pretty sure that he's not going to fight me, that he's going to need a few hard fights before. So, I don't know. I've just got to fight one fight at a time. Maybe at the end of 2018, or in 2019 I'mma fight for a title.