Kevin Durant couldn't beat LeBron James, neither could the Warriors. So after a 73-win Golden State team took an embarrassing L to Cleveland in the 2016 NBA Finals with a healthy Kyrie Irving, Draymond Green hit Durant's line in the parking lot after Game 7 and conspired one of the most cowardly acts in NBA history. The goal was to dethrone James. Usually superstars wait until the twilight of their careers to ring chase, not when they're in their prime; not when they played alongside another top tier player; not when they were one win away from the Finals that very same year; not when they had already had a Finals appearance on their resume just a few seasons prior.
What KD did, taking his talents to the Bay Area, was unprecedented. The Thunder had Golden State on the ropes, and folded like lawn chairs because Russell Westbrook and company were overmatched personnel wise as Durant's burner account so eloquently pointed out this summer.
When Durant was a free agent in the summer of 2016, I figured Durant was going to stay for at least another year or two. Oklahoma City added Victor Oladipo, shored up their bench with Ersan Ilyasova and Domantas Sabonis, and of course still had Westbrook running point. The Thunder had a real shot at a ring in 2017 if Durant stays. I mean, look how Oladipo is floursing in Indiana this year. Some of that blame falls on Westbrook and coach Billy Donovan's shoulders, though, as they together weren't able to figure out how to make the guys around Westbrook better, especially Oladipo.
Draymond and Durant's plot worked, they killed LeBron James, took down the big, bad King.
Durant immediately regretted his choice, with sources saying he asked his agent, "Why the fuck did you let me do this to my life?" after the move, and apparently created a fake Twitter account to defend his own honor is one of the weirdest twists to an NBA offseason we have ever seen. He knew his act was cowardly, he knew the way he handled it was dastardly. Why did Russell Westbrook have to find out about his road dawg of eight years leaving on social media and not from the man himself? That was fucked up. All of this happened because Kevin and the Warriors couldn't beat LeBron James on their own. Yes, Golden State beat James in the Finals in 2015 but that was without Kevin Love and Kyrie Irving. They should've won that series easily instead of six games. The very next year, Golden State lost to a healthy Cavs team in a classic seven-game series in which they blew a 3-1 lead. With Durant, though? They washed the Cavs in five games.
And now in Durant's second season with the Warriors, fresh off a ring and a Finals MVP trophy, the NBA has changed for the worse. His decision caused a mass migration out West with Carmelo Anthony and Paul George going to his former team, Chris Paul heading to Houston, Gordon Hayward signing with Boston for an easier route to the Finals (he'll be back before the playoffs), Kyrie having enough of playing in LeBron's shadow, and Jimmy Butler was traded to Minnesota.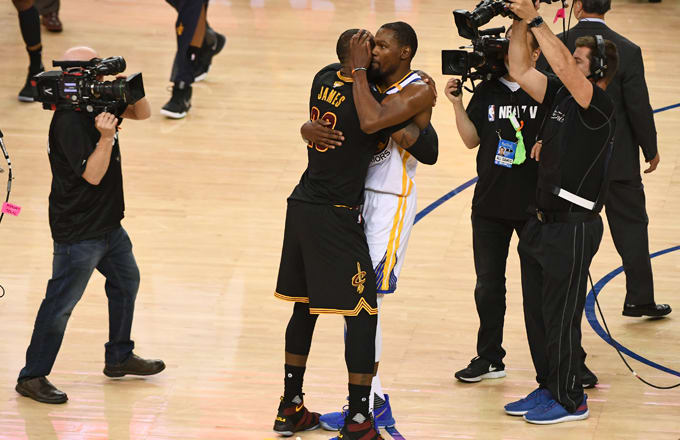 All because of Durant's cowardly act. Which is not to be confused with LeBron, Dwyane Wade, and Chris Bosh teaming up in Miami. During those years, the Cavs failed at building a team around James, so he took matters into his own hands. The Thunder's only mistake was choosing Ibaka over James Harden back in 2012. Other than that, their front office did right by KD and Westbrook season after season. This is not to say Westbrook is the perfect teammate as we're seeing this year with OKC struggling to gain footing. However, the two of them were talented enough to figure something out to challenge the Warriors in the West. Durant chose the easier way out and he'll have to sacrifice admiration for rings, a sacrifice that he seems to still be struggling with even after finally getting a title.
Draymond and Durant's plot worked, they killed LeBron James, took down the big, bad King. The Warriors (if healthy) will probably win a title again this season and the next. Golden State is on a 11-game winning streak, seven of which were without Curry who's likely to miss the next several games (including the Cavs on Christmas) with a bad ankle. Imagine if players teamed up and conspired to beat Michael Jordan and the Bulls back in the '90s? The takes would've been spicier than this one. Kevin Durant signed with the team that battled back from a 3-1 deficit in the Western Conference Finals only to blow a 3-1 lead in the NBA Finals after winning an NBA record 73 games. Never forget that.