Since blowing a 28-3 lead against the Patriots in the Super Bowl back in February, Falcons players have been unable to escape all of the "28-3" jokes that have been thrown in their direction. They were roasted by NFL fans in the immediate aftermath of the game. They were roasted on March 28 when fans celebrated the date (3/28) with more "28-3" jokes. They were even roasted as recently as last month after Matt Ryan announced that he and his wife are expecting twins. Fans have been relentless. But are NFL coaches roasting the Falcons for choking the Super Bowl away now, too?
On Thursday night, the Saints and Falcons played in Atlanta in a game that could end up having a big impact on who wins the NFC South division this season. And at one point early in the fourth quarter, it sounds like things got heated between Saints head coach Sean Payton and Falcons running back Devonta Freeman. After Freeman took a handoff and ran for no gain near the Saints' sideline, Payton was seen making the "choke" sign in Freeman's direction while yelling "choke," and there are some people, including Freeman, who believe Payton was referencing the Falcons' Super Bowl loss by doing so.
Freeman was asked about what Payton did after the game, and he said that he saw it and didn't appreciate it.
"Man, I saw it. That man don't know nothing about choking. He ain't where I'm from," said Freeman, who grew up in Miami. "He don't know about choking. He's a good competitor. The 'competes' probably came out. But we don't let that bother me. He don't know nothing about choking…He ain't going to get it off me. I'm a different animal. He's tripping. But it's all good."
It may have been "all good" as Freeman said, but Payton's "choke" gesture did seem to touch a nerve in him. Shortly after speaking with reporters, Freeman took to Twitter and tweeted—and then deleted—the word "AINTS," referencing the nickname that was once given to the New Orleans franchise during their down years.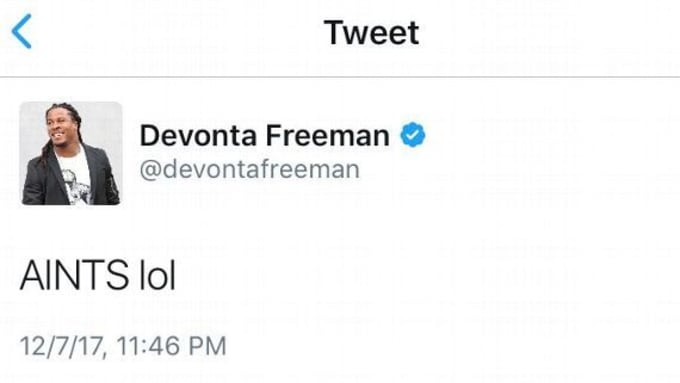 Payton was asked about directing the "choke" sign at Freeman after the game, and he downplayed it. He actually said he didn't even remember it happening. "I don't remember that," Payton said before repeating himself. "I don't remember that."
There have also been some people who have suggested that Payton may have been directing the "choke" sign at a referee to indicate that a Saints player was being held on Freeman's running play.
But if Payton was, in fact, directing the "choke" sign at Freeman, it wouldn't be all that surprising. Because the Saints and Falcons have one of the best rivalries in the NFL going right now, the Saints and their fans have trolled the Falcons early and often over their blown "28-3" Super Bowl lead. Just hours before Thursday night's game, Saints wide receiver Willie Snead wore a 28-3 shirt and posted it on Snapchat.
Still, if Payton actually taunted Freeman on the field over the Falcons' choke job, it obviously takes things to the next level, and you better believe Freeman and his teammates will remember it when the two teams play again in just two weeks.