Like many of today's skaters, Nora Vasconcellos' love for the sport began inauspiciously, from a seated position, looking at a television screen. For skaters of a certain generation, Tony Hawk's Pro Skater, the ubiquitous 1999 video game, initiated youth into skate culture by the soreness of their thumbs from pulling off their favorite "special trick," which taught skating as a means to achieving an end of technical excellence. However, the same year launched another beacon of this generation, the "woogity woogity woogity" disciples of extreme, Otto and Reggie Rocket, from the Rocket Power cartoon. This image portrayed skateboarding as gnarly and heroic while also normal and necessary. For Otto, Reg and their buddies Sam and Twister—who all lived in the fictional town of Ocean Park, California—"extreme" was a living, breathing entity to be chased out of the world, using all the boards and wheels at their disposal. And, in Reggie Rocket, there was an easily identifiable and accessible girl who skated.  
"I was obsessive about my Rocket Power," Vasconcellos recalls. "I needed to watch it—needed to mountain bike and rollerblade and BMX. My cousins and I would watch it and then go do what they did and skateboarding was always kind of a part of it."
Nora's shared her skateboard origin story before but she is happy to retell it on a hot December day at Belvedere Skatepark in East Los Angeles. It's the kind of Southern California day where you only know it's winter because of the angle of the sun, lazily dipping towards the horizon far too soon. Vasconcellos' dad and brother are in tow, visiting her from her hometown of Pembroke, Massachusetts for the first time. "I loved the character Reggie Rocket," she continues. "She was so sick. The purple hair, the whole thing. I want to see a live-action version of Rocket Power and I want to play Reggie. I'm putting that into the world! If somebody else plays Reggie I'm going to throw a fit."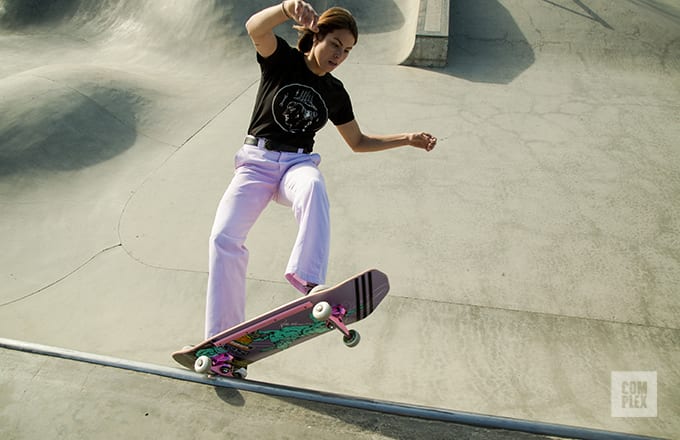 Like her idol, Nora once had long purple hair but now she sports a fresh chestnut crop. "It's amazing," she excitedly tells the photographer, who's setting up a white background in the deep end of the bowl to shoot some portraits. "I tell all girls, especially ones who skate—they should try it. It's so easy." The cut cleanly works with the rest of her outfit—a black Welcome T-shirt tucked into her trademark violet Dickies, held up by a black belt, all atop her classic black and white Adidas. It's a sick look, no doubt about it. As a Massachusetts native, she's a big fan of the preppy get-up. You're as likely to catch her in an Oxford shirt under a navy blue sweater as you are in a fairy princess costume or a full red jumpsuit. Nora also has a flair for the iconic and she's not afraid to run with it. In her own words: "I think, like anything, clothes are another form of expression. Everyone has to wear them. I'm sure a lot of people notice how I wear a lot of purple—I'm wearing these purple pants. It's fun to do one thing and make a look out of it."
When I asked her where she got said purple pants she simply states, "I dyed them. With Rit dye. Now no one has the same color Dickies as me." This simplicity of thought, combined with her unmistakable drive and willingness to experiment, is exactly what makes Nora such a great skateboarder.
I want to see a live action version of Rocket Power and I want to play Reggie. I'm putting that into the world! If somebody else plays Reggie I'm going to throw a fit.
After graduating high school and working for a year, Nora decided to pursue skateboarding full time as a career and moved—via train—to Orange County, California, eventually settling in the town of Oceanside (coincidence...?). Since her move, Nora turned pro for Welcome Skateboards, got picked up by Adidas, who then facilitated her first solo art show, won the Vans park series, traveled the world, and most recently released a documentary directed by Giovanni Reda on the heels of his Webby award. Art has always been important to Nora, and it's something she credits to her parents. "My dad is a freelance illustrator and my mom also drew so growing up in an artistic household, ever since I was a little kid, we'd draw or we'd make sculptures or we'd do puzzles. I think growing up in an environment that's super hands on made it much easier to be a creative person."
That creative drive is represented through her sponsors, as well. Welcome first hired her to do some "minimal bookkeeping." Now she's shaped the hell out of her own pro model board. Of her shoe sponsor, Adidas, she beams, "It's a dream come true. I get to go on trips and have my favorite pro skaters pushing me to skate better. That's one of my favorite things. And the shoes are fucking great." They also support her in the way an artistic patron would, hosting her first solo show in West Hollywood—an exhibition of her latest intricate, moody pen-and-ink drawings. Nora is the kind of skateboarder who is hard to ignore and elevates companies like Adidas to their fullest sponsorship potential, benefiting skateboard culture at large in the process.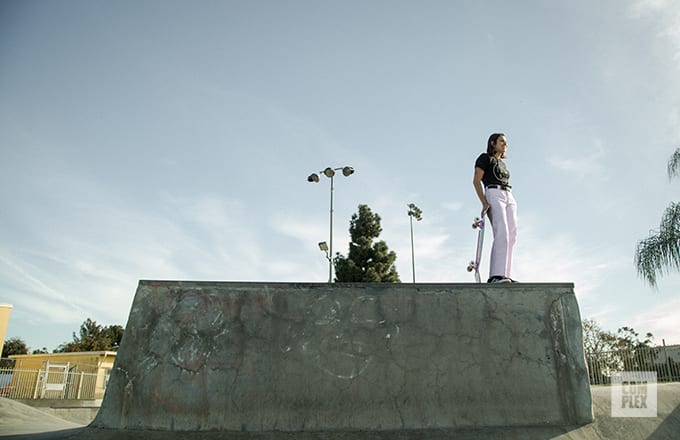 Not one to worry about being extreme or the most technical, Nora cares most about the way she looks on the board. This manifests itself in her proper, practiced, flowing style—an economy of technique. She contends that she put a lot of work into it, though. "I'm not naturally inclined at things. I had to try really hard to learn all the basics," Nora remembers, "But I really, really wanted to." That probably explains her flawless backside airs or how, from a desire to learn frontside flips on transition so she could toss them into a pivot, she turned the trick into an alley-oop 360 Muska flip.
"When I'm skateboarding, it's like a performance. I want everything to fit a certain way. The music has to be right, the spot has to be right, what you're wearing—your shoes, your socks... Every aspect of it has to flow." She truly exudes the joy of skateboarding in her focus rolling up to the transition, in her goofiness before dropping in, in her genuinely happy demeanor while skating. It's the infectious personality of your favorite skateboarder's favorite skateboarder—the person you always want at the session.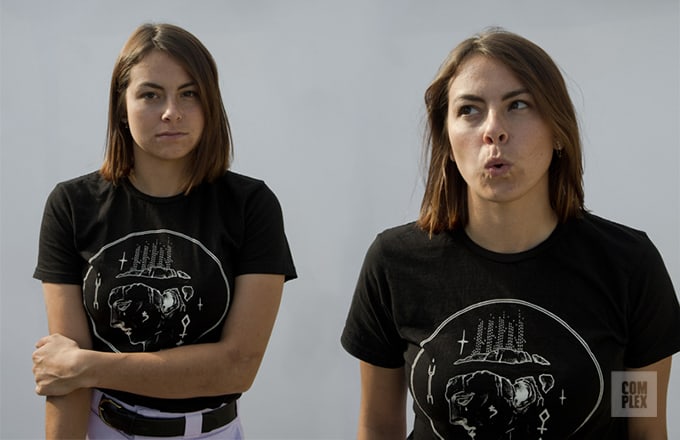 When I'm skateboarding, it's like a performance. I want everything to fit a certain way.
And for today's session, there's a comfortable crowd. Skate legend and her Adidas teammate Pete Eldridge has joined her at the park to grab lunch and meet Nora's dad and brother truly giving off the vibe of a family affair. But as I glance around I begin to become conscious of another thing: Nora is the only non-male in the skatepark.
In skateboarding, people often say, "all that matters is how well you skate." But that doesn't change the glaring gender discrepancy in the sport. Skaters like Nora, especially at her level in the industry, are rare. She knows this, but doesn't let it define who she is. "My whole journey has never been about me being a girl and how that fits into skateboarding but more of me just being a skateboarder."
Nora was lucky to grow up in a household where what she could do wasn't defined by her gender. "I was really fortunate to be raised by parents who never put a label or a limit on me or my brother because of our genders. In our house we were both capable of doing whatever we wanted." I asked her about the rest of the would-be girl skateboarders, the ones without this kind of freedom around gender expression. "I know a lot of other girls who are raised in completely different situations so I think it's important for me to be vocal about it for people who don't have that support." With this knowledge, Nora is a powerful advocate for the growing community of non-male skaters and she is just as committed to being this advocate as she is to her professional obligations. For every MOB Griptape or CCS short YouTube release, there's a handful on the Girls Skate Network Channel.
Given her comments about how confident she feels to pursue any career she wants in spite of traditional gender expectations, I ask her if she ever gets tired of talking about being a girl who skates. "No, I don't," she responds, "Especially now, because it's a hot commodity. Companies want a girl on their team because it's trendy and they need to show that they support women. But for a long time nobody wanted to pay people like Alexis Sablone or Lacey Baker. There's very few women who have really done it. I want to be vocal and make it so the true skateboarders are getting to a better place regardless of their gender. I think we're getting closer."
Nora's too modest to consider these words about herself, but the proof is right there. She's already moving forward, working on a part for Thrasher with lensman Mike Gilbert, the creator of her favorite part, Marisa Dal Santo's Strange World opus. Nora's fast pace, creativity, and undeniably progressive skating seems to keep her level, an expert at balancing multiple frequencies, a true skateboarder and one who will bleed and then laugh about it.
She better be cast as Reggie Rocket, she's already there.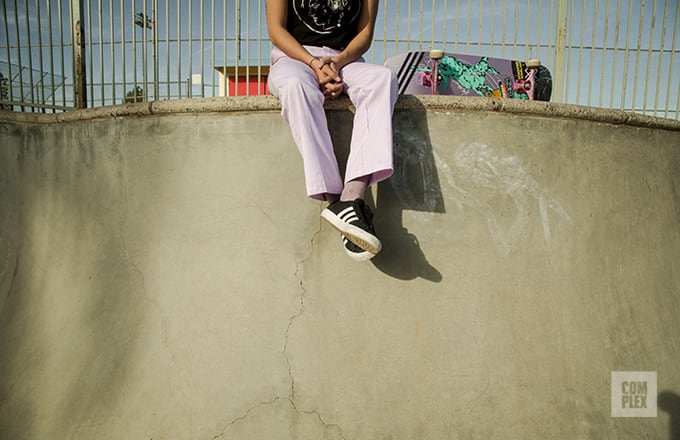 Photography by Jacqueline Verdugo