How a Late Night DM Turned the Ball Brothers Into Lithuanian Sensations
Anything is possible in the DMs.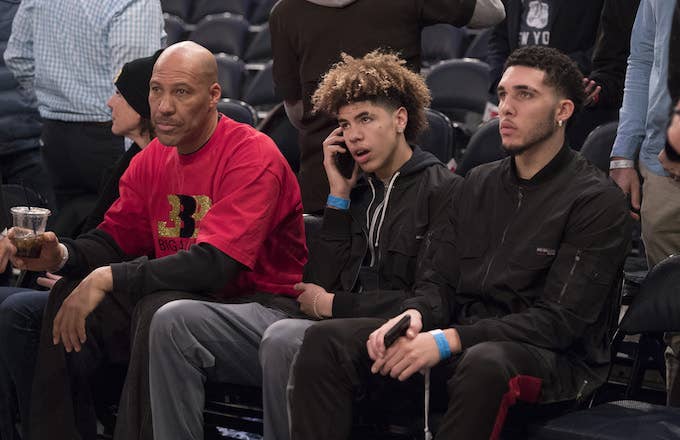 Getty
NEW YORK, NY - DECEMBER 12: LaVar Ball with his sons LiAngelo Ball and LaMelo Ball attend the game between the Los Angeles Lakers and the New York Knicks at Madison Square Garden on December 12, 2017 in New York City. (Photo by Matteo Marchi/Getty Images)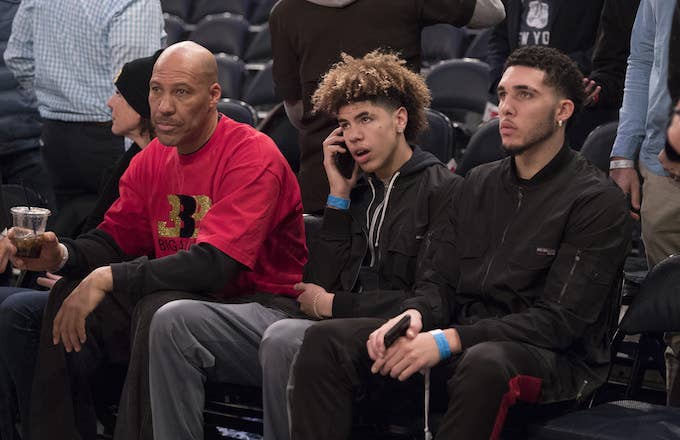 2017 has been an interesting year for the Ball family, to say the very least. So it makes total sense that the hectic year would come to a close with LiAngelo and LaMelo Ball signing one-year contracts with the Lithuanian basketball club Prienai-Birstonas Vytautas. And it all started with a direct message from a young Lithuanian sports journalist named Erikas Kirvelaitis, who was just as surprised as everyone else that the deal went through.
The young journalist, who works part-time with the Lithuanian club, sent a message to the Ball's sports agent Harrison Gaines at around 1:30 am, asking if the two teens would be interested in playing professional basketball with the team. "It was like a dream, crazy, a miracle, for our club to even have contact with them," Kirvelaitis told the New York Times. "But I'm someone who believes anything can be done if you try."
The team will probably be a different change of pace for the brothers as it lacks a general manager and they aren't able to regularly schedule practice due to the team's "poor financial situation," according to ESPN's Adrian Wojnarowski. But the news that the two athletes would be coming to the team in January spread quickly, and they've set the basketball-crazed country ablaze.
LiAngelo, who was recently pulled from UCLA, and LaMelo, who was pulled from high school in October, will bring much-needed attention to the struggling basketball club. Kirvelaitis understood how influential they could be, and this played a role in his decision to send the message. "LaMelo Ball has more than three million followers on Instagram; Draymond Green from Golden State has 2.7 million," Kirvelaitis told the NYT. "They are both young, talented players. But, also, the marketing could be huge."