Carmelo Anthony Says Oklahoma City Fans Appreciate Players More
We caught up with Oklahoma City Thunder forward Carmelo Anthony to talk about his new city, new teammates, and Foot Locker's Week of Greatness.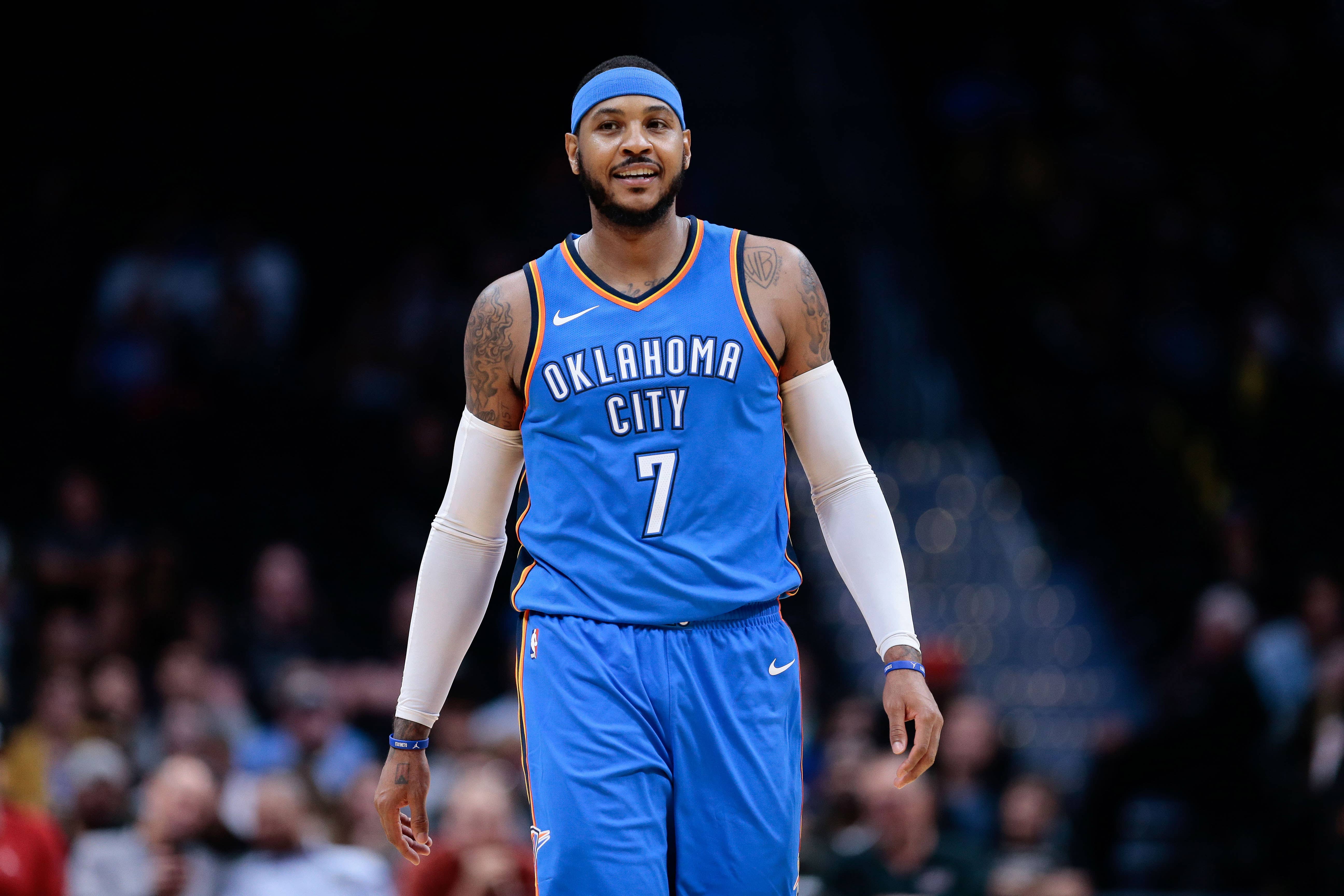 USA Today Sports
Oklahoma City Thunder forward Carmelo Anthony (7) reacts after receiving a technical foul in the second quarter against the Denver Nuggets at the Pepsi Center.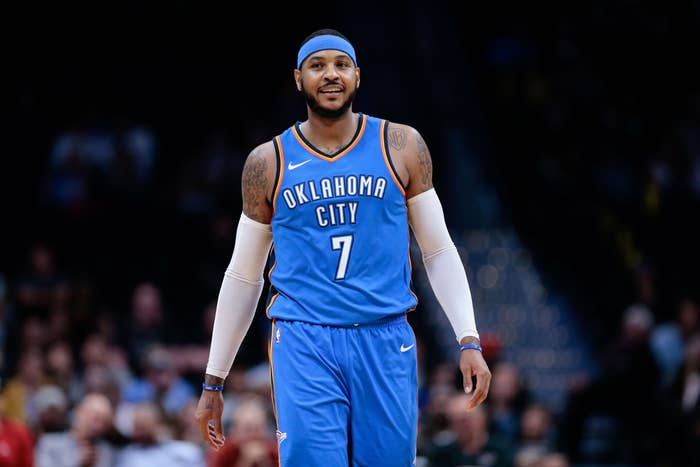 To see Carmelo Anthony in a Thunder jersey is still jarring. After six and a half seasons with the Knicks, serving as the face of New York basketball, the 11-time All-Star will admit he's still adapting to life in Oklahoma City where the players' relationship with the fans is unique. And while the new-look Thunder—now featuring Russell Westbrook, Paul George, and Anthony—hasn't gotten out to the best of starts, Melo would like you to know that acclimation to new teammates and a new town is going just fine.   
"This situation I'm still able to do what I want to do and have fun with it," says Anthony. "But now it gets brought up to a new level, gets highlighted a little more in the fact that we're on a good team, with good players, and those things get highlighted more than if you were on a team that wasn't so good."
One tradition Anthony's maintaining in OKC is participating in Foot Locker's annual Week of Greatness. From November 18-26, the brand is promoting physical acts of generosity and Melo is hoping he can help spur as many people as possible to donate sneakers at their favorite Foot Locker. The brand plans to provide thousands of new pairs toward Hurricane Maria relief efforts in Puerto Rico and donate more than $1,000,000 for global humanitarian efforts, including $100,000 to support Soles4Souls from the Foot Locker Foundation. ​
"I'm a sneakerhead and I think for me to change it up and give people something they can actually wear and utilize, when it comes to something actually physical, these things that they can use day in and day out, we want to give back sneakers and as many pairs as we can," says Anthony.
In this exclusive interview, we talked to Anthony about the why this year's Week of Greatness really hits home, how he's adjusting to a new basketball environment and new teammates, and how he became the celebrated wine savant of his famous crew.   
(This interview has been edited and condensed for clarity.) 
You're teaming with Foot Locker for the annual Week of Greatness so give me an idea of what you guys are working on and what we can expect.
I've worked with Foot Locker over the past couple of years during the Week of Greatness and every year is a little different. We try and uplift people with everything that's going on throughout our country and the world and we want to give people some type of motivation to uplift others. And I think what we're doing with the shoe drive and teaming up with Soles4Souls, I actually like that because it gives people an opportunity to give back to the communities of their choice, our choice, and to be able to donate sneakers. It all goes into what we're into as athletes and what Foot Locker is all about. 
And at the center of this Week of Greatness is the call to support Puerto Rico that's led by you. We know the situation is still tough down and the rebuilding efforts are important to you.
Choosing Puerto Rico was my choice. Giving back to the relief efforts through Foot Locker and being able to donate a pair of sneakers or shoes goes a long way, especially with the lack of resources down there. For me, I really wanted to touch Puerto Rico with this campaign. 
Are all your family and friends down there in good shape?
For the most part, everybody is good. Family's good. Friends are good. It's just a lot of the establishments down there that are less so. So now it's just the rebuilding process. 
Is there a set number of sneakers you want to donate?
We don't really have a set number. It's hard to say you want to reach a set number. We just want to collect all the sneakers we can get and then we'll figure it out from there. Just come into the store and drop off one pair, two pair, however many pair you want to drop off for the Week of Greatness. 
Let's transition into some basketball talk. Obviously you're in Oklahoma City so tell me what the dynamic has been like between you and Thunder fans?
It's just a greater level of appreciation here from an athletes' standpoint, from a basketball standpoint. The fans are very appreciative of me coming here, of Paul coming here, and wanting to be a part of the Oklahoma City community. So from that standpoint, things are definitely going in the right direction. They've been every supportive of myself. On court is going to take care of itself. 
Is it almost like a college environment out there?
It's a small, intimate environment where the fans really get to know the players and the players get to know the fans, really embrace the fans. It's a hand-to-hand situation out here. 
I had no idea you regularly yelled "Get the fuck outta here" when you rebound so did you scare the shit out of your teammates when you first started training camp?
[Laughs.] It was something I've always been saying but it's just now just starting to be picked up. 
How big of an adjustment in your game has there been with the Big Three dynamic in Oklahoma City? Some concessions or is it the same Melo we've seen over the years just with different guys?
A lot of things get highlighted differently when you're in different situations. This situation I'm still able to do what I want to do and have fun with it. But now it gets brought up to a new level, gets highlighted a little more in the fact that we're on a good team, with good players, and those things get highlighted more than if you were on a team that wasn't so good.
What have you learned playing alongside Russ that you didn't know or appreciate playing against him?
His work ethic is something I respect. How hard he works. What he brings to the game. You guys see it from the outside. I'm on the inside and seeing it and being a part of it. That's something I admire about him: how hard he works and what he brings to the game.
Gabrielle Union was on "Hot Ones" recently and she said that you are the wine connoisseur of the group with you, LeBron, DWade, and CP3. She actually called you a wine savant. So how did you become the wine savant of the group.
[Laughs.] Research. Learning. Experience. The way you become great at anything—hard work, the commitment. It's just something I've always loved and something I've wanted to learn more and I started digging deep. And the more you dig deep the more you drink. That's how you become one.
The Malcolm Gladwell theory of how you become an expert: 10,000 hours of practice.
Absolutely. Ten thousand hours, 10,000 bottles.