October's arrival guarantees three things: Girls annoyingly 'graming pictures of their pumpkin spice lattes, crappy horror movie sequels on T.V., and playoff baseball.
Last year's MLB postseason was one of the best in a long time, with the Cubs ending their 108-year World Series drought. In fact, Game 7 of the World Series was the highest-rated baseball game in 25 years. Even though it will be tough to top, this year's playoffs look to be perhaps even more entertaining than last.
Both the NL and AL are wide open and contain several teams capable of making a late-October run. Because baseball's postseason might be the ultimate crapshoot, nobody is a shoe-in to make it to the World Series. That means unlike other professional sports leagues (*cough* NBA *cough*), every playoff game and series matters—and an underdog could make it all the way. Good luck predicting October this year, Vegas.
So after we caught up with analyst Ron Darling—who will be calling the NL action all way through the NLCS, which you can catch exclusively on TBS starting with Wednesday's Wild Card between the Diamondbacks and Rockies—we're offering up one reason why all 10 teams will (and won't) win the World Series. Let's start with the NL, and the defending champs:
CUBS
Why they will: They have most of their 2016 team in tact
Chicago was just 43-45 at the All-Star break. Since then, they've gone 49-25—the best record in the NL and the second-best record in the majors during that timeframe. In the second half, they've been every bit as dominant as they were last year.
And aside from Dexter Fowler and Aroldis Chapman, the Cubs will enter the 2017 postseason with virtually all of their key contributors from 2016. Back are big names like Kris Bryant, Anthony Rizzo, Jake Arrieta, and Jon Lester. And to make things even better, this team includes new faces like Wade Davis and Jose Quintana. They'll also have Kyle Schwarber for the entire postseason. This is a hot Cubs team with a ton of experience with winning in the postseason.
They also aren't cursed anymore—if you believe in that stuff.
Why they won't: Repeating is hard
No team has repeated as champions since the Yankees from 1998-2000. Since then, only the 2010-11 Rangers even made the World Series back-to-back years. Will another deep run into October wear down the Cubs' older starting pitching staff? Winning three playoff rounds is tough, and when you have to face teams like the Dodgers and Nationals, it looks very much like the NL pennant will be anyone's game.
DODGERS
Why they will: They (were) the best team in the baseball
The Dodgers enter the postseason with 104 wins—the most in the major leagues and the most since the Cardinals won 105 games in 2004. They dominated the league handily for much of the season, including one stretch where they won 42 out of 50 games—the best 50-game stretch by any team in over a century.
They have baseball's best pitcher, Clayton Kershaw, who led the league in ERA for the fifth time in seven seasons. No. 2 starter Alex Wood went 16-3 this year. And let's not forget about Yu Darvish, who has been solid since the Dodgers picked him up at the deadline.
L.A. also has a lineup stacked with Cody Bellinger (39 homers), Corey Seager (.295 average), Justin Turner (.322 average), and Yasiel Puig (28 homers). Oh, and they have Kenley Jansen, baseball's best closer, with a 1.32 ERA and 41 saves. How could a team like that not win it all?
Well…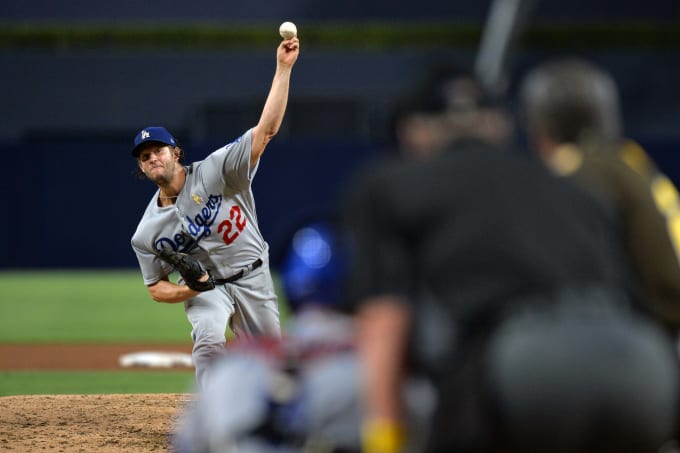 Why they won't: They're coming in ice cold
For most of the year, it looked like the Dodgers had a real shot to break the 2001 Mariners' regular-season wins record of 116. This prompted Sports Illustrated to say that the Dodgers "Might Be the Greatest Team of All-Time" in their cover story.
Then came September.
L.A. went 13-17 in September, including a stretch where they lost 15 out of 20 games. They posted a -19 run differential in those games. They will still have the advantage of home field throughout the playoffs, but they're coming in on a bit of a sour note. Although it should be noted the Dodgers have rebounded as of late, winning eight of their last 10 games, Darling thinks the lull could be in the Dodgers' heads.
"The more times you say it doesn't affect you the more it really affects you," he says.
Additionally, some Dodgers—namely Kershaw—have had some bad postseason experiences. He has lifetime record of 4-7 with a 4.55 ERA in the playoffs, compared to a 2.36 lifetime regular-season ERA.
"Any team that plays the Dodgers are going to be such an underdog," says Darling, "but the Dodgers have all these demons to exorcise in the playoffs."
NATIONALS
Why they will: They're the most well-rounded team in the NL
The Nationals' rotation is home to three of the five best ERAs in the NL: Max Scherzer (2.51), Stephen Strasburg (2.52), and Gio Gonzalez (2.96). That means that either Scherzer, Strasburg, or Gonzalez will be on the mound at least six times in a seven-game series.
And we haven't even gotten to their lineup yet. The Nats' lineup includes Bryce Harper, who would have probably been the NL MVP had he not gotten hurt in August, Daniel Murphy, Anthony Rendon, Ryan Zimmerman, and Trea Turner. And in Darling's view, having a healthy Harper will be paramount for Washington.
"A healthy Harper really matters," he says. "I don't think he has to hit .400 or anything like that, but he has to be a real threat. Not just in the lineup."
The Nats' mid-season revamping of their bullpen will also play into their favor. In July, they acquired Sean Doolittle, Ryan Madson, and Brandon Kintzler in trades with the A's and Twins—transforming their bullpen from one of the worst to one of the best in the NL.
"If Washington didn't have the bullpen they had to start the season I really think they'd be the pick—the easy pick in the National League," says Darling. "But because they blew 14 saves in the first half, people are like, 'I don't know?'"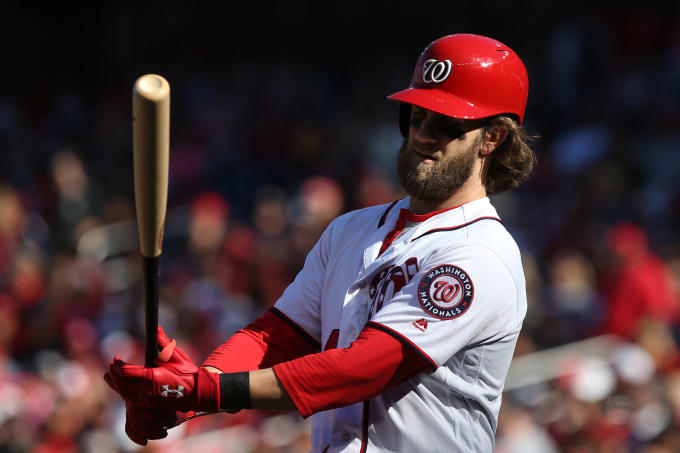 Why they won't: They've never won a playoff series
The Nats were eliminated in the first round in 2012, 2014, and 2016. No matter how well they've played in the regular season, the team has never gotten things done in the playoffs.
In fact, since the franchise entered MLB as the Montreal Expos in 1969, they've never won a single playoff series. Ever. In 48 seasons.
History will not be on the Nats' side this postseason, even if their talented roster is.
Diamondbacks
Why they will: J.D. Martinez is the best hitter on the planet right now
Since the Diamondbacks acquired him in July, Martinez has been Arizona's best hitter—which means a lot when you play in the same lineup as Paul Goldschmidt. In 62 games with the Snakes, he's batting .302 with 29 home runs and 65 RBI's. Those numbers would be really good over a full season, but Martinez did this all in a matter of just over two months. He had 16 homers in September, tied for the most of any NL player ever.
Two years ago, we saw Murphy carry the Mets to the playoffs with an amazing October. Maybe Martinez can do that this year. They'll also have a major advantage in the Wild Card game, which they'll be playing at home with Zack Greinke on the mound.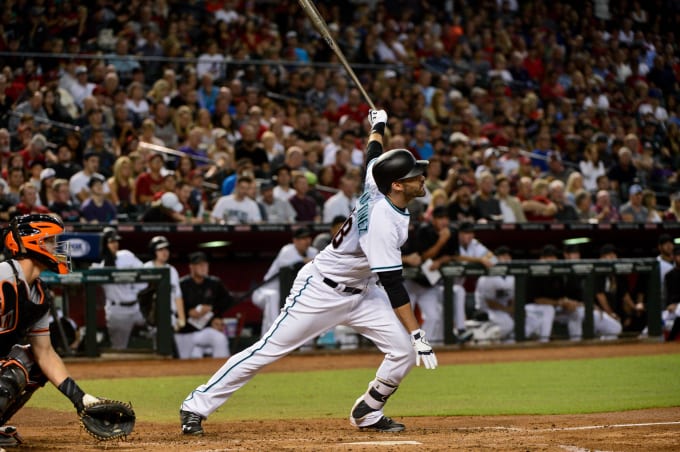 Why they won't: It's an uphill battle
If the Diamondbacks win the Wild Card game, they would then face the Dodgers in the NLDS. If they were to win that, they would have to face either the Nationals or Cubs. They also will not have the benefit of home-field advantage in any subsequent playoff series.
Many of Arizona's key contributors also don't have much playoff experience—this is the team's first postseason berth since 2011. Paul Goldschmidt has a grand total of four playoff games under his belt, while Jake Lamb, David Peralta, A.J. Pollock, and Robbie Ray all have zero playoff experience. The D-Backs also have a rookie manager in Torey Lovello.
Arizona has a lot of talent, but they're going to need a lot of factors working in their favor if they want to win a championship—perhaps too many.
ROCKIES
Why they will: They're not the same old Rockies
The Rockies' two biggest points of fault during their 25-year existence have unquestionably been their pitching and inability to win on the road.
Not this year.
The Rockies' playoff rotation will likely include Jon Gray (3.67 ERA), German Marquez (4.39 ERA), and Tyler Chatwood (4.69 ERA). Those might not sound like the most impressive ERA numbers on the surface, but they're pretty fantastic when taking the hitter-happy altitudes of Coors Field into consideration.
"I think Colorado having to do it with all their young pitching is remarkable," says Darling.
And on the road, the Rockies went 41-40 this year. Colorado has typically suffered from major home-road record discrepancies—far worse than most other teams—perhaps due to the unique conditions of Colorado baseball. Last year, for example, they went 42-39 at home—and 33-48 on the road.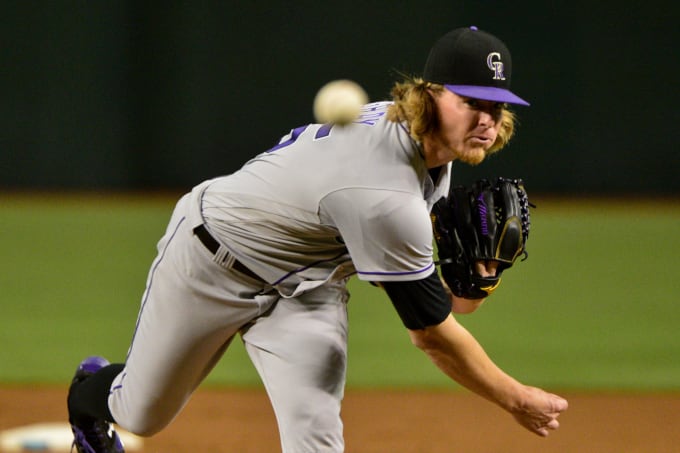 Why they won't: They'll be heavy underdogs in the Wild Card game
The Rockies will have to face the Diamondbacks—with Greinke—on the road in the Wild Card game. They were just 8-11 against Arizona this season. Colorado is also just 40-49 since June 21, so they will be heavy underdogs going into Wednesday night.
Now for the AL...
INDIANS
Why they will: Corey Kluber
It's hard to pick just one point of strength for the Indians. It could easily be their bullpen, which can pitch four-plus shutout innings on any given night. It could also be a lineup that includes MVP candidates Jose Ramirez and Francisco Lindor. Or, it could be their rotation in general.
However, the single factor that makes the Indians most likely to return to the World Series is Corey Kluber.
Kluber had a career year in 2017, going 18-4 with a 2.25 ERA. That's saying a lot for someone who already has a Cy Young to his name.
And unlike some other elite starting pitchers (*cough* Kershaw *cough*) Kluber has proven that he can pitch well the playoffs. He went 4-1 with a 1.83 ERA last October, and several of those starts came on short rest.
Any team that faces the Indians will have to face Kluber at least twice, making this a major roadblock for the rest of the American League.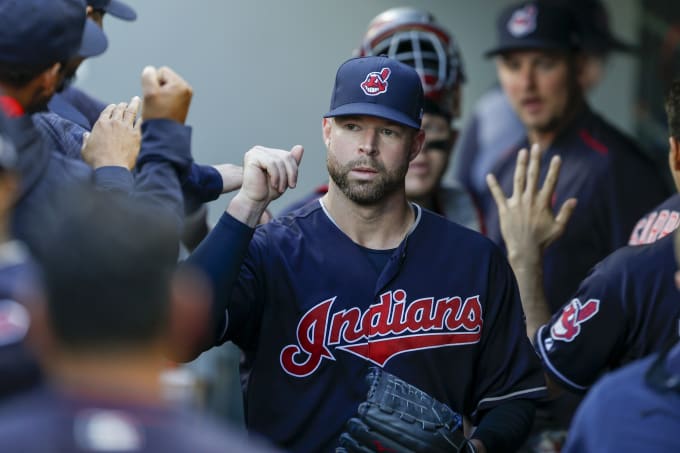 Why they won't: They're the Indians
As is always the case with Cleveland franchises that don't have LeBron James, things always seem to go wrong for the Indians at the worst possible time. They have the longest active championship drought in baseball, having not won a title since 1948. The last two times the Indians did make the World Series, they blew a ninth-inning lead in Game 7 in 1997 and a 3-1 lead last season—both contributing to the perception of a cursed franchise and an avalanche of memes.
This is the best Cleveland team since the Albert Belle-Jim Thome-Manny Ramirez days, though. If there's any Indians team to prove that they're not the same old Indians, it's this one.
ASTROS
Why they will: Baseball's best lineup—by a long shot. A very long shot.
From top to bottom, there is no better lineup in baseball this year than the Astros. Houston has four .300 hitters (Jose Altuve, Carlos Correa, Josh Reddick, Marwin Gonzalez) and seven of their players are batting at least .280. Their .283 team batting average is 19 points higher than the next best AL team (Cleveland), and they've scored 38 more runs than the second-best team (Yankees).
When this lineup is coupled with a rotation of Dallas Keuchel, Justin Verlander, and Brad Peacock, it's very easy to see the Astros winning their first-ever World Series title—which would give the city of Houston a much-needed championship.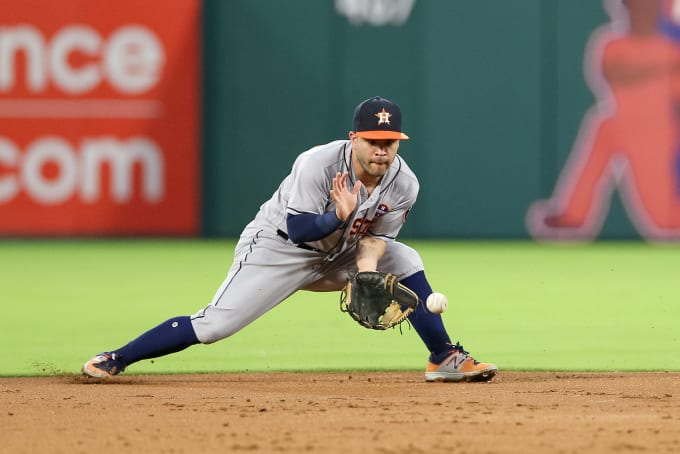 Why they won't: A bad bullpen
While every other aspect of their team is stellar if not dominant, the Astros' bullpen leaves something to be desired. It's the worst of every AL playoff team except the Twins. Closer Ken Giles (2.30 ERA) is looking great, but Francisco Liriano, Joe Musgrove, and Luke Gregerson don't exactly instill confidence in late-inning leads.
Houston is going to have to hope that they can get as much mileage out of Keuchel and Verlander as possible, so that their bullpen is utilized only minimally.
RED SOX
Why they will: A stacked bullpen
Relief pitching might not sell jerseys or season tickets, but it can get a team a championship. The Royals won two years ago on the back of their bullpen, and the Indians nearly did the same last year.
The Red Sox have a bullpen that could be on par with those teams if all goes well. They have the AL's best closer, Craig Kimbrel, who has 35 saves and a 1.43 ERA this season. Any ninth-inning lead will feel safe with him. Setup man Addison Reed, who was acquired from the Mets in July, has a 2.84 this season.
But the most important pitcher in the Sox's bullpen could actually be David Price, who is pitching in relief after two stints on the DL. While Price has historically struggled in the playoffs (2-8, 5.54 ERA), he did have his best postseason as a rookie with the Rays in 2008, where he pitched in relief, allowing just one earned run in five appearances.
Why they won't: Chris Sale's fatigue
There's no question that Sale has been a huge part of the Red Sox's success this season. He's struck out a whopping 308 batters this year, and is 17-8 with a 2.90 ERA.
But Sale, who has never pitched in the playoffs, has historically gotten worse as the season dwindles down. He has a lifetime ERA of 2.98, but that mark jumps to 4.38 in August and 3.72 in September. Since this August, he's got a 4.09 ERA. The Sox will need Sale at his best this postseason, but given his track record and recent outings, they might have to settle for less.
YANKEES
Why they will: Aaron Judge
The consensus going into the season was that the Yankees were still a year or two away from contending. While they had some talent, they were still too young—as many thought—and many of their top prospects had not yet hit the majors.

Then came Aaron Judge.
Judge has had the greatest offensive season by a rookie in baseball history. He broke Mark McGwire's single-season rookie home run record, and became just the sixth player ever to hit 50 homers, score 120 runs, and have a .400 on-base percentage in a season.
"You didn't know Judge was going to be Ruthian," says Darling. "I think it's remarkable they're in the playoffs, but not only in the playoffs, they have a chance to pull off like a 2011 Cardinals thing where their starters go 4 1/3 and their bullpen takes over."
Judge has been the Yankees' biggest driver of success this season, and they will need him to be at his absolute best if they are to stand a chance in a crowded AL bracket.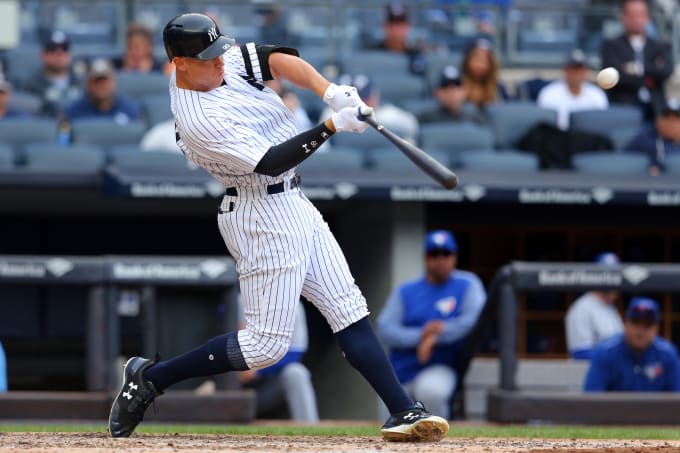 Why they won't: Aaron Judge
While Judge's final stats are nothing short of legendary, there was a while where it looked like the outfielder had lost his stroke. From July 14 until the end of August, Judge batted just .179 with only seven home runs in 44 games. Even worse, he struck out at least once in 37 straight games—an MLB record.
It's hard to imagine the Yankees beating the Astros or Indians if Judge bats .179.
TWINS
Why they will: They're coming in hot
It's pretty amazing the Twins are here right now, considering they were 51-55 on August 3 and were sellers at the trade deadline.
But thanks to two months of dominance, here they are.
Minnesota is 34-22 since August 4, the fourth-best record in the AL. This is due largely to their homer-happy lineup. They have four players with at least 20 home runs, and six with at least 15. Darling thinks that this will work in the Twins' favor on Tuesday night.
"The Twins hit so many home runs that that's going to factor in Yankee Stadium," he says. "There's so much pressure on the home team in the Wild Card [game]."
The Twins also have the benefit of having Ervin Santana, who is 16-8 with a 3.28 ERA this year, pitching in the Wild Card game. Santana gives them a solid shot at advancing to the ALDS.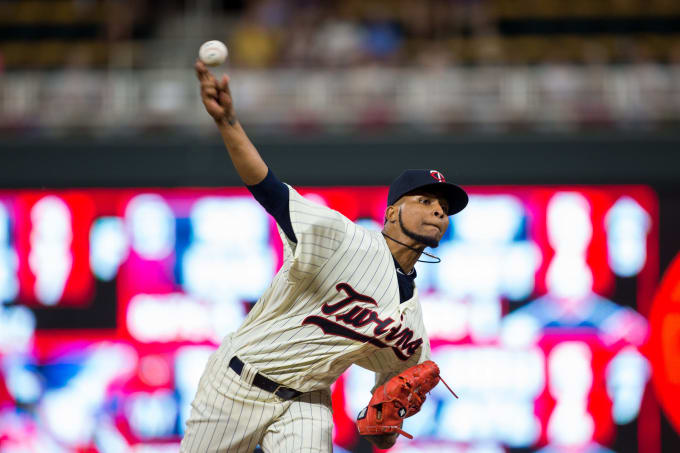 Why they won't: They just aren't that great
85-win teams don't usually win the World Series.
Only two teams have ever won the World Series with 85 wins or fewer: The Cardinals in 2006 and the Twins, oddly enough, in 1987.
Minnesota's two-month tear will be offset partially by the Yankees' 20-9 record in September. They'll also be playing a far more talented and experienced Yankees team, and they'll be playing on the road. It's also hard to imagine this Twins team beating the Indians, Astros, or Red Sox in series where they will not have home-field advantage.
Minnesota should be more than happy to be in the playoffs, but there doesn't look to be much more room for this team to improve this year.