LOS ANGELES — Doc Rivers chalked up the poor performance to a higher power. Every once in a while, Rivers said Saturday, "the basketball gods take over." In the NBA, duds happen. Even if that dud comes in your fifth game of the season.
So the Clippers coach was slightly perturbed. Actually, Rivers was pissed enough to drop an f-bomb after the Pistons handed his squad its first loss of the season. The new-look Clippers, remade this offseason, pointed fingers at each other for the first time, stagnated on offense, and were left wondering what the hell happened. ''We are never going to be a good team if we play and act like that," he said. Rivers' outburst surprised those who have been covering the team for years. They couldn't remember the last time he had cursed in a post-game press conference like that.
In an effort to over-analyze and dissect everything and anything, maybe that's a great sign that Rivers is so fired up even if we haven't reached November yet.
The Clippers were expected to take a step back this season. That's what logically is supposed to happen when you lose one of the best point guards in NBA history, a couple of sharpshooters on the wing, and undergo a makeover in the front office. Six straight seasons of 50 wins was nice, but no appearances in the conference finals is what that run with the dearly departed Chris Paul running point will be remembered for. And when the season ended early (again) last spring, change was inevitable. Paul orchestrated a trade to Houston, Rivers was relieved of his general manager duties, and a bunch of fresh faces were brought in to complement DeAndre Jordan and Blake Griffin.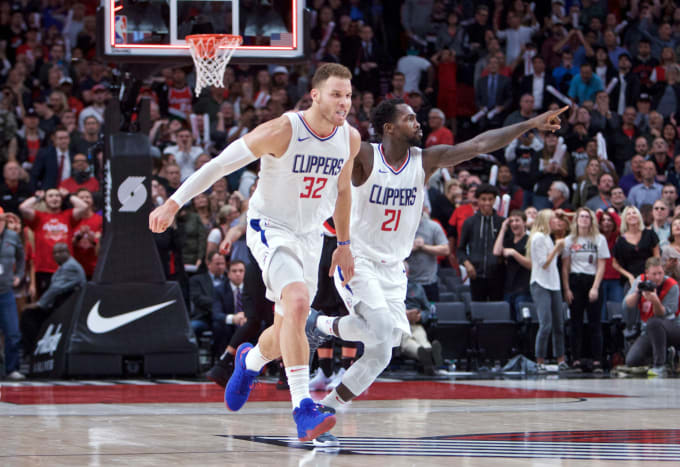 And even if the Clippers feature demonstrably less top-tier talent this year sans Paul, there's a sense around the squad that they're better off without him. That flying under the radar like they are in the Western Conference—considered a notch below the Warriors, Rockets, Thunder, and Spurs—is the perfect spot for them. Structured differently with new personnel—Danilo Gallinari, Patrick Beverly, and Lou Williams—while playing a slightly different brand of basketball has worked well so far. Saturday was an exception.   
"We have a lot more depth, I feel like. The ball's definitely popping around. We're running a lot more," Jordan said. "I'm not going to say we didn't last year or the year before. We just have a lot more guys and a lot more depth this year which is definitely going to help us."  
Sometimes it's addition by subtraction. The Clippers are a much more cohesive unit than they were a year ago. Paul's domineering style on the court and penchant to bark at his teammates is well documented. For all his brilliance, there was friction while he was a Clipper. A rivalry between Paul and Griffin for franchise dominance always simmered beneath the surface, even if they publicly denied it. At times, the Clippers of old used to feel like five separate guys on the court. They largely overcame that to enjoy regular season success. But things had to change.
"I think we do have a different culture," said Austin Rivers, who finished with a team-high 20 points, making 6-of-8 from beyond the arc. "I think it's more we than me. That's been an issue in the past."
For the first time in years, the Clippers made an effort to hang out and bond away from basketball, whether it was in Los Angeles or Las Vegas. They came into training camp as one big happy unit. Nothing had to be manufactured. "We constantly put in the effort where as in years past we didn't' do that," said the Clippers starting two guard. 
"I think it's more we than me. That's been an issue in the past."
—austin rivers
And most notably, they know who the alpha dog is. The man whose back they're going to ride as long as he can stay healthy. That's always a big if when you're talking about Griffin, but there's no doubt which Clipper will have his hands on the ball when a bucket is needed.
"Blake has become the focal point of their offense. I think it's clear," said Pistons coach Stan Van Gundy. "There's really no rivalry. Not that other guys don't get chances in their offense, but it's clear who their go-to guy is. There's no question of that."
Through five games, Griffin's averaging 24.8 ppg, 9.6 rpg, and 4.4 apg while shooting a career high 41.4% from three. He had the game-winning bucket at the buzzer against the Trailblazers Thursday and upon returning home against the Pistons, faint MVP chants broke out at Staples Center. While its absurd to get into any MVP arguments this early (says the guy who is already taking credit for caping for Giannis Antetokounmpo before the season began), in his age 28 season, Griffin appears to be taking his game to a new level. He's in his prime, the Clippers are his team, and only thing holding him back from a monster season is another freak injury.
Saturday wasn't peak Blake as Griffin finished with 19, 11, and 4 in the 95-87 loss. Besides the offense stagnating in the fourth quarter, there were defensive breakdowns starting in the third, and a ton of turnovers (19 to be exact). The definition of a dud. The Clippers had Sunday to get all the finger pointing out of their system and move onto the Warriors. Golden State visits Staples Monday and we'll see what the basketball gods have in store for the new-look Clippers in their first real test of the post-Paul era.