Fourth and four. Montgomery County youth football title game.
An 11-year old Stefon Diggs catches a toss, bursts past the first line of defense, and bowls through a defender to get the first down. He glances over to the sideline to see his father celebrating.
It was the first time Diggs saw his father, the late Aron Diggs, excited over what he did on the field.
"My dad never gave me pats on the back or congratulations," Diggs says. "There was always more to give and more to get done."
It's time we all start taking notice.
After leading the Vikings in receiving with 903 yards for a second-straight season, Diggs is ready to break out as the next star receiver in the league. At 23 years old, Diggs gets overshadowed by other young receivers like Odell Beckham Jr., Mike Evans, and Jarvis Landry, but that doesn't bother Diggs because he knows his time will come.
"Credit comes with success and I need to have a lot more of it," says Diggs. "In due time, I'm not rushing. I'm just trying to have a better year than last year. Hopefully we have another conversation like this next year."
Diggs has been garnering some attention, but it's been more for his personality than his play. During an August preseason matchup in Seattle, he made headlines with his Starbucks-themed cleats. Just a week prior to that against the Bills, Diggs brought out The Cleveland Show-themed cleats with characters Cleveland and Rallo just chilling on the Nike swoosh.
@Starbucks inspired cleats for my man @stefondiggs for the preseason game in Seattle Friday night. #starbucks #skol #vikings pic.twitter.com/GOZIlx6iba

— Mache Custom Kicks (@MACHE275) August 16, 2017
Diggs says his cleat game is not up to par with Beckham Jr.'s and Antonio Brown's but there are more creative ideas in his vault that he'll debut this season. He admitted that he's had some help in his creative process.
"I'm going to give all the credit to my guy Mache," Diggs says. " I just give him a little pinch of the idea and he does all the hard work. I don't come up with that many ideas."
But Diggs wouldn't be on your radar if he weren't able to continuously overcome obstacles and adversity, both personal and professional. His father instilled mental toughness in his children and Diggs needed all of it during his roller coaster rise to the NFL.
Diggs lost his father to congestive heart failure at the age of 14, forcing him to mature quickly. With his mother working most of the day, Diggs took it upon himself to act as the father figure to his younger brother, Trevon.
"I realized it was important to set an example for my younger brother," Diggs says. "He's been pretty good for the most part. There's been a couple of whoopings here and there [laughs] ... but I just tried to stay close to him and not leave him alone."
Even with the relationship he had with Trevon, Diggs had his eyes set on the University of Florida. The five-star Montgomery County (Maryland) product wanted to be a Gator, but ultimately, he believed his decision was bigger than himself. Cognizant of his brother's need for a male figure, Diggs shocked Will Muschamp and signed his National Letter of Intent with the University of Maryland to become a Terrapin.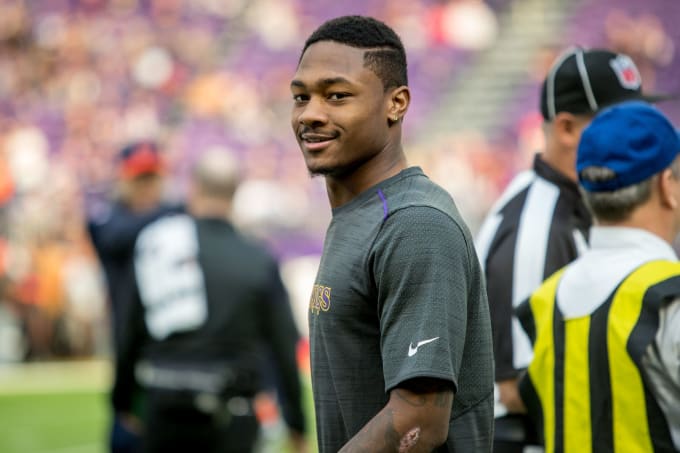 Maryland was the final stepping stone to reach his dream but adversity would strike again and it came in multitudes. After tallying 1,896 all-purpose yards in his freshman season, second all-time in a single season in Maryland history, Diggs found himself in the midst of another devastating obstacle midway through his sophomore season in 2012.
Fourth and five. The Terrapins were trying to dig themselves out of a hole in an ACC battle against Wake Forest. Diggs caught a pass over the middle of the field for a first down before being dragged down from behind by a defender. Diggs immediately rolled over in pain, grabbing his right leg. He couldn't get up. The medical staff eventually wrapped his leg, carried him onto a cart, and drove him off the field, a towel draped over his face.
"Up until that point, I thought I was Superman," Diggs says. "I might have a little bruise or something like that but nothing that serious to put me out and stop me from doing what I love. It was a huge difference-maker in my life."
Diagnosed with a broken fibula that required surgery, Diggs was forced to watch his team lose five out of their last seven games, including a loss to Marshall in the Military Bowl. After completing the rehab process, Diggs began his junior season knowing that it would be his last.
"It was a good run but I couldn't afford to get injured again or have anything else happen," Diggs says. "Even just based on what I did in my career, I was going to to leave."
Diggs was projected to be selected as high as the second round or as low as the fifth by many scouts and analysts in the 2015 NFL Draft. He had never played a full season at Maryland but managed to accumulate 2,227 receiving yards and 14 touchdowns over three years. Unfortunately the draft class was stacked with wide receivers, with 11 projected to be taken in the first two rounds, none of them named Stefon Diggs.
Draft day came and Diggs was anticipating his name getting called as the culmination of his hard work since youth football.
First round: No call. Second round: Nothing. Third and fourth rounds: Still waiting.
"I felt like a lot of guys were taken in front of me that shouldn't have been taken," Diggs says. "Everybody else evaluates people differently. It was my job to go show it no matter or how it happens. God knew it was going to motivate me and push me to where I am now."
Diggs took his mind off the draft by hitting the weight room. In round five, 146th overall, the call finally came from the Minnesota Vikings.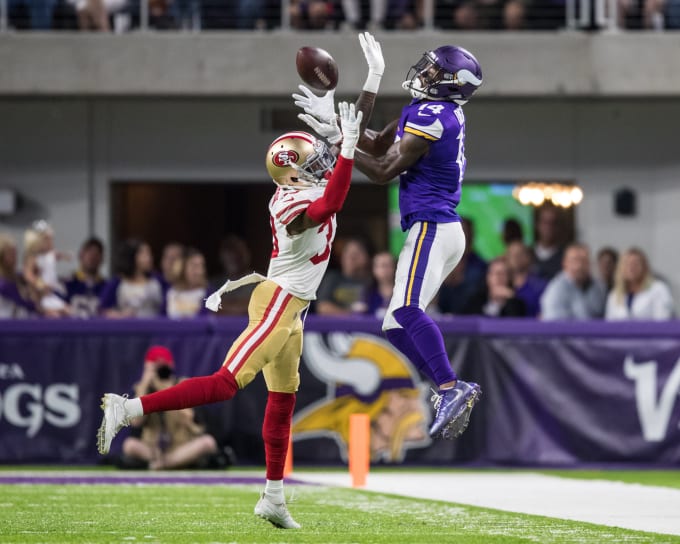 After getting through training camp and the preseason, Diggs was ready to begin his NFL career but yet again, his mental toughness was tested. He was inactive for the first three games of the season but prepared every week like he was the No. 1 receiver.
"When I go in between the lines, I don't want to come out," says Diggs. "That's the mission I been on."
He got his opportunity Week 4, and that was the final time Diggs could be found at the bottom of the Vikings' depth chart. In his debut in Denver, Diggs caught six passes for a team-high 87 receiving yards against the undeniable top defense in the NFL. He returned to the locker room with his phone blowing up but refused to respond to anyone. While he appreciated the support, Diggs made sure he contained his circle to those who believed in him from the start.
Diggs was determined to make the naysayers look foolish and ultimately, he did. He became the first rookie in NFL history to have at least 85 yards receiving in each of his first four games. By the end of his rookie season, Diggs was the Vikings' best offensive weapon. 
The NFL's decision early this year to be more lenient with touchdown celebrations was exciting for Diggs, who figures to be celebrating plenty this season. Group celebrations will not be penalized anymore and Diggs has already made plans to take advantage of the new adjustments—he's just itching for the right moment.
"I got some things going on with my guy Adam Thielen and a couple other receivers," he says. "We got some things under wraps so we're going to keep them under wraps until we get our opportunity. Be on the lookout."