In the latest installment of news-that-isn't-really-our-business-but-what-the-hell, NBA players apparently make way less money than we assume they do. According to a new report from ESPN, our favorite roundball athletes are struggling out here. They're making so little money—so little money. We should probably start a GoFundMe for LeBron right now. Maybe not. Let's keep reading and find out just how broke he is.
With a series of very detailed infographics, ESPN breaks down how the NBA's superstars are not necessarily as well-paid as we think they are due to all of the federal and state taxes they pay in addition to the various expenses that come along with being a professional athlete. Robert Raiola, sports tax expert and director of the sports and entertainment group for PKF O'Connor Davies, helped ESPN suss out the final numbers of the salaries of the 10 top-earning players.
Of course, at the top of the bunch is Steph Curry, who will now average $40.2 million per season after signing a five-year, $202 million extension. For context, Curry was paid a total of $44 million for the previous four seasons. Curry's $34.8 million salary this season sits slightly higher than the previous top amount of $33.1 million by Michael Jordan in 1998. But despite this, Curry actually makes less than the second player on the list because he "only" brings home about $15 million after paying California's high taxes.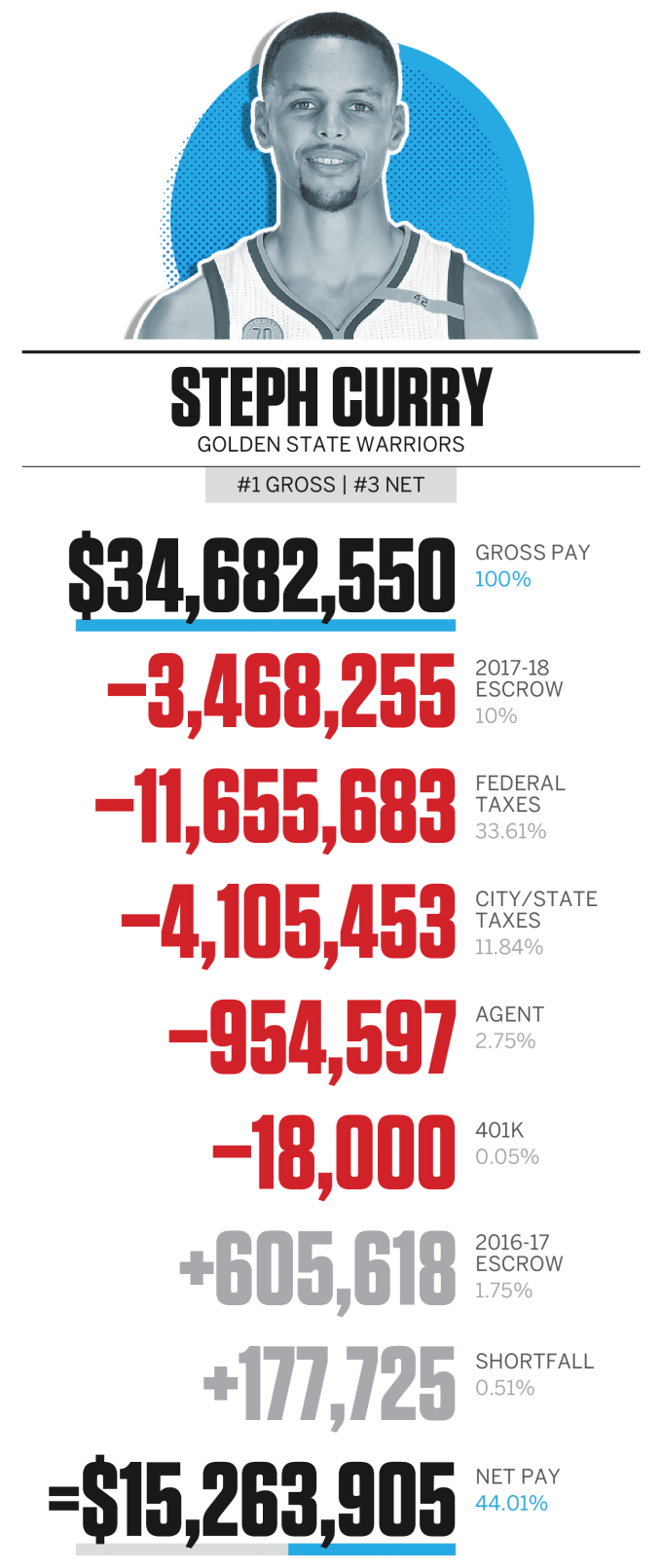 No. 2 on the list is, of course, LeBron James, with a gross salary of $33.2 million this season. If he re-signs with the Cavaliers for the next five years next summer, he can say hello to $207 million (if he maxes out with another team in a four-year deal, he'll get about $54 million less). And he will need every penny of that when you consider that, like Curry, he is only bringing home about half his salary every year.
Fortunately for him, the number provided in this list only looks at James' NBA salary, and ESPN notes James' business acumen. There's his lifetime deal with Nike, which will add another $1 billion to his fortune over time. Also mentioned are his recent cash out from Beats By Dre, which earned him $30 million, and his equity in Blaze Pizza, which is currently sitting around $35 million. This is after James invested less than $1 million. Talk about a come up.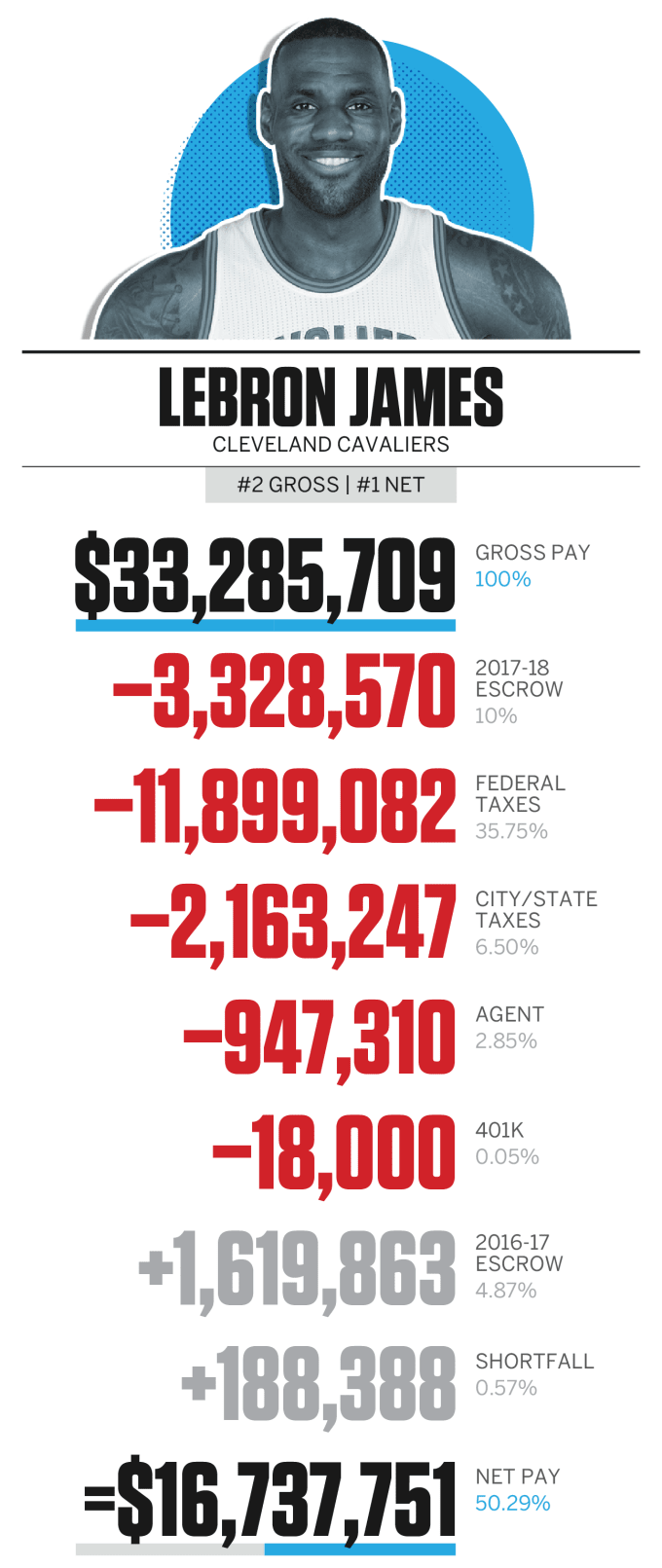 Elsewhere in the top 10 is Russell Westbrook at No. 8, who is currently eligible to sign a five-year extension with the Thunder for around $207 million. His current gross pay is a little over $28.5 million, and he only nets somewhere around half of that. But that's only depressing if you ignore Westbrook's side hustle as a shoe pusher—he just signed the biggest Jordan brand deal ever this month, which is sure to bring lots of commas to his bank account.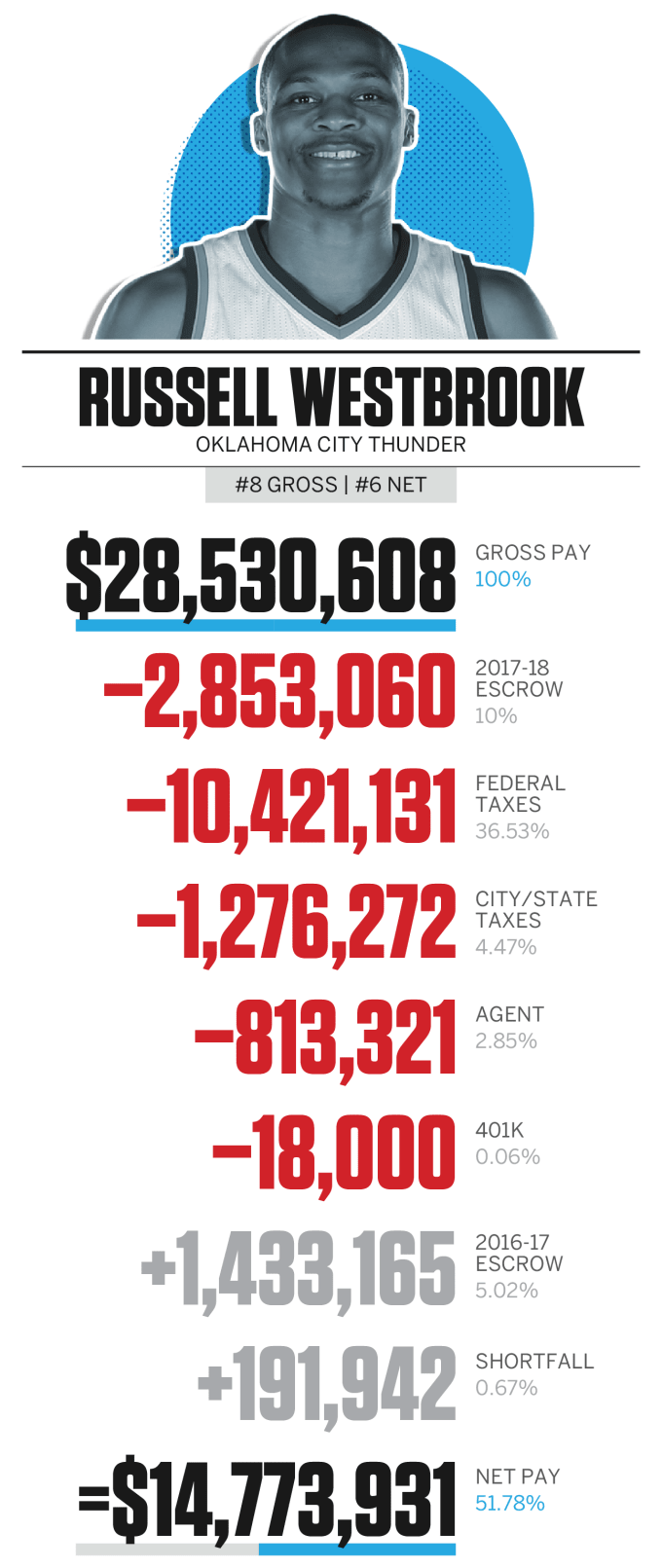 Bottom line: NBA players are obviously very rich. But as you can see, they're not as rich as you might think if you just look at their salaries alone. You can find a breakdown of the other top seven player salaries here, including figures for James Harden, Gordon Hayward, and Blake Griffin.