We made it through the NBA's summer shenanigans, observed the largest sporting spectacle in years with Mayweather vs. McGregor, and slogged through football's off-season. Now it's time for the main event: The regular NFL season kicks off Thursday evening with the reigning champion Pats taking on the Chiefs.
There's one long overdue difference this season—the "No Fun League" has finally relaxed its restrictions on end zone celebrations. It's not a free for all, of course, but it's certainly good news for the Steelers' Antonio Brown, the eight-year veteran receiver and Dancing With the Stars alum who has appeared in many a highlight reel due to his "excessive" celebrating. Now that the league is done hating, AB teamed up with Pepsi for a new campaign called the "Fun Doesn't End Zone," where he'll show off how he gets down. Brown gave Complex a first look at the ads, talked about expressing himself on and off the field, and reflected on his earliest memories of his days as a rookie. 
(This interview has been edited for length and clarity.)
Is the twerk back in play this season?
AB: [laughs] The twerk still illegal, so I gotta think of something new and creative.
If you had to guess, how much did you pay in fines for your celebrations last season?
AB: Maybe last year I maybe got two celebration infractions, maybe a little under $60,000 in fines, maybe.
So I know no one is more happy than you that the NFL has loosened its policy on celebrations, right?
AB: Absolutely, with the league easing up on the rules for celebrations, everything Pepsi is doing this year is really showcasing the excitement and the personalities from all the players our fans don't normally get to see. Last year we showed the fans how to break out the Pepsi, and I'm just excited to be working with Pepsi again this season bringing this campaign of the "Fun Doesn't Endzone" to life, showing all my sweet dance moves in the end zone. We're going to be thinking of different ways to bring players closer to the fans, delivering new and fun experiences all season long.​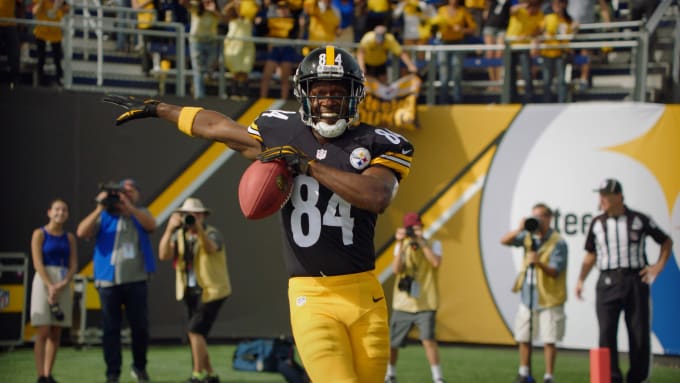 You also show off your personality in your fashion and your sense of style. Last year you had the different haircuts like Lego pieces or the Gumby. What do you have planned for this year?
AB: Yeah, I gotta couple things I'm working on, right now I'm tryna grow that mullet. I got some vibes coming.
You've been very busy this off-season, from going to a bunch of football camps for youngsters, to having a dope birthday celebration. What else have you been up to?
AB: I've been training hard, I got a great team around me to make sure I'm eating well. You know, I've just been preparing my body. There are some great people on my team that take care of me all year long so I can put on some good performances and help my team win some good games. So I've just been training hard, man, spending time with family, and just embracing all these opportunities.
Speaking of the team, the Steelers finally seem to have gotten contract talks with Le'Veon Bell straightened out.
AB: I know man. He's definitely an asset to the team, I love playing with him.
And we know Le'Veon is doing his thing with the music. Is your album coming soon too?
AB: [Laughs] Nah, I'm not getting into that.
Recently NFL Network released their Top 100 players and you were No. 4, again, so congratulations. What did you think when you heard the news?
AB:  It's always an honor when you get voted on by your peers in the NFL, it's always good to know what the guys think about you around the league, so the respect of my peers, I appreciate and I'm grateful for it. But it's time to win some games just to be No. 1. I'm just looking forward to improving, to continuing to be dominant, until I get to that No. 1 spot until we win the Super Bowl, and then to do it all over again because the battle never ends.
I know it was eight seasons ago now, but do you remember that first season coming into the league?
AB: Absolutely, I remember working out with Byron Leftwich all summer, he was the veteran quarterback on the team. I remember going to training camp being in the dorm room seeing how the older guys pulled up to training camp, seeing all the energy they brought. I just remember being in my dorm seeing Willie Colon and all the other offensive linemen pull up with Ben Roethlisberger and set the tone for the year.
Is there anything else you want Complex readers to know?
AB: Continue to stay focused. Never get content; the battle is never-ending.
Watch Antonio's new commercial below: