The 2017 NFL season will finally kick off Thursday, and with that will come a whole lot of gambling. Before Week 1 begins, bettors still have plenty to choose from in the form of futures, bets in which someone can risk money on a team's number of wins, their odds of making the playoffs, a player's number of touchdowns, or yards accumulated, among a wide variety of others.
If you're meticulous enough, these season-long prop bets can be a very profitable endeavor. Fortunately, we came up with a guide to help you cash in this NFL season.
Best 'Over' Win Total: Dolphins O 7.5 Wins (+110)
Ideally, you don't want to invest in a win total attached to a team that potentially oozes uncertainty—which could easily be the case when the starting quarterback for this wager was literally ripped from the FOX broadcast booth just a month before the season started. But the injury to Ryan Tannehill, and subsequent arrival of ol' Smokin' Jay Cutler, should actually have 'over' bettors salivating.
Last season, the Dolphins overachieved, going 10-6 en route to the franchise's first playoff berth since 2008. With Cutler replacing Tannehill, and having a nice group of studs around him, there's a chance that they can actually sustain that type of success, yet all we need is ultimate mediocrity, with an 8-8 finish being enough to cash.
Of course, much has been made of Cutler reuniting with head coach Adam Gase, who was his offensive coordinator in Chicago for arguably the best season of his 11-year career in 2015. And the argument could be made that Cutler had considerably less to work with on that roster.
Here, the 34-year-old has a wealth of talent by his side, especially at wide receiver with two potential Pro Bowlers in Jarvis Landry and DeVante Parker. The latter will be especially intriguing to watch with Cutler under center, as many are pegging this to be the former first-round draft pick's breakout year, while Landry serves as a very steady source of production, having averaged 96 receptions through his first three seasons in the league. Kenny Stills is a useful piece as well.
On the defensive side of the ball, the Dolphins provide more reasons for 'over' backers to be optimistic for a .500-or-better finish. For instance, how can you not like a defensive line that boasts the likes of Ndamukong Suh and Cameron Wake? Suh, the highest-paid defensive tackle in NFL history, is really starting to hit his stride again, coming off a season in which he registered 72 tackles, third-most among all interior linemen in '16.
Lastly, let's touch on one of the most important aspects for the prospects of this bet: the division. Obviously, after the defending champion Patriots, it's pretty brutal, and that should play right into our favor. After all, the Dolphins get two dates apiece with the lowly Jets—who have a realistic shot of going 0-16—and the Bills. That should be four wins right there. In other words, that's half the bet!
Best 'Under' Win Total Bet: Chiefs U 9 Wins (-115)
Every year, it appears like there's always at least one team that gets out to an inauspicious start in the first handful of games, leading the fan base and media to overanalyze, overreact, and start calling for a youth movement. Ladies and gentlemen, that team in 2017 could very well be the Kansas City Chiefs.
At the moment, there's nothing glaringly wrong with Alex Smith. The former No. 1 overall draft pick has been consistent since arriving in Kansas, and he's coming off a nice showing a year ago when he completed 67.1 percent of his passes and had 15 touchdowns compared to only eight interceptions. Oh, and the Chiefs were also the AFC West champs.
But there are also issues to divulge. One, Smith is getting up there in age, as he'll be 33 when the Chiefs kick off the season at New England (there's one loss for this bet, by the way). Two, he's the type of game manager that doesn't really have a large ceiling, so if you don't surround him with talent, then he may be on the verge of a decline. And that could certainly be a big problem after the Chiefs jettisoned Jeremy Maclin and lost last year's leading rusher Spencer Ware to a torn PCL.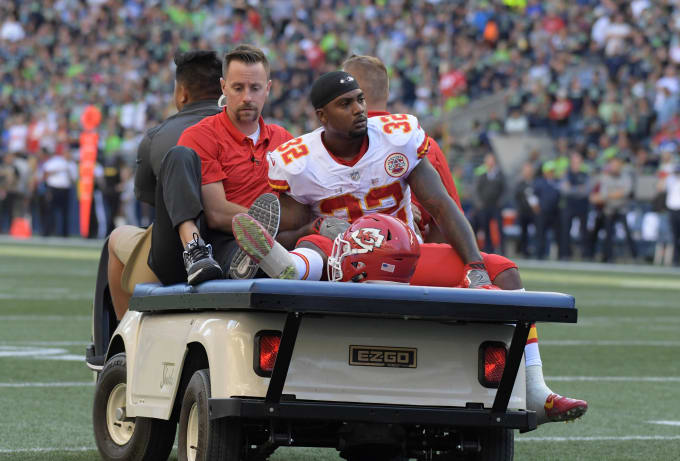 With those two out of the equation, Smith still does have star tight end Travis Kelce to lean on, but outside of his 6'5", 260-pound frame, what else is there? Tyreek Hill shined at times as a rookie last year, but also contributed erratic production and is not an ideal No. 1 receiver. Beyond him, it's Chris Conley and Albert Wilson, two guys who probably wouldn't get regular action on many other clubs.
To replace Ware, Kansas City will have to entrust some kind of running back platoon consisting of third-round pick Kareem Hunt, Charcandrick West (he of a humbling 3.3 yards-per-carry mark last year) and washed-up C.J. Spiller, who was on two different teams in 2016.
Oh, and let's not forget that the Chiefs have already anointed their quarterback of the future when they selected Patrick Mahomes out of Texas Tech in April with the No. 10 overall draft pick. Any sort of slow start by Smith will certainly lead to early catcalls for Mahomes to take over, which could cause an enormous distraction if the team enters any sort of hole out of the gate.
Defensively, the Chiefs figure to be good again, still featuring standout players like Eric Berry, Justin Houston and Marcus Peters, but is it enough to get to double-digit wins? Most likely not, especially when you look at their fellow division residents, whom they have to square off with six times. The Raiders, Broncos and Chargers—who were far better than their 5-11 record last season—will be tough to compete with a mostly lackluster offense.
This particular prop bet doesn't merit a huge wager like the aforementioned Dolphins Over 7.5 Wins one, considering head coach Andy Reid has actually managed to win at least nine games in each of his four years in Kansas City, but it's still worth a bet given the Chiefs' relatively low ceiling.