Steph Curry got the news during the NBA Finals that he would need a caddy for the first week of August. 
Golf obsessed and incredibly accomplished with the sticks, Curry learned he would make his professional debut in the Web.com Tour's Ellie Mae Classic at TPC Stonebrae in Hayward, California and immediately knew he'd need a trusted partner to man his bag. 
The obvious choice was the Warriors' Director of Player Programs Jonnie West. The son of NBA legend Jerry West has been with the Warriors organization for six years, has played, by his estimation, over 30 rounds with Curry, and, most fortuitously, happens to be a member at TPC Stonebrae.
"We never really said you're caddying for me but it was just kind of a natural thing with me being a member there," says West.
The two teamed up for the tournament and even though Curry didn't end up making the cut, he impressed by carding a 74 during the second round. Taking a break from his duties with the Warriors, where his focus is helping Golden State's youngest players "understand what it's like to be a professional athlete and the difference between being a professional athlete and in college," we talked to West about his two days on the bag with Curry and what the two-time NBA MVP is really like on the course.
(This interview has been edited and condensed for clarity.) 
How'd you get the nod to be Steph's caddy?
I'm a member at TPC Stonebrae so that was a natural fit. I think Steph found out about it either Game 1 or Game 2 of the Finals. And he showed it to me before the game and he was super excited. It's funny to think going into a game in the Finals he's got that on his mind. That's just kind of who he is as a person. We never really said you're caddying for me but it was just kind of a natural thing with me being a member there. 
So what was it like being on the bag for Steph's professional debut?
It's just a different type of atmosphere and way different feel to the round than just playing for $10 a hole with your friends. The pressures are way different. But the things he was able to do against that kind of talent and that pressure was remarkable. He really didn't have anytime to prepare for that tournament. He went to China and did his tour and in Korea so he didn't touch a club for almost a week to 10 days. Got back from China and went right to Harrison Barnes' wedding which was the Saturday before the tournament. Monday we played a pro-am together and then Tuesday had his practice round and then right in the craziness of the tournament. 
Steph didn't make the cut, but how'd he do in your estimation?
I had a bet with director of golf at Stonebrae. Lot of people thought he was going to shoot in the 80s and struggle. But when his game is one he's a legit golfer. He carries a scratch handicap as one of the best basketball players in the world without really working on his game. In the bet, I predicted his scoring average on the number (74). For him to do that and really shut a lot of people up was impressive. 
How different of a competitor on the golf course is he compared to the basketball court?
With basketball, he was more confidence because it's something he practices everyday and he's one of the best in the world at. But he's extremely confident in his golf game, too. When you have that confidence then it bleeds into your competitiveness. If he's pressured to do something, he doesn't wilt under the pressure. He's an incredible athlete who has some of the best hand-eye coordination.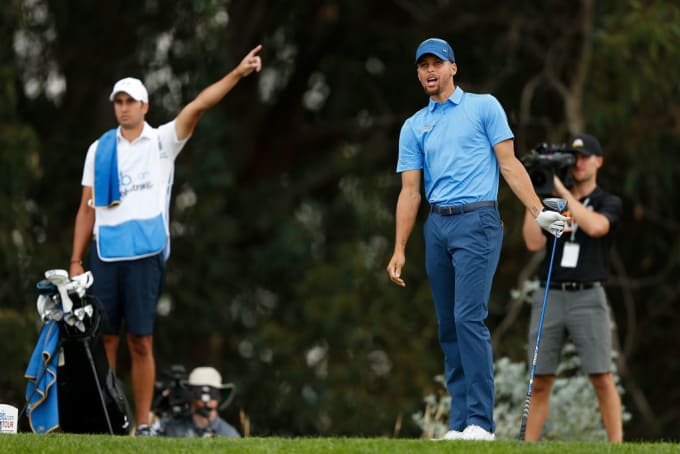 Is he the best basketball golfer you've ever played with?
I never played with my dad when he was at one point a +4 handicap. I heard a lot of people who saw him play when he was done with basketball and really committed to golf. I heard a lot of people say he could have easily played on tour. But that I have seen? Yes. He's the best. 
What's Steph like on the golf course?
He's very loose. Very similar to how he plays basketball, a very loose-to-under control way. That's why he's able to do the things he's able to do on the basketball floor. On the golf course, he doesn't get down on himself when he makes mistakes. That was one of the most impressive things about him all week; he didn't compound his mistakes on the golf course. 
What was your favorite moment from being on the bag with him?
In his second round, he was kind of struggling on the front and couldn't make a putt. The back nine, he kind of loosened up and was like, let's have fun and make this interesting and shoot a score. He started to play a lot more free. On the 14th hole, he hit it in the right greenside bunker. We're walking up to the ball and he pulls out a 50 degree wedge. He usually hits his bunker shots with a 60 degree wedge. He looks at me and goes, 'Do you know how to hit a chunk and run bunker shot?" I have no idea. He says, "I think you take a 50 degree, close the club face, hit down on it, and let it release." He gets in the bunker and, not to my surprise, it runs up on the green to six or eight feet and makes birdie. That's who he is. He has this unbelievable imagination with everything. He sees things differently than a lot of other people. 
Could he legitimately give it a run at being a pro when his basketball career is done?
He has the talent to do it. Knowing him and his personality, he would put the time in to do it. I believe he could. But that's such a crazy thing to even think about. But if anybody had the talent or willingness to do it, it would be him. 
Have you beat him?
I've beaten him score-wise a couple of times. He has to give me shots here and there. He usually is victorious. 
How often do you guys get to go out?
We try and play some during the season. [Warriors coach] Steve [Kerr] is really great about understanding work-life balance and the stress being a professional athlete puts on you. He's very much for him and Andre [Iguodala] going to play golf and get their minds out of all the stresses they have. It's a grind. We don't have much of a summer. We have two-and-a-half, three-month summers. He understands these guys need a break. If he knows we have a road trip with a day off in a city where we'd be able to play golf, he says bring your clubs and go play."
What, exactly, are your day-to-day duties with the Warriors?
We try and figure out what the kids might actually need coming in because some kids might have a great financial advisor or know it themselves. Or they might not be so great with the media and they need media training. So we try and individualize each player's growth. The one thing about our team is we have extremely high character individuals that make my job so much easier. 
And now you're no longer working with father since he left for the Clippers.
No matter where he is, he's going to be a resource. But we've joked about it. Now he's the enemy and I hope to kick his ass.