If you were one of the poor suckers who bet on Conor McGregor to beat Floyd Mayweather last weekend, congratulations, you got the end result you deserved. All the wish fulfillment in the world was not going to change what we all tuned in to watch: an all-time great boxer outclassing a relative amateur in the sport.
But hey, some of you were wise enough to lay down some money on Mayweather! Since Mayweather was a massive favorite from the very beginning, you had to bet large sums of money to see any sort of big return on your "investment" in the fight, and that deterred a lot of people from backing Mayweather with their rent money.
One man had no such fear, and came out with a huge wad of cash as a result. Dan Bilzerian, a professional poker player who spends a good chunk of his year living in Las Vegas, decided he was going to plop some money down on a Mayweather victory. He hinted about laying some money down on his Instagram page Saturday, asking his followers who they were placing bets on.
After the fight went down, Bilzerian came out and made it known who he had the cash riding on and even poked fun at the unexpected drama from the fight. Sharing an old picture next to Mayweather himself, Bilzerian captioned the picture with an appropriate hashtag, #YouDidHaveMeSweatingThough.
Once you see the numbers, you'll understand why he was sweating during the early rounds of the fight, even though Mayweather ultimately dominated down the stretch. In a post on his Instagram Story that has since disappeared, Bilzerian revealed the sum of his winnings: $342,150.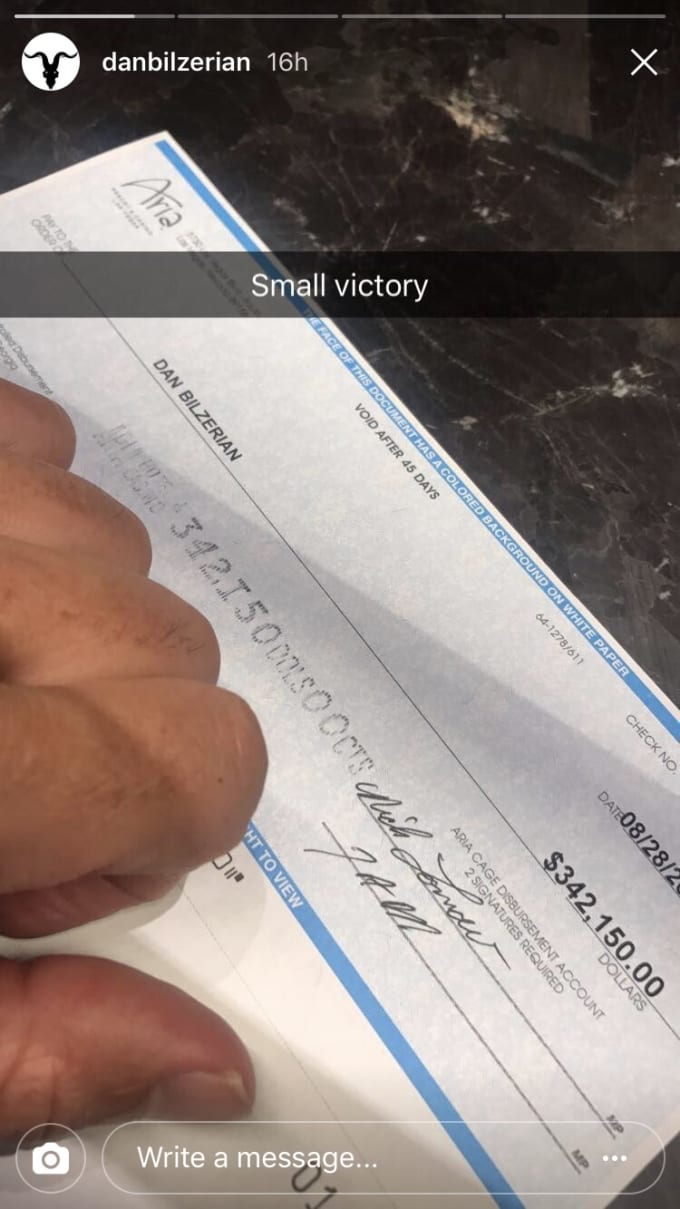 The logo in the corner says the check is from Aria, a resort in Las Vegas that does indeed have a sportsbook, so it's mostly confirmed that this is the payout from Saturday night's fight. Odds on Mayweather dropped to as low as -350 in the hours before the fight because of bets pouring in on McGregor, but you still had to bet a ton to win a few hundred thousand dollars. Conservatively, Bilzerian would have had to bet $1,197,525 if he placed his bet when the best odds hit late Saturday night, let alone if he submitted his ticket prior to that moment.
Scared money don't make no money, as the saying goes, but even for someone with a propensity for high-stakes gambling, this is pretty insane. Bilzerian has a ton of capital to fall back on, but investing that much money in a one-off event would have me pulling my hair out at the first sign of trouble. And this isn't even the first time he's considered such a huge wager on a Mayweather fight. He actually claims to have backed down from a $2 million bet on the Manny Pacquiao fight at the last minute.
"I was literally going to go do it, and the only reason I didn't was in the back of my mind, I was like, if Mayweather loses this fight, he gets a billion dollars," said Bilzerian, explaining that rematches would help Mayweather rake in a ton of money. This same philosophy scared a lot of people away from betting on him then, but Bilzerian figured this time, it was worth the risk. 
Good for him, and I hope the money is worth the year of his life he probably lost stressing over the early rounds of the fight. If Mayweather does decide to fight again, however, perhaps he should quit while he's ahead.