Thousands of miles from their respective homes, a pair of European soccer giants walked onto a Miami soccer field with one thing on their minds—destruction of their opponent. Standing at field level, you could get a strong sense of the passion involved in a game between Barcelona F.C. and Real Madrid C.F., with players shouting over every call, chopping at each other's ankles, and making good use of their elbows to establish position.
And that was just during a scrimmage featuring former Barcelona and Real Madrid players that we attended on Friday afternoon.
El Clásico, the moniker used to refer to the semi-regular matchup between Barcelona and Real Madrid, is almost impossible to compare to other rivalry games. Barca and Madrid effectively exist in a tier all their own within Spain's top division, towering over the country like feudal-era kings. They blitz through the rest of their opponents, so every game between the two clubs has high stakes attached, and their regular-season meetings often determine who finishes the season on top of La Liga. It's not a whole lot different in bigger European competition. Champions League, a months-long tournament played yearly to determine the best club on the continent, has been won by either Madrid or Barcelona during each of the last four years.
But even that doesn't really do justice to how big this rivalry truly is. Ask any Barcelona supporter what the club represents, and they'll tell you it is a symbol of the identity of the Catalonia region of Spain, where they speak a completely different language and typically carry themselves like a separate country. They might even get their wish soon with 80 percent of Catalans voting in support of a push for independence in 2014. They are prepared to move forward on a formal referendum in October despite government officials in Spain calling it illegal.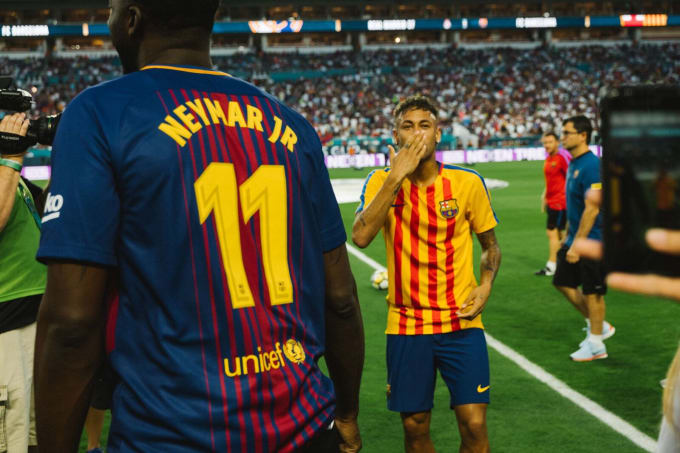 But the central question I had entering this past weekend was not about the passion of the rivalry. El Clásico Miami, one of the final matches of the International Champions Cup presented by Heineken, was the first time a game between the two teams would take place on American soil and the first time the two teams had played outside of Spain in 35 years. It was also a preseason game, and when fans hear that word in America, they mostly think of the first-stringers spending most of their time on the bench.
So my curiosity was tied to a single question: Is it possible to replicate the spectacle that is El Clásico in America?
Though it took most of the weekend to get my answer, Miami residents did not shy away from comparing El Clásico Miami to other major sporting events the city has hosted. A driver who picked me up at the airport upon my arrival in Miami—a New York transplant who came to South Beach in the wake of 9/11—said the only events comparable to El Clásico were of a championship caliber.
"I've been here since 2002," he told me, "and the only thing that really comes close are the Super Bowls. This is something else."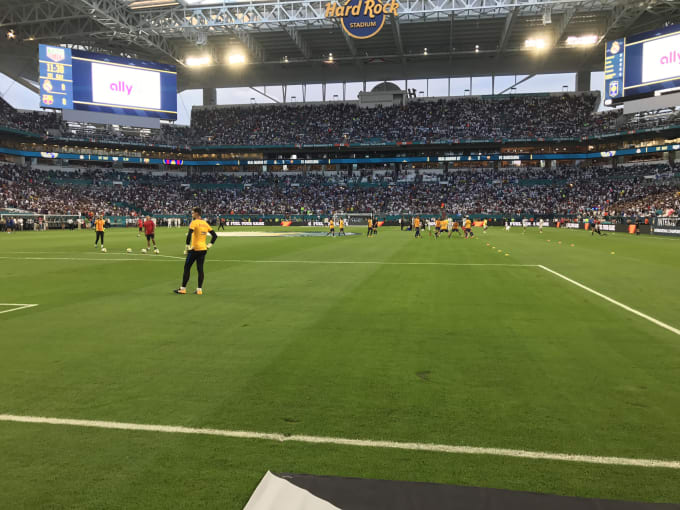 I'm inclined to take his word for it. You could not avoid the shadow the game cast over the city even if you wanted to. Fans waved giant banners during casual strolls down the sidewalk, shouted insults at others wearing enemy colors, and continued to heckle each other long after the game had ended on Saturday night. Roughly 30,000 people showed up just to watch the two teams go through practice sessions the night before the game, cheering for their teams as if their lives depended on it.
You would have been hard-pressed to convince those people this game and these players didn't matter, with ticket prices climbing to over $4,000 by the time game day rolled around. When Barcelona hit the field to warm up prior to the match, a middle-aged man standing in the first row nearly dropped the chicken fingers and small child he was holding in each of his hands. After he found a suitable holster for both items in question, he bellowed a profession of love at Barca star Lionel Messi, at one point even asking if he'd be so kind as to gift him one of his shinguards.
Some of the big names passing through for the weekend were a little better at keeping their shit together. Drake performed at Story Nightclub on Friday evening, with Nicki Minaj, Lil Wayne, French Montana, Draymond Green, and more looking on from various spots within the VIP area. At one point, our group was in search of a good vantage point for the mini-concert, and got blocked briefly by a large, muscular man who I first assumed was part of the security detail. It was actually Terrell Owens.
Close to the action ⚽️ pic.twitter.com/cOxvZrGWHy

— Terrell Owens (@terrellowens) July 30, 2017
Aside from the players involved in the game, Green was arguably the face of the weekend, popping up at almost every single event we attended and showing he wasn't in town just to party. Not even he was safe from the rage that can only be prompted by El Clásico, as when he popped up on the stadium video board wearing a customized Barcelona jersey, he was booed relentlessly by the Madristas in attendance.
The degree of adulation shown by the fans was rewarded with a pretty spectacular game. After an early injury scare for Neymar, the two teams combined to score three goals in the first fourteen minutes of the contest, counter-attacking like madmen in the Miami heat. You could see the impact of the weather taking a toll on the players over time, with the pace of their runs fizzling out a little as the game wound down. Fans certainly got their money's worth, however, with most of the stars on both teams playing at least 60 of the full 90 minutes in the 3-2 Barcelona victory.
Though at times you could have convinced yourself you were in Barcelona or Madrid for an in-season El Clásico, there were definitely reminders you were in America. In one of the more peculiar sets I've ever experienced in person, a local band performed while we hung out in the Heineken beer garden Saturday afternoon, rotating between more traditional Spanish music and covers of 1990s jams like Montell Jordan's "This Is How We Do It." It reinforced the unique struggle of importing an event like this, straddling the line between preserving the feel and appealing to a broader audience.
Not all of the local flavor was so immersion breaking. During a boat tour of the city early Friday evening, we got to stop by the old Miami Marine Stadium, the legendary aquatic arena that hosted boat races and musical acts like Ray Charles, The Beach Boys, and Queen before being devastated by Hurricane Andrew in 1992. Thanks to the success of a crowdfunding campaign led by Heineken and the National Trust for Historic Preservation, a $45 million investment is on the way to help restore the landmark to its former glory.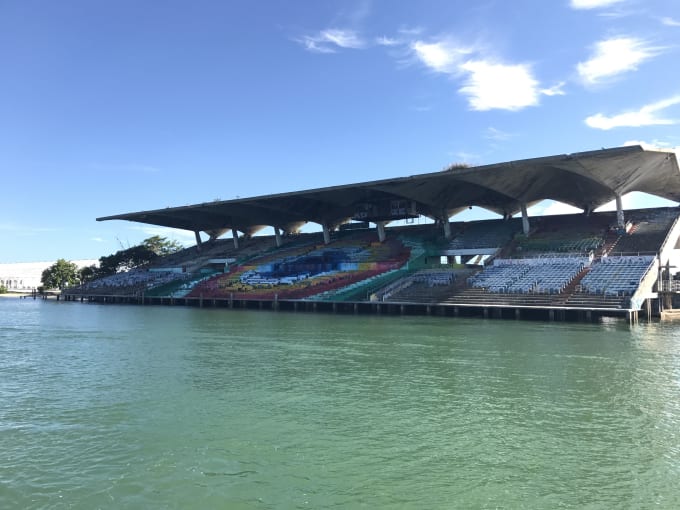 And really, making something old feel new again was what the weekend was all about. Cost may have been prohibitive for a lot of families, but American-based fans had a once-in-a-lifetime chance to see some of their favorite players, their heroes, without having to book international flights or hotel packages to do so.
Soccer has been fighting an uphill battle in America for decades, and every few years, someone wants to make the declaration that the sport has arrived in the country. The production bus for the game even had a similar message etched on the side of it in big, bold letters: "Soccer is here." The growth of the sport is unquestionable domestically, but too many of these preseason showcases involve teams with no real connection to one another— no real skin in the game—and that makes them feel like hollow vanity items.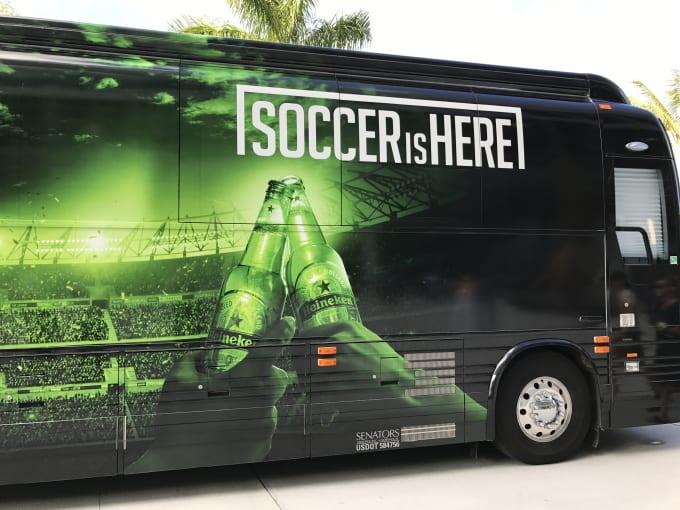 El Clásico Miami, by contrast, was everything sports fans crave in a rivalry, preseason game or not. Midway through the second half, a ball fluttered toward our sideline, destined to be a Real Madrid throw-in. On a dead sprint from about 25 yards away, Neymar—who is presently flirting with the idea of leaving Barcelona this summer—launched himself at Daniel Carvajal, the Madrid right back looking to escort the ball out of bounds. It knocked Carvajal several yards back and led to an exchange of pleasantries between the two opponents.
Every inch mattered to that pair of players, just as it did to the Madrid fan nearby who kicked the seat in front of him, enraged that Neymar's act of aggression went unpunished. For at least one weekend, a soccer game felt like the biggest sporting event in America, and it gave this soccer fan hope that one day, the sport will get the attention and respect it deserves here. And when that happens, you can thank events like El Clásico Miami for sparking the revolution.