The next five weeks mark the third annual Nike CROWN LEAGUE season; Canada's own basketball league, which combines the nation's love for hoops with a few homegrown superstars. With basketball on the ever-growing rise in Toronto, the curated league allows talented ball players to shine by showing off their skills on the court.
33-year-old Michael Fraser is one of those ballers.  The team M.A.D.E. forward is going 'beast' mode and hyping himself up before his return to the court at Ryerson University's Kerr Hall.
The Brampton native was active from an early age playing a variety of different sports including football, soccer and baseball, but by the time he hit high school he was zoning in on basketball. Practice was priority, even after his family relocated south of the border to Maryland, at the age of 13. By 2005, he was playing college basketball for Oklahoma Baptist University.
Since graduating, Fraser has been dunking with the best and has played everywhere from Austria to the Ukraine. He currently plays in Poland for the PLK team, KKS Pro-Basket Kutno.
Before Nike's CROWN LEAGUE in Toronto kicked off, Complex Canada sat down with Fraser to talk to him about the hyped-up summer league, his experience in playing pro and more.
Complex: Why are you pumped to play CROWN LEAGUE this summer?
Fraser: It's just what it does for the city, as far as basketball. It connects people with the talent that's in the city. They created an environment where it's family friendly, plus you're representing what the city has to offer.
Complex: What do you think about the rise in basketball culture, specifically in Toronto? I mean… The city has really upped its game in recent years.
Fraser: Everything kind of shook ground with Tristan and Cory. They were the ones who really shook ground, in the sense of getting people to pay attention. I think everyone always loved basketball here, and you saw that from the Raptors. They weren't really winning, but games were always sold out. So you saw the love, but nobody really knew the talent was here. It's always been here, I'm older so I know from my generation, 90% of the guys never even got to play professionally, because there was no support from nobody here.
Complex: Favourite players? Past or present...
Fraser:  For me it was Kevin Garnett; he'd probably be one of my favourite players. It was just his passion and his love for the game. To make all that money, and still keep that hunger at that age. He's my favourite player man.
Complex: How would you describe your personal style?
Fraser: I'm laid back, man. I'm simple, like I don't need to go over the top. I let myself speak for my character, not my clothes.
Complex: What about your own style icons?
Fraser: You know I really like 2Chainz. He's interesting. He doesn't go over the top, but he's also not too simple. He's like right there in the middle, and he keeps it interesting. I like his vibe and I like his style. And he's taller too, so I like to compare it to him.
Complex: Assuming you've watching the NBA draft, you see some of the outfits these guys are wearing when they get their names called. Do you ever think about what you would rock in that situation?
Fraser: Yeah man, I like suits – fitted suits. That's the kind of situation where I'd probably hop out there just a little bit. Like a navy blue suit – that I would rock for sure. And with something like that, I would do a bowtie.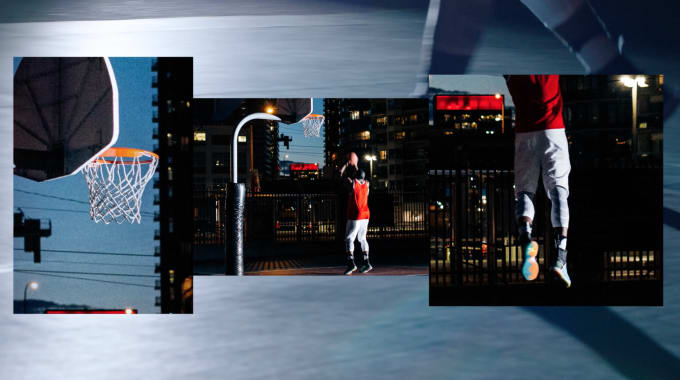 Complex: Travelling to games, do you have a dress code?
Fraser: It depends what kind of team you're with. Some teams really don't care, some teams are really strict about it, whether it's like "we need our logo, a collared shirt…" I've been on one team where we would only wear tailor made suits. Some guys will wear sweat suits as long as the logo's on these. It just depends on the team. I'd rather come in looking comfortable. Like, coming in looking fresh to a game like I'm about to go out, honestly, I feel like it's a waste of an outfit. But that's just me.
Complex: Are you a sneaker guy?
Fraser: Yeah, I am. I have a lot of Jordan's but I can't say just Jordan's. I would also say Kobe 10's. It started with the high top… to protect the ankles. Then, when I put them on, they're comfortable, they expand, they hold your feet, they're light and they have style to them.
When it comes to me and sneakers, I'll go to extremes to get them.  For example, I have a friend who's really into sneakers, so I book time to go and get them from him.  I book a date. Because if I don't, he'll let them go. Most people might think that's crazy…I've calmed down a lot. But if you go and walk in my house right now, it's just sneakers everywhere.
Complex: You've had the opportunity to travel the globe, but with Canada celebrating 150 this year, we have to ask… what do you love most about Canada?
Fraser: The openness of the people. Other countries say they are, but they're really not, or you think it is, but it's really not. It's really only Canada and maybe… a place like Sweden. Or Amsterdam is open too. But Canada, for me, has everything.