Steve Nash's final game as an NBA player came on April 8, 2014. It was one of just 15 he played in the 2013-14 season, a season that was derailed by a series of injuries. But just because Nash's time was up in one sport didn't mean he was retiring to the rocking chair. Not quite yet.
Ten years ago, Nash put on the inaugural Steve Nash Foundation Showdown, a soccer match on a Chinatown, NYC field putting NBA players—including Nash himself—out there with international soccer stars including the likes of Thierry Henry, then just 29 and on his way to Barcelona. Proceeds benefited the Steve Nash Foundation's programs for underserved children. Curious crowds gathered to watch some of the biggest athletes in the world compete on the pitch.
Ten years later, the Steve Nash Foundation Showdown has moved uptown—just a bit, to Sara D. Roosevelt Park in the Lower East Side—but other than that remains more or less the same. And at 43, Nash is still out there playing at a high level, showing that, if he wanted, he probably could have pursued a professional career in another sport. "I think he's one of the best football players who didn't make it a career," says former Arsenal midfielder and current NYCFC head coach Patrick Vieira. "Every time that we play this game he's enjoying himself and having a good time."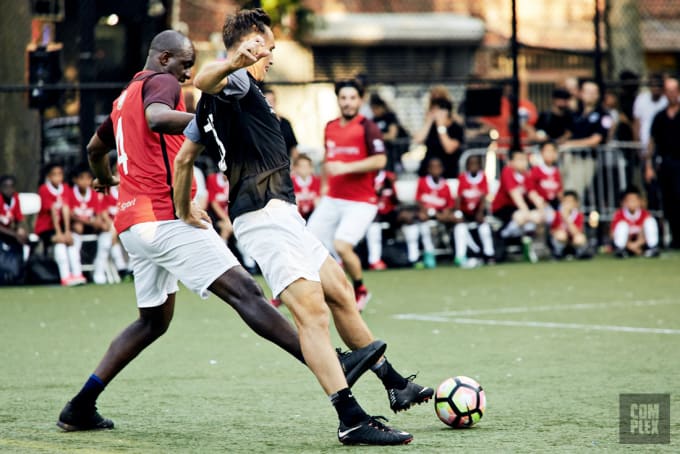 Vieira, who scored a goal and dominated the midfield, was named MVP of the match, a 6-5 barn burner that featured a Nash goal and a brace from Canadian National Team member Dwayne De Rosario. Nash's black team lost, but he was the only NBA player to actually score a goal. He was joined on the pitch by Nets Rondae Hollis-Jefferson and Jeremy Lin (as well as coach Kenny Atkinson), Heat guard Josh Richardson and Knicks guard Sasha Vujacic. 
However, the early-arriving crowd was treated to a prodigious pre-game shooting and goalkeeping display by 7'2" Sixers center Joel Embiid, who played soccer growing up in Cameroon until he reached 6'10". Since no horrified Sixers brass ran out to stop him, Embiid fired shots until one of his Yeezys flew off and over a fence. Fortunately it was returned, saving him from a likely futile effort of having to find an equally enormous replacement. At halftime, he joined Nash in shooting for charity. And, along with free agent J.J. Redick, he served as an honorary coach. For all of this, Embiid received the 2017 Spirit of Showdown award from Tag Heuer, the first NBA player to receive the honor.
Before the match, we sat down with Nash to talk about the history of the Showdown, how it all comes together every year (doormen are the real MVP), and the future of soccer in North America.
This interview has been edited and condensed.
This is your 10th annual Showdown. When you started it, did you see it going this long?
I mean, you hope, but especially in New York it's hard to do something—when there's so many options—10 years in a row. So we're proud it's gone on this long. It's been my Super Bowl, it benefits kids, and it's something that people in this neighborhood can walk up to and watch for free and see people that they only see on TV. So it's kind of an everyone-wins-including-myself type of event.
More importantly you're still playing after 10 years—did you see yourself playing this long?
That's a good question—I think when it started, I probably thought yeah, of course, I'm gonna play forever, but now you realize you probably won't. So I feel pretty lucky, you never know when you're gonna pull up lame in one of these things or when you're not gonna be able to do it. There's been years when I've been a box of cornflakes but I still played, but now it doesn't matter.
As this has gone on, have more people expressed interest in playing?
Yeah, a lot of people have heard about it and wanted to play in it through the years. We've kept it a community event, we haven't really exploited TV or going to a bigger venue or any of that stuff because I think it's a special atmosphere and a unique event. We don't have a big budget and there are some overheads, so we can't fly anyone in. Part of the reason we designed it this way [and play] the night before the draft is so we can pick up some NBA guys. European soccer players like to come to New York for anonymity on vacation. I got to know a bunch of the doormen at clubs through the years and promoters, so, "who's in town?"—that's kind of been the model. We've gotten a lot of unbelievable international stars that way. Some years it's been touch-and-go where we had enough guys, but every year it comes together and that's down to New York being what it is.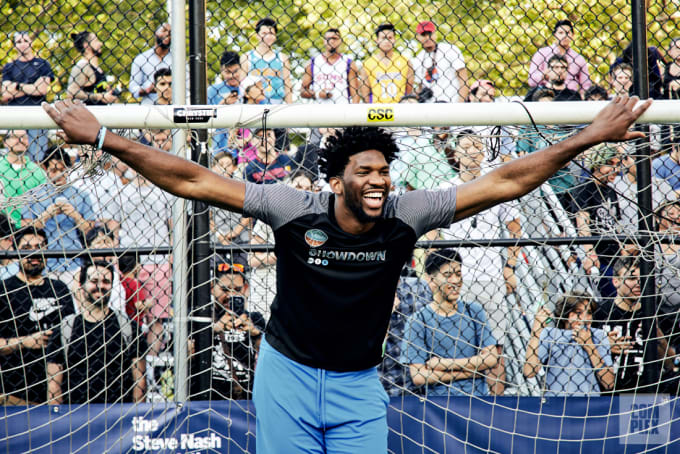 Do you consider yourself the GM of this as well as a player and a founder?
It's by committee—the other guys that founded it with me, they do a lot of the work. Then we just rely on friends and contacts, and like I said, promoters and doormen and the like to tell us who's around. Like I heard today Franck Ribery's in town; he won't play, but he's coming. That was just someone told me he was in town, or I saw a picture on Instagram, I texted three people and they texted me back, and they said, "Yeah' he's coming, but he can't play." That's the type of event it is, and it makes it fun for the fans, you never really know.
Has there been anyone over these past 10 years who you've walked out with and said, "I can't believe I'm getting to kick around with this guy"?
Yeah, I mean for sure. Like Giuseppe Rossi from New Jersey, he's unbelievable, just to play with him is off the charts, Solomon Kalou, unbelivable. The first year—Thierry's played a few years, but Thierry Henry is on a totally different level. The first year we had Steve McMenamin and Robbie Fowler, and Fowler, he chipped the keeper—these goals aren't even head-high I don't think—he chipped the keeper from like nine yards out. I don't know how that's possible, just someone born to finish. There's been all these moments through the years, you see all these great players, and you've definitely had a few where it's "holy shit, I can't believe that just happened at our little game in the park."
I was talking to Shaq about his rap records, and he said "I don't consider myself a rapper but it was a way to be on records with people I respected"—is this a similar thing?
Yeah, I guess luckily it's not on wax—my mixtape isn't out there—but it is in a way. It's like my Cup final, my World Cup, it's always fun.
How has it been watching the MLS grow—you've been doing this for half of the MLS's existence. As a European soccer fan have you grown to appreciate it more?
Sure. And it's not a secret, but being a part owner of the Vancouver team it's been amazing to watch the league grow. I remember when I was in college, getting a soccer score on the ticker, you never thought that would ever happen. Now you can watch almost every game you would ever want to watch—every Premier League game, every Real Madrid, Barcelona, Bayern Munich game, Italian football, you can get South American football, Mexican football, whatever. The amount of football you can see in this country is unbelievable compared to where we were 20, 25 years ago. And I think that's a factor in the MLS's growth. There's 21 million kids playing, there's a huge immigrant population, there's a huge Latino population in this country—that are all, for the most part, soccer fans—there's slowly a convergence of the MLS getting better and them becoming MLS fans as well, maybe slower than some people would like, but you have to remember it's a baby. The English Premier League, my club, Tottenham Hotspur, is over 100 years old. So how do you compare a 20-year-old league where players are older than their club? It's a process. I think when you take that kind of 30,000-foot view the growth is remarkable, it's headed in the right direction, our kids are getting better—now we have a [Christian] Pulisic, soon we'll have two of them—on all fronts it's getting better. And that viewership and that fandom is gonna come because there are millions of soccer fans in the United States, we just need them to become MLS fans before too long.
What will it take for that next Pulisic to stay?
I think it's a critical mass. There's no point in him staying now, those type of kids I still think they need to go. There might be some kids where it's better for them to stay, for their personality their culture, whatever, but if a kid's willing and he can go to a top-flight team and play, he has to go. And the MLS knows that, it's just a matter of getting enough of those kids in 300 million people—it doesn't have to be one. Just keep developing and let's make it dozens—at least dozens—who can go and a handful like Christian. I know that's easier said than done, but one is one. And before you know it it'll be two. And that's how things work.
After working with the Warriors this year, what do you want to do moving forward?
The Warriors is a perfect situation for me. One, I'm close to the coaching staff, love 'em, unbelievable playing staff. The organization top to bottom is a pleasure to be a part of, but I also want to be home raising my kids, take 'em to school, pick 'em up. So I can still pop up to the Warriors a few days a month, stay in touch, mentor a little, coach a little, be a sounding board, be in touch with the game and still be home. It's a perfect world for me at this stage.