Do you remember when hockey was fun to watch? When you could spot Gordy Howe jerseys on kids from the suburbs and the inner cities? When Wayne Gretzky was the greatest athlete on Earth next to Michael Jordan? When people actually tuned into NHL All-Star Skills challenges just to watch Sergei Fedorov skate like a bat outta hell across the ice?
How about when children all over the world begged their parents to watch Emilio Estevez wrangle a bunch of adorable misfits into a functional hockey team? Do you remember that shit? DO YOU?! Probably not. But if you do, that was hockey's Golden Age—a time when the NHL legitimately challenged the NBA and MLB for casual viewership.
Somewhere along the way between then and now, the NHL stopped being fun. The game's most intriguing stars grew old and retired. Players from the United States became increasingly more rare, with younger, more skilled replacements coming from north of the border and countries that end in "ia."
To make matters worse, the big wigs in charge of grown men skating on ice sought to fix its declining fan base in the absolute worse ways possible. First, there was an ill-advised lockout that canceled the entire 2004-05 season. Then came asinine rule changes to increase scoring that ultimately backfired and led to over-inflated stat lines. Then the horrendous decision to play games outside during freezing cold temperatures in oversized stadiums.
From a talent perspective, the NHL is as ripe as ever. The puck moves faster. Players are more dynamic. Goalies are more acrobatic. The game has become more skillful than the brute fight club that it's perpetuated to be. (Although there's still a good amount of fighting; those are better too.)
But even as the product on the ice has improved over the years, it hasn't exactly translated to sold-out arenas, television ratings or merchandise sales. Despite considerable expansion—the Las Vegas Knights debut next season—the NHL has failed to substantially increase its fan base.
The Atlanta Thrashers relocated to Winnipeg because they couldn't even give away tickets. The Ottawa Senators haven't been able to consistently sell out their own arena for home games during the playoffs. The playoffs! Let that sink in for a bit.
Hell, the LA Kings have won Stanley Cups since 2012 and some local news stations still don't know that Los Angeles has a professional hockey team.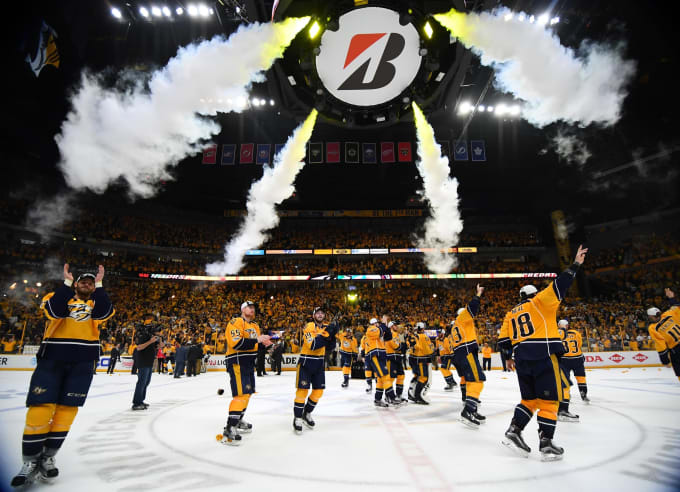 But that's about to change. The Nashville Predators are in the Stanley Cup Finals for the first time in franchise history and have all the makings of a team that you want to fall in love with.
The Preds boast a depth of offensive firepower, a staunch defense and solid goaltending. Their logo is awesome. Plus, they employ players that you might actually care about.
Nashville is led by Ryan Johansen, a smooth Canadian with a knack for finding the net, who likes to engage in some Grade-A trash-talking. Sadly, he's sidelined the rest of the playoffs, but you still need to know who he is. Filip Forsberg and Viktor Arvidsson are expected to carry the torch offensively in Johansen's absence. They have the same stick-handling abilities with less trash talk, but they're just as awesome to watch. 
Then there's Nashville's netminder, some old guy named Pekka Rinne who stops everything. He shut out a potent Chicago Blackhawks squad twice during an opening round sweep. (You've heard of the Blackhawks, right?)
But the spotlight belongs to P.K. Subban. He's the Preds' anchor; a versatile defenseman who's feisty and flashy. He's capable of scoring from anywhere on the ice, setting up teammates for quality shots and shutting down opposing teams' offensive weapons. He dances during pregame routines. He compliments journalists and play-by-play announcers. He's the type of guy who would probably help you move into a new apartment and buy drinks afterward.
He's as charismatic a personality as there is in professional sports, and he's got some hardware to his name. (He won the James Norris Memorial Trophy, awarded to the league's most outstanding defenseman, in 2012.)
Plus, Subban is one of the few black players in the NHL. If you're one of those people who claim you don't see color, stop it. African-Americans who find success in predominantly white sports frequently create buzz and intrigue. Whether it's admiration from those who share their pigment or haters who can't find anything better to do with their lives, people tune in and buy stuff when black folks are dominating sports that they're seemingly not supposed to dominate. See: Tiger Woods, Venus & Serena Williams.
If you're still not convinced that you'll love the Preds, I implore you to watch a game and marvel at how excited their fan base gets. Whenever Music City's darlings take the ice Bridgestone Arena is lit. It's infectious and exhilarating. Even Titans QB Marcus Mariota is out here waving rally towels.
The Predators are the NHL's most interesting team. Yes, their moniker isn't desirable, especially since NBC decided to dedicate an hourlong show to nabbing unsuspecting pedophiles. But who cares. They're good as heck, fun to watch and have players you'll actually like, which makes them easy to root for—and just might make you care about the NHL.