There comes a crossroads in every sport where a single play or moment transforms everything that comes after. The ripples affect everything. Sometimes they are more like a tsunami, and an entire sport is restructured. That's what occurred when LeBron James casually tripped Draymond Green and then stepped over him in Game 4 of the 2016 NBA Finals, provoking an emotional Green to whip his right hand at James' groin in retaliation.
Because of Draymond's series of kicks to Steven Adams' baby-making area in the Western Conference Finals, and a tremendously stupid takedown of Michael Beasley in the waning moments in Game 3 of Golden State's first-round series against Houston, he was assessed a Flagrant 1 for the James retaliation, which triggered a suspension for Game 5 of the Finals.
The NBA would never be the same.
It's not crazy to suggest that if Draymond had been on the floor in Game 5, the Warriors would have gone on to win the game and the series. The fall-out from the suspension and the fact—here we go—the Cavs came back from 3-1 down against a 73-win Warriors team and the first-ever unanimous MVP to claim the title, transforms Green's suspension into a gigantic boulder dropped in the NBA Lake with concentric tidal waves crashing into the surrounding shore and changing the entire landscape of the league. What would have happened if he wasn't suspended?
For starters, the Cavs don't win the title and blow up their core nucleus.
The 2017 Voltron in the Bay doesn't ever form if Draymond Green isn't suspended for Game 5, and the NBA is a completely different place. For that reason alone, Green's groin thwack will reverberate throughout history.
A second-straight loss in the Finals to the same Warriors team likely means a monumental change. Cleveland general manager David Griffin had already shown midway through the 2015-16 season he had no qualms making big moves, replacing coach David Blatt with lead assistant Tyronn Lue despite the fact the Cavs had the best record in the Eastern Conference at the time.
The Kevin Love trade whispers would have ratcheted up into a piercing howl and he's likely not playing for the Cavaliers in 2016-17. Whoever he's traded to, lets say Boston, is then missing whomever they gave up to get him; in Boston's case, their 2017 draft pick and some other players to a third team who then sends their star to the Cavs. (Remember, LeBron isn't waiting around for some rookie, even the No. 1 pick—like when Andrew Wiggins was traded for Love the fall after James arrived in Cleveland.)
Maybe Kyrie Irving—LeBron's current mentee—gets dealt, and the Cavs bring in a pass-first point guard, the same playmaker LeBron groused about not having earlier this year.
Lue isn't brought back as coach. Remember, in late July of 2016 Lue signed a five-year, $35 million (fifth year is team option) extension to remain Cleveland's head coach.
LeBron still opts out of his contract, but signs another two-year deal, explicitly putting more pressure on Cavs brass to give him the players he needs to really compete—luxury tax be damned—with a Warriors juggernaut who just won back-to-back titles and an NBA-record 73 regular-season games.
James also falls to 2-5 in the NBA Finals, and doesn't leapfrog all-time greats Magic Johnson, Tim Duncan, Larry Bird, and Kobe Bryant like many felt he did after his historic comeback win over the Warriors. The Michal Jordan comparisons never really gain serious traction. People continue to say dumb things about James inability in the "clutch." Some in Cleveland start to wonder if James will ever win a ring in Cleveland, and we spend most of the 2016-17 season wondering about his future with the Cavs.
J.R. Smith signs elsewhere in the summer of 2017 for substantially less money. Smith stupidly opted out to be an unrestricted free agent in the summer of 2015, but no one really wanted him. He then re-signed with Cleveland to a paltry-by-comparison two-year deal for $10.4 million with a player option for second year. He opted out again after winning the title and re-signed a four-year, $57-million deal in mid October of 2016. That doesn't happen if Green isn't suspended.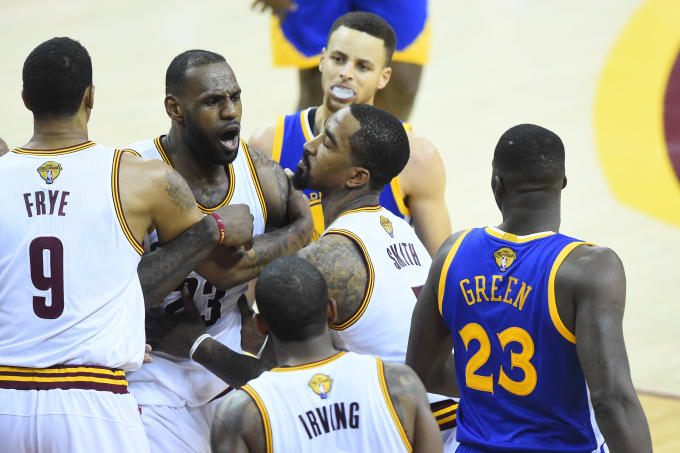 Perhaps the most important Cavs consequence after Green's suspension: Matthew Dellavedova likely doesn't get his own signature sneaker.
The biggest changes happen on the Golden State side, though, and those reverberations are felt throughout the league.
Draymond Green likely wins Finals MVP or—depending on how Game 5 goes—Stephen Curry does, cementing his status as an all-time great. Instead, many feel he's an overrated two-time MVP who can't hack it on the biggest stage. If Draymond wins MVP, he instantly becomes an all-time great, too. But, he probably still gets arrested over the summer for punching a Michigan State wide receiver.
Kevin Durant never goes to Golden State. He admitted as much in a Rolling Stone cover story that came out the fall after his shocking free agency announcement:
That means KD's likely back with Russell Westbrook in Oklahoma City, and Russ doesn't average a triple-double over the entirety of the 2016-17 season. Because of this, James Harden becomes the de facto 2017 MVP front-runner after teaming with Mike D'Antoni to bring seven seconds or less to Texas.
Affecting the 2017 MVP is one thing, but Durant's decision to join the Warriors had much bigger ramifications. Super teams have been around in the NBA since Red Auerbach was chomping on a cigar and hoodwinking rival executives in smoke-filled back rooms, but nothing resembling the 2017 Warriors, who have two MVPs in their prime; a Defensive Player of the Year threat every season and perhaps the best defender in the space-and-pace era, and maybe the best two-way off-guard in the entire league, who is only their fourth-best player.
The 2017 Voltron in the Bay doesn't ever form if Draymond Green isn't suspended for Game 5, and the NBA is a completely different place. For that reason alone, Green's groin thwack will reverberate throughout history as one of the biggest watershed moments in NBA history.