Andre Ward's gym isn't flashy but it's functional, which is appropriate considering that could easily describe the light heavyweight champion of the world in the ring. 
Tucked into a commercial park in Hayward, California, just outside his native Oakland, this is the spot where Ward continues to push himself to reach some of the loftiest levels of boxing, like earning consideration as one of the best pound-for-pound boxers in the world and almost assuredly a future Hall of Famer. And just a couple of weeks removed from his highly anticipated rematch with Sergey Kovalev, going down in Las Vegas Saturday, June 17 and airing on HBO PPV, the only thing running hotter than his temper when he starts talking about Kovalev is the space heater he turned on during a special training session 15 days before the fight. 
The anger, or more accurately disdain, toward Kovalev stems in part from the native Russian's insistence that he was robbed of his belts last November when three American judges narrowly scored a close fight in Ward's favor. That and the numerous verbal jabs he's thrown Ward's way leading up to the rematch. 
"You have to find reasons to get motivated, to get up in the morning and put your body through what we put our bodies through," says Ward. "I have many great motivations to keep going, but when a person talks and says certain things like he says, you've got to take note of it and you've got to use it on fight night."
We caught up with Ward, first on the phone back in May and then in California between Games 1 and 2 of the NBA Finals, to talk all things Ward-Kovalev II, including why he's never felt such contempt for an opponent like Kovalev before, how he expects the rematch to play out, and whether he'll be able to finally coax Michael Jordan ringside for one of his fights. 
(This interview has been edited and condensed for clarity.)
Immediately after the first fight back in November when we talked you were very honest about how you didn't get what you expected out of Kovalev. So I'm curious if you learned anything new from watching the tape again?
As far as in the ring, everything was consistent with how I felt right after the fight. When I get done with a fight, obviously you can go back and watch film and you'll see a few things that maybe you didn't catch or remember. But for the most part, the flow of the fight, how it went down is the exact same way that I feel about it right now. The only thing I've noticed about him that's different since the fight ended is just the lack of mental toughness that this guy has. With all the excuse making and all the things he's been saying since the last fight, those are some deeper issues. That's a weakness I didn't know he had. 
So how do you exploit that?
You keep smashing on the gas. You pick up where I felt off. It's that simple. This guy has a bully mentality. He has a façade and this reputation, and we cracked that reputation in that fight. He didn't do what he said he was going to do. In this fight, it's got to be a continuation of what happened in the second half of the fight. 
"You're going to see some clowning, you're going to see a lot of tenacity, and you're going to see a lot of everything in this fight. that's what I bring in a lot of my fights, and I didn't bring it out enough in the first fight."
So the strategy of this fight doesn't really change, it's just a continuation of what was successful in the second half?
I mean, there's going to be some adjustments. It's not that easy to say keep it as it is. I have to make adjustments and I have to be better and I will be better. I'm just going to take it to another level. People are going to see lot of the same stuff but just a different flare, a different energy about this fight from my end. 
Is picking up the pace early on in the fight something we may see from you? It's going to be a strong pace, which I know he doesn't want. I'm going to have fun in this fight. You're going to see some clowning, you're going to see a lot of tenacity, and you're going to see a lot of everything in this fight. That's what I bring in a lot of my fights, and I didn't bring it out enough in the first fight. If you're going to get me, you're going to get me being me—one hundred percent Andre Ward.
Do the hard feelings heading into this fight encourage you to show more personality?
To be honest with you, it's hard to explain from my standpoint. I don't like a lot of the things this guy stands for, I don't respect it, and I don't condone it. I don't know if it's an animosity. It's just a disdain for him. I think that's going to contribute to a different type of performance. I've been boxing long enough if I see you one time fight in person or if see you on tape, I pick up certain things. But if I fight you, then I have a whole different database now. I have a lot of data on this guy after going 12 rounds with him. 
Do you remember ever having this much disdain for a fighter before a fight?
You could probably throw out Carl Froch, who is maybe somebody similar. He's probably the closest comparison from a disdain standpoint. 
What do you have to prove in this fight? Do you have to quiet a lot of haters who were critical of that win?
Nope. Not at all. There have been naysayers my whole career. If I shut him down over 12 rounds there would be naysayers. They finally got a fight that was close and they thought this could be the one to get him and it didn't. So that made them mad. When I make a certain amount of money they get mad at that. I've stopped trying to prove naysayers wrong years ago. I'm immune to it. To be honest with you, I don't even use that as motivation anymore. That's not even part of the equation anymore because you're not going to change that. It's one thing for someone to critique you. But you've got chronic haters, chronic naysayers whose job in the boxing game is to do this year round. And I'm not interested in changing their mind. I'm not putting no energy toward it. I'm interested in proving the people who have been riding with me and supporting me right.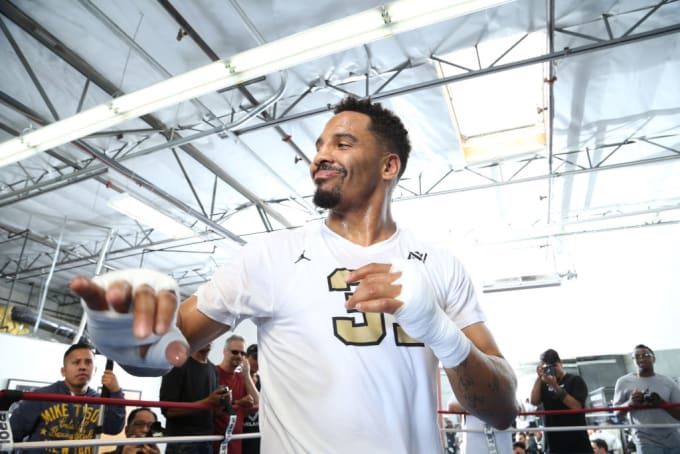 What's the main motivation for this one? You've talked to me about your legacy being so important. But is there another motivating factor that hasn't been touched upon?
I mean, me not having the motivation to prove haters or naysayers wrong doesn't mean my motivation for this fight isn't to have a victory to the point where there's nothing that can be said about it. That's definitely a motivation. To silence any questions that may be out there about the first fight. But really just silencing Kovalev and make him close his mouth. He's made a lot of comments, some with racial overtones, said some disrespectful things toward women and for whatever reason the media has given him a pass on it, and I don't think that attitude is good for our sport. And he needs to be taught a lesson for saying the some of the things he's been saying. 
Did you really come close to retiring after the first fight or was that just some posturing?
I don't posture. I meant what I said. I had several great meetings with my team at Roc Nation and we all collectively decided there's a lot left in the tank and it was an opportunity we didn't want to pass up. So once I made a decision to go, retirement isn't even something I'm thinking about. 
So how many more fights do you think you have left in you?
That's hard to say, man. In this business, you have to take it a fight at a time and reassess. 
It's safe to say you're done with Kovalev after this fight?
I'm not interested in a trilogy, and it's my job to make sure there's not talk of trilogy. I'm trying to close the door completely with this victory and this performance on June 17th. A guy like this, you've got to let him know what time it is. He's going to kick and claw and fight and do his thing. But he's given me way, way too much ammunition and fuel. He's talked about a lot of things that's not going to rattle me the way he thinks it would rattle me. I'm just going to internalize it and use it as fuel and he's going to have to answer for it. 
You're a Jordan Brand guy. Any chance you can coax Jordan to be ringside? Basketball season is over with so his schedule should be wide open.
We're definitely trying to get him. It's just a matter of him carving out his schedule. He's a big boxing fan. Obviously he wants to support one of his own.