If you're a currently unemployed (or unhappy) journalist looking for a new job, you may want to forward your resume to the Denver Post, because they're probably looking for a new sportswriter after canning the formerly employed Terry Frei for this poorly thought-out tweet about Indy 500 winner Takuma Sato: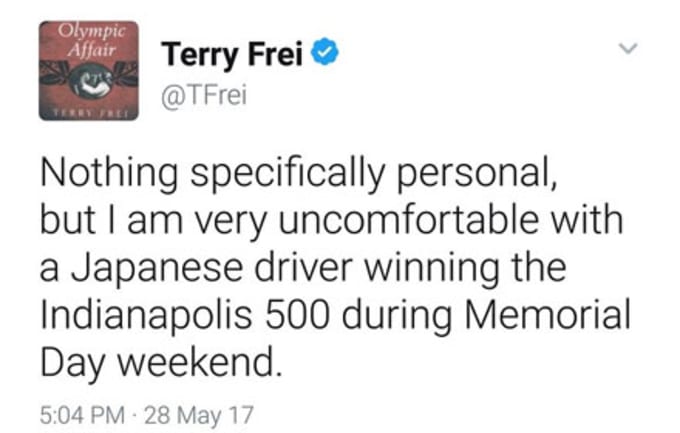 After staying up for more than an hour, the tweet caused enough blowback to get deleted. After dealing with thousands of angry replies, Frei sent out this very succinct follow-up:
Then, a little over three hours after that, he sent out this much longer explanation which he edited to take out a plug for one of his books:
Unfortunately for Frei, no tweet afterward could save his job. The Denver Post sent out a statement apologizing for him, and saying that his discomfort wasn't representative of their company:
On Monday they also made a public announcement that they had fired him:
Before he was hired by the Post, Frei worked for ESPN. During his career, he says he has won seven state sportswriter of the year awards, including three while he was in Oregon, and four while he was in Colorado.