A familiar scene played out inside TD Garden in Boston on Wednesday night. LeBron James and the Cavaliers came to town and crushed the Celtics in a playoff game. LeBron scored 38 points, grabbed 9 rebounds, dished out 7 assists, and put Isaiah Thomas on a poster en route to an easy 117-104 Cleveland victory in Game 1 of the Eastern Conference Finals.
And after the game, LeBron revealed that he was able to have his way with the Celtics despite not feeling his best:
"It was definitely a feel it out game," he said. "We kinda know what they wanna get to, they kinda know what we wanna get to. After 10 days off, I didn't feel that great, but I know I'll feel a lot better going into Game 2. I'm looking forward to that challenge."
That should be a scary thought for all of the Celtics fans out there, but is it really all that unexpected? LeBron seems to play with an edge—even more of an edge than he plays with under normal conditions—when he matches up with Boston, and it might be because of what happened in a playoff matchup way back in 2010.
Heading into the 2010 NBA Playoffs, LeBron and the Cavaliers were the 1-seed after winning an NBA-best 61 games during the regular season. They were one year removed from unexpectedly losing to the Magic in the 2009 Eastern Conference Finals and two years removed from losing to Paul Pierce, Kevin Garnett, and Ray Allen in the 2008 NBA Playoffs, the year Boston went on to win the NBA title. And the thought was that 2010 was finally going to be the year the Cavaliers would break through and make it to the NBA Finals.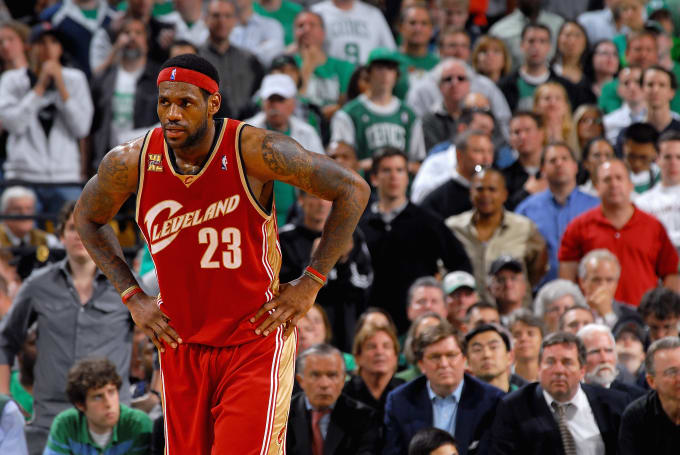 After cruising through a first-round matchup against the Bulls, the Cavaliers were set to face off against the Celtics in the second round. The Celtics still had Pierce, Garnett, and Allen on their team, but they were a 4-seed that year and were a few steps slower than they had been two years prior. The Cavaliers weren't necessarily as loaded as their 61-win record might suggest—their best players outside of LeBron were Mo Williams, Antawn Jamison, and a past-his-prime Shaquille O'Neal—but that didn't stop just about everyone from picking them to win the series.
Unfortunately for LeBron, it didn't work out that way. The Cavaliers won Game 1 to jump out to a 1-0 series lead and blew Boston out by almost 30 in Game 3 to make it 2-1 after falling in Game 2. But the Celtics rebounded to win Games 4, 5, and 6 in the series to advance to the Eastern Conference Finals to play the Magic. It ended the Cavaliers' dream season—and later ended LeBron's tenure in Cleveland. Within two months, he was giving the world his "Decision" and letting everyone know that he was taking his talents to Miami to play for the Heat.
cxaHc0YTE6F7ec4AOWJPbNV02IB4I6-D
But it doesn't feel like he ever forgot about that 2010 series. It may have been because Cavaliers owner Dan Gilbert accused him of quitting on the team against the Celtics. "He quit," Gilbert said. "Not just in Game 5, but in Games 2, 4, and 6. Watch the tape. The Boston series was unlike anything in the history of sports for a superstar."
It also may have been because many NBA fans pointed to that series as evidence of LeBron not being able to win on the biggest stage without the help of fellow superstars. Or it may have been because he just didn't like the Celtics. You could argue that he would have made several NBA Finals appearances before leaving Cleveland if the Pierce/Garnett/Allen superteam was never put together. But whatever the case, the feelings LeBron experienced after losing to Boston in 2010 seemed to linger.
LeBron later alluded to the series prior to the Cavaliers' playoff matchup against the Celtics in 2015. While all of the players and coaches on the Celtics team at that point were different than the players and coaches from 2010, LeBron admitted that he still thought about what happened in 2010.
"I thought that Boston team was prepared for us, was ready for us," he said. "They beat us that series, and it stuck with me a lot."
LeBron also seemed to elevate his game whenever his teams played against the Celtics in the years that followed the 2010 season. After losing the first three regular-season games he played against the Celtics after joining the Heat, he played an integral role in Miami's 4-1 series win over the Celtics in the second round of the 2011 NBA Playoffs, averaging 28.0 points, 8.2 rebounds, and 3.6 assists.
LeBron improved upon those numbers the following season when he averaged 33.6 points, 10.0 rebounds, and 4.0 assists during the Heat's 4-3 series win over the Celtics in the Eastern Conference Finals. After the season, he also helped poach Allen from the Celtics in a somewhat surprising move that still has a lot of the Celtics players feeling salty.
JtYXJxYTE6EmIc9ZNvUPborigF9H3s--
In his final two seasons in Miami, LeBron didn't face off against the Celtics in the postseason, but he did beat up on them in the regular season. He averaged 29.3 points, 7.5 rebounds, and 6.8 assists during the 2012-13 season and 27.0 points, 8.0 rebounds, and 7.0 assists during the 2013-14 season. And LeBron has continued to terrorize the Celtics and their fans since returning to Cleveland in 2014 to rejoin the Cavaliers.
Since coming back to Cleveland, LeBron is 12-3 against the Celtics over the last three seasons, including both the regular season and playoffs. He led the Cavaliers to a four-game sweep of the Celtics during the 2015 postseason, while averaging 27.0 points, 9.0 rebounds, and 6.0 assists, and his stats have gradually gotten even better against Boston since then.
In four regular-season games during the 2016-17 season, LeBron averaged nearly a triple-double with 29.3 points, 9.5 rebounds, and 9.8 assists per game, and as he showed in the first game of the Eastern Conference Finals, he looks like he's ready to carry his regular season performances over into the postseason. It means the Celtics are, as everyone expected, probably in big trouble.
5hYnQ0YjE6gqWPh8reOa_mQyb8r84uJz
Is the 2010 playoff series between the Cavaliers and Celtics the sole reason for all of this? Hardly. So much has happened in LeBron's career since that series took place, and we doubt he's still using a missed opportunity from almost a decade ago as his lone source of motivation. If he needs something to motivate him—he doesn't, but...—all he needs to do is turn on ESPN or pull up ESPN.com to find someone doubting him or the Cavaliers.
But we would bet LeBron doesn't ever want to feel the way he felt after the Cavaliers lost to the Celtics that year. So if it is still something that's on his mind when he plays against Boston, would you blame him?