Manchester, England, is known to the world for its rainy weather, music scene and football clubs, but this past Monday the northern city grabbed the world's attention for something it can't be proud of: a suicide bombing at an Ariana Grande concert that claimed the lives of 22 people and injured 59 others. Life hasn't moved on in Manchester, but its pride and joy, Manchester United, was slated to take the area's minds off the tragedy for 90 minutes Wednesday in the Europa League final against Dutch club Ajax. United would win, 2-0, but it was more than a result on the pitch.
"It's interesting because it was the most normal part of the past few days," says 31-year-old Jonny Mangas, who's a lifelong Manchester resident and Manchester United supporter. "Tuesday, it seemed irrelevant. Yesterday, I started thinking about the game. I was nervous, but it was a welcome break from everything that was happening."
Mangas, who didn't get to travel to Stockholm to watch the match, took in the 2-0 win from a local pub, and it was a much-needed break for him. He was playing squash on Monday at 10 p.m. when he checked his phone and realized what had happened. The scenes disturbed him so much that he stayed up until 5 a.m., when he finally put his phone down and slept a few hours before work. "There was a moment of silence before the match, and it meant a lot," Mangas says. "It took our minds off of everything, but we still can't get the pictures out of our heads. You walk through the city center and see the flowers. The match was a good feeling, though, because even lads from Liverpool and Manchester City wanted to see us win. It felt special."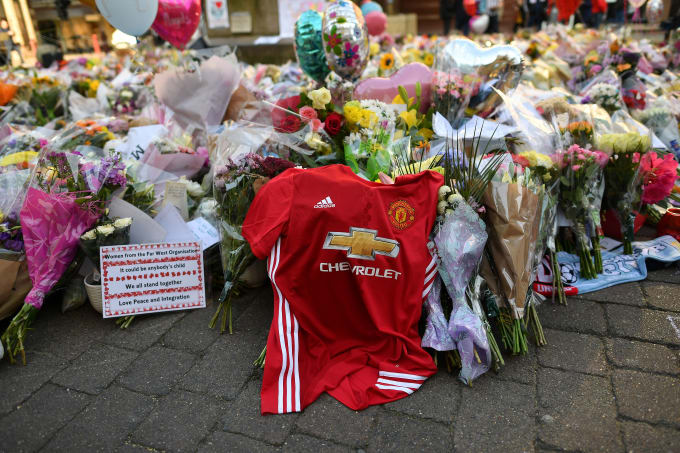 Football and music are what define Manchester, and Mangas is eager for a return to that state. "This isn't the Manchester I know," he says about the city after the attack. "We're desperate to get back to doing what we do."
The mood from Stockholm was a bit different. The fans came out in hordes, drinking in the streets and contributing to the carnival-like atmosphere that follows United on European away days, but something wasn't right. "I've been to a number of finals here and abroad, and it wasn't the same feeling of when United comes to town," says 48-year-old Steve Armstrong, who's been supporting Manchester United his whole life and has been running United We Stand, a fan publication, since 1989. "It was somber and people didn't know if the match-day frame of mind was appropriate yesterday. The atmosphere was very flat."
Once the match kicked off, things changed a bit for United supporters with heavy hearts. Their club finished sixth this season in the Premier League, and their only chance of making it to the Championship League next season was beating Ajax. Things were looking up for the club when Paul Pogba scored off a deflection in the 17th minute. "Once the game started, normal business resumed," Armstrong says. "Everyone got in the normal mindset of a match, and they were able to put things aside for 90 minutes." 
'this isn't a situation that only mattered to people in Britain. it's become a global issue.'
Mancunians tend to be private and suspicious of people trying to infiltrate their way of life, says Armstrong, and the press was showing up from all corners of the globe, knocking on people's doors, and trying to get stories without an understanding of Manchester.
"We're an inward-looking city that's proud of who we are and the way that we do things," says Armstrong. "But this isn't a situation, like the IRA bombing in 1996, that only mattered to people in Britain. It's become a global issue. We've felt overwhelmed, but we're not the type of city that likes to make a fuss. We're a no-nonsense type of city."
This also isn't the first time that Manchester United has had to deal with tragedy, as the Munich Air Disaster in 1958 claimed the lives of 23 people on a flight carrying the football club. The city's been able to overcome those odds, and it will be able to get past everything that's happened this week, too. It's just going to take time, and fans say football will play a role in getting back to the real Manchester. "It will be music and football that will help get back to their regular way of lives," Armstrong says.