It's hard to forget the Atlanta Falcons' performance in Super Bowl LI, but if there's truth to the saying that journey is the destination, then it's amazing how the Falcons' NFC championship-winning season led them to football's biggest stage. Pro Bowl receiver Julio Jones played a huge part in their season-long success, and now he's telling his story through the inspirational franchise called "The Moment." Julio is the latest athlete to join the Champs Sports/Under Armour collab, which previously featured Brandon Marshall and Dak Prescott.
But you can't amplify the Dirty Birds without Atlanta's biggest representatives right now: Migos. Hip-hop's hottest trio created a song especially for No. 11 and his story titled "11 Birds." In an exclusive interview with Complex (punctuated by signature Falcons bird calls), the Migos share their love for ATL and all its teams, discuss how they became champs in the rap game, and boldly predict that the Hawks will make it all the way to the NBA Finals.
Quavo, we know you played quarterback in high school, and we saw a video recently of you throwing a football through a basketball hoop. It looks like you still have that arm!
Quavo: Yeah, you seen that thang—hundred grand left hand. You know what I'm saying? Custo elbow. I told [Falcons owner] Arthur Blank to sign me.
What's your relationship like with the sports teams in Atlanta? Do you kick it with the players?
Offset: Naw man, we don't do no hanging out. We just say what's up. We all one, and we do it for the A, and we do it for the culture and our best player Julio on our squad, and that's it. Everybody works.
Speaking of Julio Jones, tell us how he inspired "11 Birds."
Migos: [Bird calls. It's definitely inspired by my boy Julio, you dig. It's some more of that culture on there. We are the culture, by the way. It's all about them birds! [Bird calls.]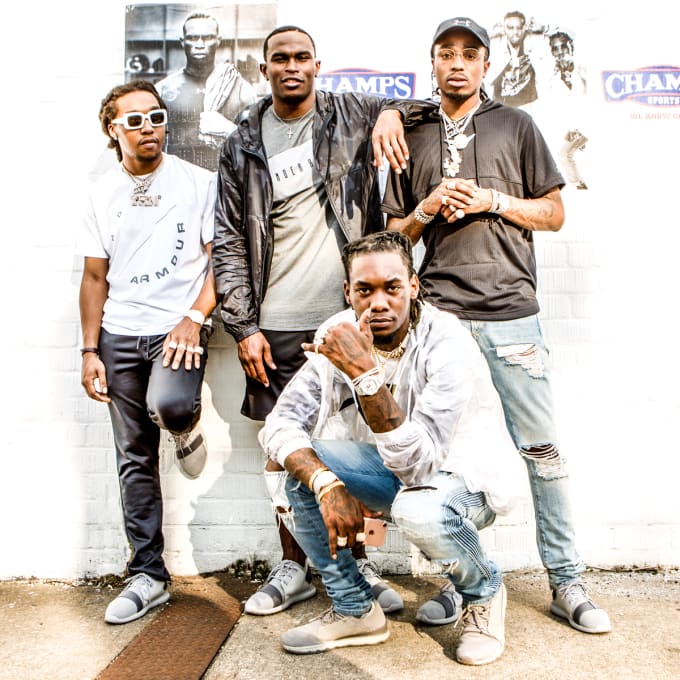 How did you decide to partner with Champs Sports and Under Armour for "The Moment"?
Quavo: Champs Sports been rocking with us since Day One. They put out our Yung Rich Nation clothing, they let me do something with Brandon Marshall, but right now, it's about Under Armour, Migos, and Julio Jones, and Complex, and about this culture, ya dig?
Takeoff: And what does Champs stand for? Champions. Gotta have that Under Armour on, it's only for the champs.
Since we're talking about champions, who do you like for NBA MVP?
Offset: Chef Curry. I like my boy Steph Curry, man. I call him Chef Curry 'cause he cooks. He a shooter. Dat way.
And you think he'll make it to the Finals?
Migos: Naw, Atlanta Hawks! Da Atlanta way! Dem Hawks. [Bird calls.] Da bird way.
OK, since you're rocking with the home teams, baseball season has started as well. How do you feel about the Braves? Have you thought about making walk-up music for some of the players?
Migos: There go them Braaaaves! I feel like we already made the songs for them to walk out to  'cause you know they always let us know they rep for that culture when they bout to go play  the game, warmup, practice—anything. But we gon do something specific, something special for the Braves. We already got one for them birds. [Bird calls.]
Finally, tell us about your journey as champions for the culture?
Migos: Championship teams, they always stick together and they always have great chemistry. They know how to pull it together, they know how to fall, they know how to work real hard to get to the top. I feel like, the only thing we did was just grinding, grinding, grinding all day long. Made sure we always put some music down, made sure we always stood out there and touched the fans and touched the people and made sure our music was the main priority, and made sure our fans came second. And now, we make sure our fans are first because without them we wouldn't be here.