Deshaun Watson certainly commanded the red carpet at the NFL Draft in Philadelphia as he stepped out in spiky Christian Louboutin slippers. But he earned those bad boys long before the Houston Texans snapped him up with the No. 12 pick. On the day before the biggest day of his life, the two-time Heisman Trophy finalist reflected on the milestones that led him to that moment.
As a game-changing quarterback, Watson is used to being in the eye of the storm. But as Complex linked up with him in the Procter & Gamble VIP Style Lounge while he was getting the finishing touches on his look, he was honest about the pressures of being a top prospect. He told us about the unlikely influences that kept him on the straight and narrow, and how the draft process—his biggest job interview ever—compared to the four previous gigs he had to hold down. And he explained the "memo" he wants to send with everything from his social media to his suit.
First of all, you said there would "be consequences" if Mitch Trubisky were drafted higher than you. What did you mean by that?
Right, well it wasn't anything bad or any diss or anything like that. Consequences just means, it could be good consequences, or it could be bad. I'm just saying "Hey, if that's who y'all want, if that's who y'all take, don't second guess it. And you gon' get the consequences that come behind it." Regardless if it's Mitch or if it's me, it's the same way—it could be bad or good. That's how I saw it. We're both competitors, we both support each other, we both want the best for each other, and we both feel like we're one of the top quarterbacks in the draft.
Did the projections that he'd be drafted higher make you feel underrated?
Not at all. 'Cause I know who I am and I know what I can do, and I know what I've done before, so that's people's opinions; if that's how they feel then that's how they feel. Regardless of the situation, I'm still gonna be me and do my thing.
Scrolling through your 'gram, it's clear that you're a hip-hop fan. Is Future on the pregame playlist?
I love hip-hop. He's one of my favorites. Probably if I had to pick, my favorite would be [YFN] Lucci. That's my boy. I guess I'm biased because I know him. [Laughs.] Lucci, Future, Young Thug, Lil Uzi, Drake, those are probably the top ones.
OK, since we're talking hip-hop, who are you going with if it's K.dot versus Big Sean?
Ooh shoot! I don't know. I'm gonna just stay in the middle.
Gonna stay neutral? OK, that's smart. So we're here in the Old Spice room. Right now is a special time as you start to build your brand. Why did you decide to align with Old Spice in particular?
I wear Old Spice, so I kinda thought it was a good relationship to build and try to prove on, and so we partnered up this week, and they're making sure I stay clean and fresh for the big day tomorrow.
Old Spice is known for having really quirky commercials. Are you comfortable with that; do you feel you have the personality for it?
[Laughs] I think I do. I don't come off like it at first, but once I'm comfortable, then I can do all that stuff.
I noticed on social media that you tend to sign your posts 815™. What's the story behind that?
815 is the neighborhood I was born and raised in, 815 Harrison Square is the exact name. It's in Gainesville, Georgia. It was just where I was raised, and everything just kinda started flowing. It was where I started playing football, really focusing on school, then also the struggles and adversity I went through that kind of helped me grow as a man and as a young boy, all started there.
It was a tough neighborhood?
One of the toughest in Gainesville, so it was a lot of struggling, but at the same time it was kind of the norm, so it's all I really knew.
Would you say sports is what kept you out of trouble?
I'd say so. Sports and then also, the older guys in the hood made sure I stayed out of trouble. Even though I was trying to look up to them, they saw greatness in me and they made sure I stayed on the right path.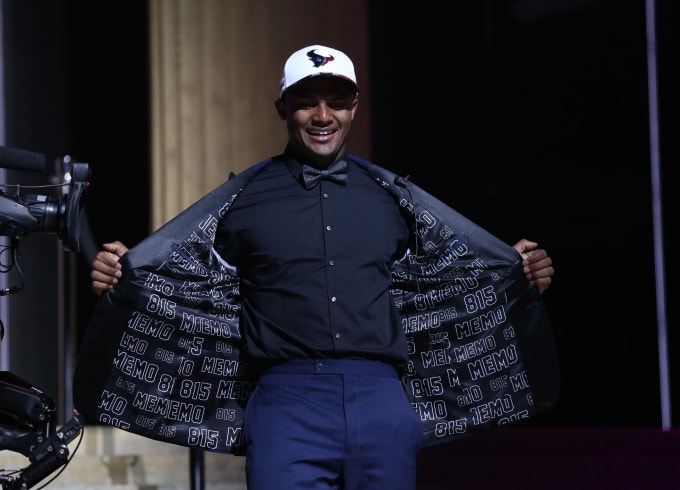 Another tag of yours is Memo™. Where does that come from?
Memo kind of started 'cause Young Thug came out with the song "Memo," and it was one of my favorite songs. I always said, "Hey, you get the memo?" So it's like saying make sure you get the memo. Actually, my suit tomorrow it has memo and 815 in the lining. So the suit—y'all get the memo.
On that note, what are your DMs looking like?
The DMs? [Laughs.] Uh, they're straight.
Is it going down?
Let's say I haven't checked them. [Laughs.]
All right, that's fair. You were raised in a Habitat for Humanity home and gave back to the organization throughout your collegiate career. Do you plan to continue to support them, and why is it important?
I think so, just because it made an impact in my life. Living in Harrison Square where we were before it was a struggle, a lot of different bad things going around. And then once I moved out of that environment and got to a more safe and more laid-back environment, it kind of changed my life and made me see life differently. Gave me hope, gave me dreams that I wanted to accomplish, and started a new way for our family.
Declaring for the draft puts you under so much scrutiny, not just your on-field performance but the way you carry yourself. What's been the most surprising or challenging part of the entire process?
The most challenging part is trying to work out and then travel at the same time. Trying to get your throws in, get in the weight room, do all that stuff, and also be able to hit the road, visit these teams, work out for these teams, and then also go to the draft, and then the next week start playing football again. It's not really the best thing, I think, but I guess that's how they've been doing it for a long time, so I think that's the hardest part.
Ideally you'd like to space some of this out?
Right, splitting it up, and have this month for just workouts or just like visits—I don't know, something.
Has any pro athlete—not just in football—reached out and shared any advice?
Floyd Mayweather, he gave me advice just to stay in your lane, never get satisfied, and learn more about the business; don't just learn about your sport, learn about the whole business because it's only going to last for so long. Really you're your own CEO, so you wanna be as productive and wealthy as you can while you can. A lot of athletes came through and gave similar advice: "Stay strong. Be you," just really encouraging me.
Have you ever had a "regular job"?
I have. Actually, I had four. I was a ball boy for the Atlanta Falcons, I was a tax assessor—this was all in high school—I was an account assistant at the courthouse, and then I was a real estate assistant.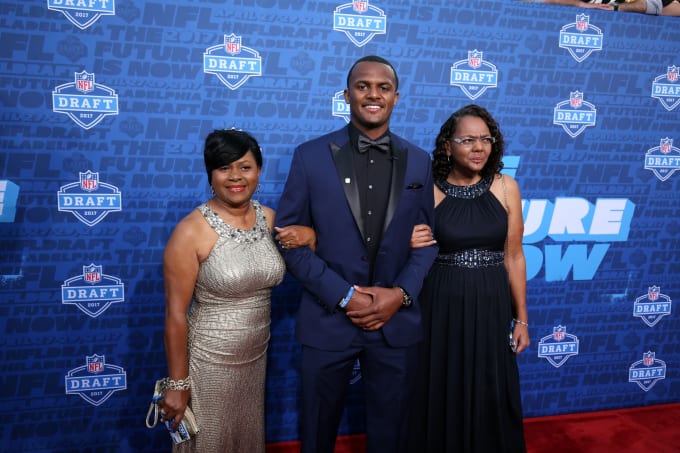 Why did you have four jobs?
Because I had to help my mom out because she went through her situation. She had cancer, so she was away a lot, she was out of work, so me and my older brother had to get some money to make sure food was on the table and make sure my little brother and little sister was straight.
That's amazing. How would you compare your first job interview to the combine?
Totally different. [Laughs.] I was comfortable at both, but the Combine is just more…I don't know the word…I don't want to say all over the place, but so much going on, so many eyes on you. A regular interview is just one on one; just be yourself and you can kill that, but the Combine you gotta be straight perfect.
Because they're grading you on so many different aspects—
Right, and you don't even know it.
Tell me more about this tax assessor business.
It was 10th and 11th grade in Hall County, Georgia. It wasn't me by myself. I was with a guy who'd worked there a long time. You know, I'd just ride around with him house to house to house and just kinda make sure their taxes were—he had some form of paperwork, but my job was easy, I just kinda showed up. I kinda watched and helped him out.
And the first one you said was ball boy. I'm sure that was very formative.
Yeah, it was fun. Falcons is literally 10 minutes from my house; they're like right there. Every training camp I'd work for them, be the ball boy for Matt Ryan, throw to the receivers, and I worked every home game. I started in ninth grade and I did it all the way until twelfth. It was real cool. They knew who I was, and they'd show love and support. 
Is there an experience that stands out?
Really the biggest is of course the games. Being on the sidelines and in the locker rooms for the games, I felt like I was a player. And then, just being able to throw to the receivers, getting to know Julio Jones and Roddy White.
And now they're going to be your colleagues—and competitors. I'm sure that's a cool feeling for you.
It is.