Throughout his NBA career, from his time as Pat Riley's assistant in New York, to the top jobs in New York and Houston, straight through his current gig as an ESPN analyst, Jeff Van Gundy has always spoken his mind. Longtime broadcast partners Mark Jackson and Mike Breen will no doubt tell you this, or you can find out by talking to the man himself. Ask a straightforward question; get a straightforward answer.
At this point in the NBA season, the topic du jour has been healthy players resting, something that didn't really pick up steam until Van Gundy moved from the bench to the booth. You might think that, as a former coach, he would have sympathy for the players. You would be wrong. So on a night where the Cavaliers take on the Celtics on ESPN with playoff seeding on the line, we talked to Van Gundy about resting players, the inevitability of a Warriors championship, and a former assistant of his getting a high-profile coaching gig of his own.
(This interview has been edited and condensed for clarity.)
Is it as difficult for you doing these late season games as it is to watch them?
Well, it's sad to say it depends on the interest levels of the teams trying to complete to win. To me it doesn't matter who's out there, NBA basketball is great—if teams are putting out their best players and they're competing to win. Anything less than that minimizes not only my interest levels but most fans' interest levels because what makes NBA basketball truly great is to see great competition between the best players that are available.
"I think that no one, if [Kevin] Durant is back, no one is challenging the Warriors. I just don't see it. I don't care who it is. The talent differential is just too great, in my opinion, if the Warriors are healthy."
Coming from coaching, do you see both sides of the resting argument?
No.
OK. Did anyone ever come to you and even look to rest late in the season?
Yeah! And I did it. Last game of the year, my last year with the Rockets, I sat [Tracy] McGrady, and it was as wrong then as it is wrong now. I think it comes down to this: It used to be accepted that everybody plays every game if they're healthy, and then it became accepted that you sit out in the last week or so, if your playoff position was solidified. Now it has morphed to sit out all year. As a fan, you truly don't know what you are buying a ticket for. I think all fans understand the disappointment of one of the best players sitting out due to injury, that's unavoidable. Sitting out when healthy, that is avoidable, and that really disregards and is a bait-and-switch tactic that I think some people are trying legitimize as being OK. Players and coaches alike, you sign up for 82 games. You get paid for 82. I think what we should do is reduce the number of games in the schedule so that if there truly is a health risk—it's interesting because some guys don't have to sit out, but some guys do, I don't really understand why that is—but let's just say it is a health issue, let's cut back on the number of games, so that if healthy we can comfortably tell our fans, if healthy, they will play. So if that's 70 games, 65 games, but just understand you're going to take a pay cut. But I think players should understand that, they're are all businessmen, they understand that you should get paid for the work you do and if you don't want to work, you shouldn't get paid. I think they understand that.
Have you ever heard or talked to Gregg Popovich about this, because he seems to be the one who started this?
He started the all-season rest, but like Pat Riley got fined for many moons ago when he was with the Lakers, and he went to Portland late in the season, and I don't think they took Magic and somebody else. No one cares, and this is not to diminish any player, but there's only like 20 people that the NBA markets and fans are buying tickets for, and they have an added responsibility. But no one cares about if you sit out, I'd say… Just choose a non-star, no one cares!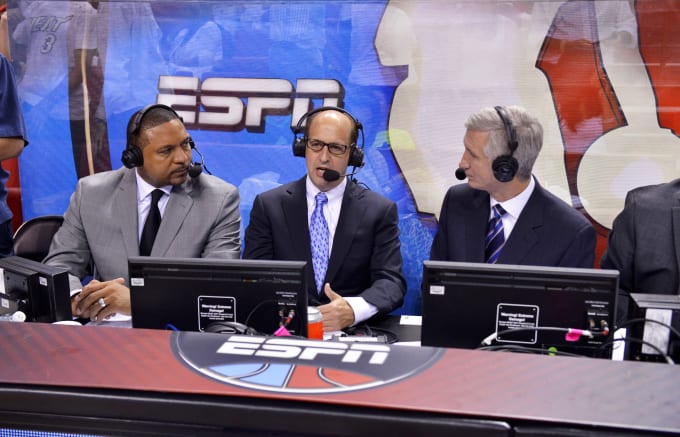 Like Matthew Dellavedova.
Right! No one cares! That's not to diminish Dellavedova's importance to the Bucks or his importance last year to the Cavs. It's not a diminishment, but those 20 should feel an added burden, and the league actually should institute different rules for those 20. They shouldn't be tied to the max salaries that the others are because they carry a different burden.
Since they have an added responsibility to the league, should they get an extra paycheck from the league?
No question! I don't care how they do it but they should not be tied—LeBron James making the max and someone else making the max is not right. At the same token, LeBron James has an added burden when healthy because that's why people buy tickets. That's why people turn on the TV. We throw around the cliche "partnership" and "partners" when it comes to fans and teams and league and broadcast entities, and it makes me chuckle that we say we are a partnership because to me a partnership equates equality and that you care as much about your partner's best interest as you do of your own. Then when I read quotes that we have to do "what's right for us" as an individual team it shows me that there's not a partnership. So the fans are always the ones to pay the price. There's two things: I understand their argument, and I guess you asked me before if I can see the other side. I understand what they're saying, but I vehemently disagree with it because, again, it's a misrepresentation to the fan for what they can expect.
That's a good segue into tonight's Cavs-Celtics game, which should hopefully feature everyone, i would imagine. What are you looking for in that matchup at this point of the year?
Well one, I think it's very exciting that there is competition in the East right now. That's a great thing. The top four teams in the East are all very good and playing very well. Boston is talented and smart, their perimeter defense is outstanding. Cleveland obviously, we know about their greatness. They've been struggling for a little bit and Boston is coming on, and so to have a game that really matters for home court advantage, it's a great thing.
I think also a lot of people, of late, have been pointing out that the Cavs' defense hasn't been what it should be and they're ranked so and so forth in the league right now, and no one ranked so low managed to win. Is "but they have LeBron" a good argument to use against that?
Well, I don't think anyone had overcome 3-1 in the Finals either right? [Laughs] I don't put a lot of stock into things that haven't happened or not happening the next time. Listen I think they do have to be concerned about their habits defensively. I think one of the problems with resting is it takes away opportunity to develop mental toughness, it takes away opportunities to continue a rhythm, and yet I think that anyone would be underestimating to think that they're not one of the teams that can turn it on. I don't think all teams can flip the switch but I think they can. That being said I think that no one, if [Kevin] Durant is back, no one is challenging the Warriors. I just don't see it. I don't care who it is. The talent differential is just too great, in my opinion, if the Warriors are healthy.
"I'm really interested in the Eastern Conference this year, for the first time in a long time, because Cleveland is the favorite but it's not inconceivable that one of those other three teams can come out in the East."
As far as the way Steph [Curry] has been playing with Kevin out, do you think it's a matter of him finding himself again or is just a "you're the No. 1 option again" so we are going to ride you?
It's been sort of a media-driven thing that he's had a tough year. You look at his numbers, his numbers this year are very similar to what his numbers were his first MVP season. So I don't understand the idea that he's bouncing back now. No. 1, he's been really good, just like he was in his first MVP season. The problem is last year he was so off the charts that if you start to expect that, in comparison he hasn't played as well, but he's been great. And when they have Klay [Thompson], [Draymond] Green, and Durant, no one even approaches a top four like that. Listen, In my mind it's over and we haven't even started the playoffs yet. But I'll say this, I was wrong last year, too. Last year, there was an event that happened and Cleveland took full advantage of it. That's what can happen, but in my mind the script is already written, it's just who they're going to play along the way to win the championship.
Do you think we are inevitably heading to that third, the rubber match if you will?
No! No, I think we're inevitably going to be with Golden State there, but I don't think that any of the top four seeds in the East are going to get pushed that hard in the first round, maybe Toronto could if [Kyle] Lowry isn't back, but in the second round if you're one and you're playing against Toronto or Washington, it's going to be a hard series, same with the 2-3 matchup. I'm really interested in the Eastern Conference this year, for the first time in a long time, because Cleveland is the favorite, but it's not inconceivable that one of those other three teams can come out in the East.
One of your former players and former assistants in Patrick Ewing was named head coach of Georgetown; how did it take so long for him to get a shot?
I think that there's a lot of factors. I think one, head coaching jobs are hard to get and I think that there has been a bias against size when you are hiring coaches that were ex-players. I think people tend to equate the thinking-man player to guards, and I think also unfortunately Patrick was labeled along the way and people didn't allow for personal growth. So how they saw him as a 25-year-old man or an 18-year-old young man, he wasn't allowed to grow in a lot of people's eyes, where the people around him know who he truly is. But I don't think the people that cover basketball represented his personality as it should have been.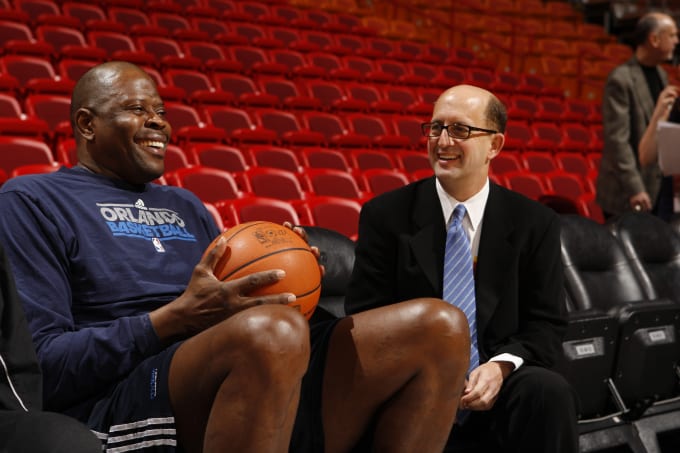 What was he like as an assistant when he first came on under you?
He was great! He was learning the business, so he and Steve Clifford back then, they worked obviously closer together in Charlotte, but Steve Clifford and he worked very closely to help him make him that translation from great player to a guy who was driven to be an outstanding coach. So he worked long and hard, just like you would in any job, to develop the skill necessary to be successful. He was incredibly valuable to our Houston staff because he brought a different perspective, a different voice, some great experiences to draw on to connect to players, and he immersed himself in the totality of coaching. He didn't want to just be a big man coach or not do the scouting reports that the other coaches did, he totally immersed himself, and that's the only way you make a successful transition from one job to the other and he did it seamlessly.
Did you see him as someone who would go into coaching while you were coaching him in New York?
Well, people say I thought he would be a coach; I never really looked at it that way. I did realize what an intelligent player and man he was, and how he had incredible people savvy. Like that he went into a second career that involves helping people maximize their potential? I wasn't surprised with that. But I guess there's always a little bit of shock that a guy who achieved such wealth along the way would want to grind it out with us mutts who have done it for our whole lives. Just because of his life circumstances, maybe you're be a little surprised, but one thing you know when you deal with Patrick is that he's a man of great integrity and loyalty, and when he commits to something, he's all in.