Gary Sanchez isn't looking for sympathy. As a 16-year-old, he signed with the Yankees for $3 million and will make $557,000 this season as the Bronx Bombers' catcher with the prospects of a mega contract looming. So he's doing ok for himself. But the slugger who burst onto the scene last season, socking 20 home runs in 53 games, would like fans to know that for every guy breaking the bank in the majors there are a ton of minor leaguers struggling to make ends meet.
"People sometimes do not realize how difficult it is to be a ballplayer because of the salaries they see guys making," says Sanchez. "For every millionaire in the big leagues, you have a couple of dozen guys in the minors living together, making very little money, trying to reach the bigs. That is something that makes baseball different than basketball or football. You really have to pay your dues to make it."
The Yankees prodigy, who is on the disabled list with a strained bicep, paid his spending six years in the minors despite being labeled one of the organization's future stars. Many observers expected Sanchez to make it to the big show years ago, but Sanchez didn't put it all together until last season when the Yankees called him up in August. After a breakout 2016 season that saw him finish second in the A.L. Rookie of the Year balloting, life in the minors appears to be permanently in his rear-view mirror.
"He's got unlimited talent," says former Yankees first baseman Tino Martinez. "A 30 home run guy every year. But what goes unnoticed is his defense. He's a complete player."
And with success on the field comes the spoils off it, including a recent partnership with Pepsi and New Era featuring hats designed by artist Andre Trenier. The "Caps Off to the Yankees" program, that debuted on Opening Day, allows fans to vote on their favorite Trenier-designed Yankees hats that will eventually be available as part of a limited-edition series.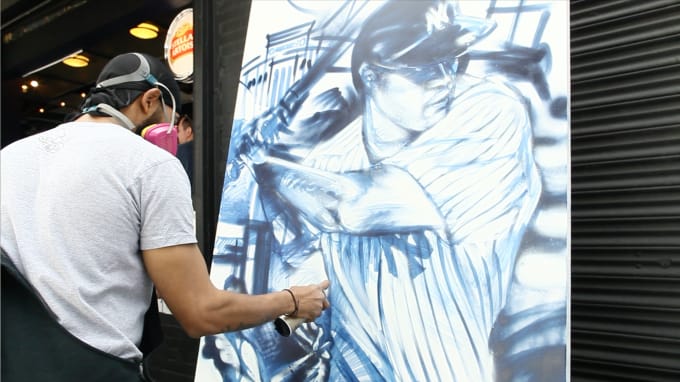 The hats certainly aren't traditional—you'd never see the Bronx Bombers wearing them on the field because "the Yankees are one of the few teams, or the only team, that have always worn the same uniforms, which is a good thing," says Martinez. But they are unique.
"I have never been a 'hat guy,' but I have never gotten so excited for hats as I am with the designs that Andre Trenier designed for 'Caps Off,'" says Sanchez. "Maybe it's because they represent who I am, in a way, but I can't wait to rock them out."
"The inspiration is baseball and the Bronx and the history and culture of the two," says Trenier. "Gary Sanchez embodies that intersection of baseball history and Bronx culture."
Fans can vote for their favorite at yankees.com/pepsi until May 8th.
As for Sanchez, he hopes to get back onto the field in early May and start tearing up the American League like he did last year. And despite absurd expectations for his sophomore season, Sanchez is determined to carve out his own path rather than the footsteps of former Yankee stars. 
"I want to be my own man," says Sanchez. "Have my own successes and my own failures. Just want to be a genuine man, whether that is good or bad."